Wilderness Ranch — Mountain Living in Boise
Posted by Hughes Group Blog Team on Saturday, September 17, 2016 at 11:26 AM
By Hughes Group Blog Team / September 17, 2016
Comment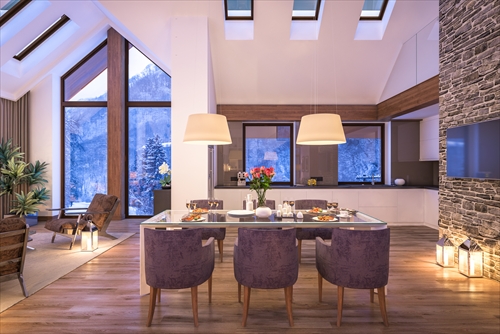 Idaho is a state that takes pride in its natural resources and outdoor heritage. This beautiful state is covered from top to bottom with beautiful scenery, gorgeous wildlife, and amazing adventures. Whether you in the mountains, in the plains or floating down one of Idaho's thousands of miles of rivers, you will always be one step away from the exciting and peaceful atmosphere that is Idaho. But, like all good things, you can't stay up in the woods or at the lake all the time— you have to come home sometime. Or do you?
With so many outdoor enthusiasts coming to and living in the great Gem State (Idaho) there has been a growing demand for mountain real estate. Just think of it, living up in the mountains. You wouldn't have to 'go home' after a day amongst the beautiful mountains and forests of Idaho, you can simply live there, with all the comforts of a state of the art urban home. "How is it done?" you may ask, well, that is what we are here to discuss today, and the answer is, in part, great mountain communities like Wilderness Ranch. If you have never heard of Wilderness Ranch, then you are in for a ride. Strap in and get your phones ready, because you are going to want to call up your real estate agent to see one of these great homes when this is over!
What is Wilderness Ranch?
Wilderness Ranch is, simply put, a community set in the mountains and foothills of the amazing Boise National Forest (a western edge of the Rocky Mountains). It is located only a few miles outside of Boise Idaho with quick and easy access to Southeast Boise, Downtown Boise and the freeway. When you live in Wilderness Ranch you get to feel the great atmosphere of nature at all times. By simply looking out your windows you can see the beautiful mountains, trees, and (sometimes) wildlife of the area. It is a great place for people who want to come home to a more relaxed atmosphere, those that love the outdoors, or those that want to be close to their favorite outdoor pastimes.
Where is Wilderness Ranch?
Like we discussed earlier, Wilderness Ranch is located in the Boise National Forest just east of Boise. It is approximately 25 to 30 miles from the heart of Boise and the drive takes one along the banks of Lucky Peak Reservoir, the Boise River, and many other picturesque destinations. It is also located very close to Robie Creek, many mountain access roads, and dozens of trails for all sorts of leisure or sport.
How big are the homes in Wilderness Ranch?
The houses in Wilderness ranch have an approximate average size of 2,600 square feet with many outliers on both ends of the spectrum. They can have as few as 1 or 2 bedrooms and can have as many as 7 or 8. They have garages that can hold as many as 4 cars, not to mention as many as 3 bathrooms. When it comes to acreage, however, that is where things get interesting. There are some homes in Wilderness Ranch that have 1 or 2 acres, but then there are some that have 11 or 12! So, no matter how much land you are hoping for, you can get as much as you need in Wilderness Ranch. (It is important to note that the homes in Wilderness Ranch are built on predetermined lots, so, unless you buy adjoining lots, you are limited to what sizes the lots are already broken up into).
Building in Wilderness Ranch
When you look at Wilderness Ranch on our website, you will find that there are many preexisting homes and many open lots. This means, if you aren't happy with all the homes that already built in Wilderness Ranch, you can always build your own. Or, if you have any specific designs that you need or want in your home, you don't need to rely on a remodel later, you can build the house from the ground up.
How much does a home cost in Wilderness Ranch?
This is a good question. Many of the homes in Wilderness Ranch are priced differently because of the year they were built, the size of the home, the size of the lot, the view, and many other factors. However, if you are looking to buy a house in Wilderness Ranch, be prepared to spend more than $250,000. They go up in price from there, but the limit is not clear. Now, if you look at the median home price in the rest of Boise (approximately $200,000) you can see that this isn't much of a stretch. So, keep in mind that, depending on your situation, this mountain paradise may be right in your reach.
Is Wilderness Ranch right for me?
Another excellent question. Wilderness Ranch may not be for everyone. For instance, if you work in Nampa (or anywhere farther than that for that matter) you may have a pretty long commute every time you go to work. Now, if you don't mind the drive, then this doesn't apply to you.
Another thing to consider is if you are a social person, or one that likes to go out a lot to eat or have a night on the town. This isn't impossible, but it will definitely hamper your ability to do these activities.
One last thing to consider is the distance between you and medical help. Now, again it is only 30 miles or so from Wilderness Ranch to Boise, but still that is quite the drive for you to get to an ER and quite the drive for an ambulance if they are coming to help you. (The same goes for police, firefighters, and so forth).
All things considered, Wilderness Ranch is a great place to live. If you are searching for an escape from the urban life, want to have land, or just love the mountains, then you will love it here. Contact one of our real estate agents here at the Hughes Group today for more information! You won't regret it!