Wild Things Live Here: The Zoo Boise
Posted by Hughes Group Blog Team on Wednesday, August 6, 2014 at 1:50 PM
By Hughes Group Blog Team / August 6, 2014
Comment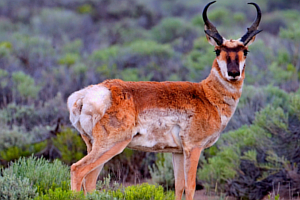 Nearly everyone has memories of going to the Zoo and seeing many exotic animals. Everyone has their favorite animal, the tiger or the giraffe, and with the many different animals at Zoo Boise, there is an opportunity for everyone to find an animal they love. The adventure found in the Zoo can stay with you for your whole life, and the best part of an adventure is when you can share it with people you love. This summer, share an adventure with someone and visit Zoo Boise. Zoo Boise has many different exhibits for everyone to enjoy.
BUTTERFLIES IN BLOOM
There is something about butterflies that captures the eye's attention. The fluttering of glistening colorful wings swirling in sunlight creates an air of curiosity and imagination. Unfortunately, sights of butterflies is not as common as a butterfly lover would hope. Fortunately, there are exhibits with a variety of species and colors.
One of these exhibits is in Zoo Boise. This exhibit, fittingly called Butterflies in Bloom, is made up of hundreds of Costa Rican butterflies that flit through the entirety of the exhibit and may end up landing on visitors. Visitors are given the opportunity to feed these butterflies with sugar water and admire the beautiful grace of these creatures. The Butterfly Exhibit generally opens the beginning of June and is open every day until Labor Day.
GIRAFFE EXHIBIT
Everyone goes to the zoo in order see exciting exotic animals. Most animals you see from through fences and cages so there isn't a close interaction with them. Have you ever wanted to take a closer look-maybe even interact with one of the animals? At the Giraffe encounter exhibit, you get to personally and safely interact face to face with real life giraffes.
Everyday from 1:30 to 2:30, visitors of the Zoo are given the opportunity to meet the most friendly giraffes in Idaho. Julius and Jabari (the giraffes) love to make friends. If you want an even closer relationship with these animals, you can pay $3 to feed them lettuce leaves.
INTERMOUNTAIN EYE CENTERS SLOTH BEAR ENCOUNTER
Another exhibit where you get to interact with an exotic animal is at the Intermountain Eye Centers Sloth Bear Encounter Exhibit. Open to visitors daily from 10:30-11:30 is the opportunity for people to feed Paji the sloth bear his favorite treat - mealworms. Fortunately, Paji won't expect you to handle his food directly! Guests handle feeding tubes that have the worms placed in them, for only three dollars. You will be charmed by Paji's mannerisms and personality, and want to come back to feeding him over and over.
ZOO FARM
For just a quarter, you get to visit an exhibit with llamas, sheep, and goats and feed them as well. Interact with these animals and learn about their habitat to further your understanding of the world. There is nothing like holding you hand out with grain or oats and having a cute animal come up and lick it off.
WEST PET ANIMAL PRESENTATION
You can do more at the Zoo than simply interacting with and feeding animals. At the West Pet Animal Presentation, you can learn about animals, their habitat, and some of the things that go into taking care of an animal. The presentation displays some of the natural behaviors of an animal collection daily at 11:30am and 2:30pm. You can start your day learning about the different animals and then being able to take your new found knowledge to the different exhibits that you can explore.
DINOSAUR EXHIBIT
A recent addition to Zoo Boise is the eagerly anticipated Dinosaur exhibit! Ignite your curiosity as you learn about these ancient beasts. Wandering through Zoo Boise's grounds, you may come across some wild new additions to the zoo, with lengthy names like styracosaurus, ornithomimus, and acrocanthosaurus. They don't bite, but you are able to sink your teeth into some dinosaur knowledge!
There are six incredible life-size models to be found, in a dinosaur search that promises to be fun for all ages. A special Tyrannosaurus Rex photo opportunity is available for those who want a picture with the lizard king, for only one dollar per photo. This exhibit will run from May 1st to September 1st.
This year, visit Zoo Boise and the exhibits available to learn about and see many of the different exhotic animals from all over the world. Entry cost is included with admission into Zoo Boise which is $10 for adults, $8 for seniors and 7$ for children, with free admission to those 2 and younger. Take the time to visit Boise, Idaho and some of the amazing adventures it has to offer.
http://www.zooboise.org/attractions.aspx