Why Buy Idaho?
Posted by Hughes Group Blog Team on Monday, July 21, 2014 at 2:00 PM
By Hughes Group Blog Team / July 21, 2014
Comment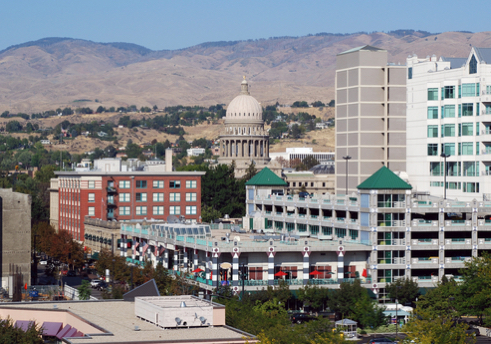 There are several factors that go into deciding where to buy your next home. One factor that consistently scores big with buyers when it comes to such a big decision is how near recreational amenities you are.
Boise, Idaho offers countless places that are conveniently accessible to recreational opportunities in every direction. Some of these, you've might not ever heard of.
A River that Snakes Through the State
The Snake River is the largest tributary jutting from the Columbia River and extends 1,078 miles. The Snake River passes within 30 miles of Boise. It proceeds to roughly divide the Oregon and Idaho state borders, leading into Hells Canyon, a steep and spectacular gorge. Hells Canyon and the Snake River in conjunction with each other create two very powerful sources of recreation in Southwest Idaho. Hells Canyon is your jumping off point to jet boat or take on the rapids. One of the most effective ways to experience this beautiful landscape is by following the Snake River Canyon Scenic Byway, a powerful tapestry of scenic areas. You'll come across a 53 mile stretch just outside of Boise where you can share the same visual experience early pioneers had and be home in time for dinner. Easily turn it into a weekend or week long adventure with sportsman's accesses along the Snake and designated camping areas.
The Rise of Mountains in the Mist
Idaho is home to the spectacular rugged Sawtooth Mountain Range, one of the most aesthetic and awe inspiring natural beauties in the country. The Sawtooths are a jagged series of mountains that is home to a number of recreational opportunities from hiking, fishing, paddling white water, and animal watching - elk, bighorn sheep, and mountain goats, to name a few. With just a short, scenic drive outside Boise, you can easily make this a yearly or even monthly destination to take advantage of Idaho's great outdoors.
Desert Oasis or Mirage?
Mountain Home Idaho is about a 45 minute drive outside Boise and just south is the tallest sand dune of Bruneau Dunes State park, which rises 470 feet above the small lakes below. Within the park you'll find desert, lake and marsh habitat, prairie and any number of local species. Idaho residents come from every direction to fish, bird watch, camp, hike, swim and stargaze at the public observatory. There's also horse facilities available with a 9 mile riding trail.
Into the Wild
Adventures, great times and endless possibilities are rife outside your backdoor with a home in Idaho. You don't even have to be an avid fisherman, boater, hiker or climber to enjoy what Idaho has to offer, though you may have to love nature because Idaho is one of the only areas left in the country that still retains much of its unspoiled territory and beauty. Idaho is also the headquarters for the photographer, the artist, the writer and yes, the modern businessman. Idaho is the whole package, an underrated bargain. If you'd like to claim your own piece of Idaho, contact one of our agents today.