Where to Hear Some Good Local Bands in Boise
Posted by Hughes Group Blog Team on Tuesday, October 29, 2019 at 11:05 AM
By Hughes Group Blog Team / October 29, 2019
Comment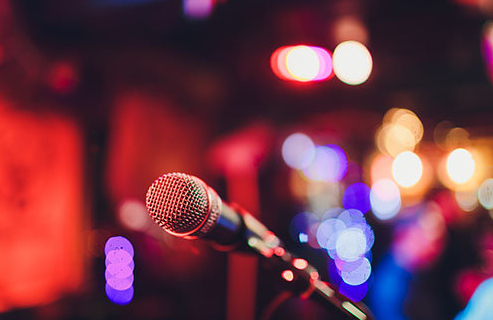 While you may not hear music from Boise, Idaho at the top of the charts, one thing is for sure— Boise's local music scene has heart. Idaho's quickly growing capital city is full of cozy little nooks and exciting larger venues that are sure to give every listener something to love. Whether it's a relaxed, easy-listening environment you're looking for, or a fast-paced, upbeat one, you'll have all the options when you come to Boise! Here are a few local gems you should pay a visit to while you explore the City of Trees.
If it's good sound you're after, get a group together and head over to Neurolux. Often described as having a very relaxed and hipster environment, Neurolux is one of the top spots in Boise to see live music. Open from noon to two in the morning all week, there's a lot of time to see its performances each day, and the place knows how to put on a good show. The Olympic Venue is also a great place for live shows, and the acoustics are great inside, which makes for a better experience all around. The friendly bartenders are known to help patrons pick out what brews suit them best and serve tasty drinks throughout the night. Some pretty stellar local bands are known to play here, so you'll want to come early and grab a good seat!
In the mood for a fancier evening out on the town? The Riverside Hotel has a beautiful room that whisks you away to another era; perhaps the 1950s? The Sapphire Room is equipped with a gorgeous piano where local musicians come to soothe listeners with their smooth jazz. This dazzling place will make you feel downright regal and you're sure to love it. An equally interesting place to see live music would have to be Cinder. Part winery and part venue, this special spot displays its "wow" factor right when you walk in. Come taste some of the best wines in Idaho as you relax and listen to the local bands that play here.
Another captivating place to enjoy a great performance is at the Visual Arts Collective. This eclectic gallery has a lot to offer! You'll view stunning art pieces created by local artists as well as charming performances led by extremely talented entertainers. This isn't what you'd normally think of when the subject of live music in Boise comes up, but if you're a lover of musicals you'll love this intimate little venue. However, if you're a fan of classic live music spots, you'll want to check out Pengilly's Saloon. With a stylish, vintage vibe that's sure to bring on the nostalgia, free entertainment, and affordable drinks, you'll be coming back for a return visit for sure. This is one of the top-rated hangout spots in the city for those who need a relaxing break after a stressful day at work. You have the option to either let loose on the dancefloor or sink into your chair and listen to the jazzy tunes of the Frim Fram Four, who play at Pengilly's every Thursday night. They are heralded as one of Boise's best musical experiences, so you should plan to check them out live!
For a classy dining experience, friendly service, and some wonderful live music make your way to Chandler's. While the menu is a bit on the pricier side, you'll love it so much that it will all be worth it! The ambient blue lighting makes the place feel moody and intimate and creates a great atmosphere for listening to bands perform. Besides the mouth-watering steak and delicious drinks you'll be served there, Chandler's is also connected to a hotel in case you choose to extend your stay in Idaho's capital.
You might decide to pay a visit to one of Boise's best pubs, Highlands Hollow Brewhouse. There you'll get to take your pick from a vast array of different beers, and you can't forget to check out their amazing menu that blows other typical pub menus out of the water. Local musicians will play here occasionally, and they really bring the old-fashioned place to life at night. The casual environment will help you feel stress-free and comfortable. For an equally relaxed place to spend your weeknights, come to The Reef in downtown Boise. Decorated like a dreamy day at the beach, this tiki bar is sure to delight your taste buds with dishes from tropical locales, not to mention the live music you'll hear playing at night! It's surely a hot spot you can go to get a good mix of great music and delicious food.
All the places we've mentioned so far are restaurants and smaller-scale venues, so if you're looking to experience great music in Boise by one of your favorite bands, head to a larger venue. You might not see any local bands perform here, but you'll get the chance to have a concert experience you won't forget. A popular restored 1920s venue, The Egyptian Theater, offers local beer and other drinks to their guests wait to watch your favorite artists perform and is a favorite among locals. At the Idaho Botanical Garden, you can enjoy the beautifully lit gardens before your show starts, which makes for a great date night! If you've enjoyed your time in Boise, you can't miss out on visiting the Morrison Center for the Performing Arts. Here you'll be able to enjoy local bands, as well as the Boise Philharmonic and many different Broadway shows touring the nation.
Boise is full of entertaining and unique locales that really make listening to live music that much more enjoyable. It's not hard to find a comfy setting complete with mood lighting, good food and drinks, and staff that are determined to see you satisfied as you exit the door at closing time. The city works hard to ensure its residents and tourists alike have a special experience that will cement Boise in their minds as a top contender for entertainment-seekers. Trust us when we say, you'll want to give Boise a listen.
Sources:
· https://www.yelp.com/search?cflt=musicvenues&find_loc=Boise%2C+ID
· https://www.yelp.com/biz/pengillys-saloon-boise?hrid=XacnELiylN5AZSx2YA2DZQ&osq=bars+with+live+music
· https://www.yelp.com/biz/chandlers-boise?osq=chandlers
· https://foursquare.com/top-places/boise/best-places-live-music
· https://www.yelp.com/biz/highlands-hollow-brewhouse-boise-2
· https://foursquare.com/top-places/boise/best-places-live-music
· https://www.yelp.com/biz/reef-boise?osq=the+reef