When it gets cold outside
Posted by Hughes Group Blog Team on Saturday, February 9, 2019 at 2:28 PM
By Hughes Group Blog Team / February 9, 2019
Comment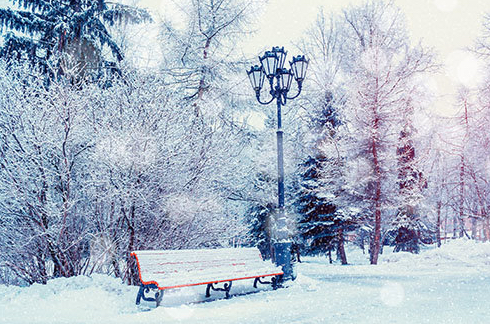 Idaho is so cold! Or, at least that's the reputation it holds with many who maybe aren't as familiar with the state. This isn't much of a surprise, as the state happens to have low temperatures and is covered with large amounts of snow for a reasonable part of the year. This isn't to say that Idahoans just stay inside and keep to themselves all winter though, quite the contrary in fact. Some of the most fun activities in the Gem State are only available during this time of the year, and many living in Idaho cannot wait for that snow to start falling!
One of the most popular cold weather activities for people living in Idaho is zipping down the mountains on skis or on a snowboard. If skiing or snowboarding is one of your favorite hobbies, you will not be disappointed in the slopes of the many Idaho mountains. Or if you haven't skied before and would like to learn, Idaho is the ideal place for that too! Almost any ski resort you go to will have smaller hills for those just learning how to ski in addition to the bigger hills for longtime skiers. Some of the best places in the world to ski can be found in Idaho. One of the most famous is the Sun Valley ski resort in southern Idaho. In addition to being a luxurious resort that is a great place to relax for any vacation, the mountains of Sun Valley seem to be built by nature specifically for these winter sports. Bald Mountain offers a smooth downhill glide without any flat areas to stop you from going full speed and flying down those hills! It is one of the biggest thrills in the world, especially for seasoned skiers looking for some real adventure. Dollar Mountain is the other mountain in the resort, and it is no stranger to skiing, being home to the first chairlift in the world. What makes Dollar so special is its complete lack of trees, giving beginners and experts alike free roam down the slopes! While Sun Valley might be one of the most popular, no matter where you are in the state there are excellent places to ski. Other great spots all throughout the state include Schweitzer Mountain Resort in Sandpoint, Bogus Basin in Boise, Brundage Mountain Resort in McCall, and Grand Targhee in Driggs.
You may not be into skiing or snowboarding, which is totally fine! In addition to some excellent skiing, Bogus Basin also provides a tubing hill that is tons of fun! Reserve some time up on that hill and grab the provided tubes and you are ready to soar down that white winter snow!
Another popular pastime for Idahoans in the winter is snowshoeing. Snowshoeing is pretty simple to learn, most places in Idaho that offer it will give a lesson to beginners, and many also have snowshoes available to rent. You just might find that snowshoe hiking is the ideal relaxing activity to get you through the week. Every corner of the Gem state has wonderful places to go for one of these little adventures. In the northern part of the state, Schweitzer Mountain Resort is the place to be! They offer fantastic guided tours on the weekends in addition to the many miles of trails for those who would rather take their own trek through the terrain. In the Boise area, you'll find Bogus Basin to be anything but bogus when it comes to hiking and trails. A unique thing about this spot is the illuminated trails that make for some great nighttime snowshoeing. In central/southern Idaho you'll find Galena Lodge not far from Sun Valley ski resort. This place has great trails going through the spectacular Sawtooth National Forest and as an added bonus, you can end your adventure with a nice warm meal in the lodge! When you find yourself in the eastern part of the state, be sure to pay a visit to Harriman State Park in Island Park, which has efficiently marked trails for everyone, no matter what level of expertise you have. Along these trails, you'll also find a couple warming huts to recharge your batteries. Pick up this age-old winter activity during your time in the Gem State!
If you are into something a little more fast-paced than snowshoeing, snowmobiling might be the activity for you. It is an absolute thrill plowing across the powder in one of these machines. Many of the mountains that are so well-loved for skiing also tend to make for some amazing snowmobile riding. Schweitzer Mountain Resort is one of the very best of these, with fresh snow always available in this breathtaking scenery to blaze the trails for yourself. There are also some great backcountry areas with fantastic trails and awesome places to free-roam. A lot of these spots are ideal for those just learning how to snowmobile. Few of these places are better than Burgdorf Hot Springs! This location offers wonderful guided tours on the trails, where the tour guides will lead you along to some of the best places to ride in this part of the state. What makes this particular spot such an attractive option is that at the end of the tour you can soak in the relaxing Burgdorf Hot Spring itself! And all you have to do is show up! They provide the winter gear and the machines!
These are some of the more famous cold-weather opportunities provided by the Gem State, but the fun certainly does not stop there! At Brundage Mountain Resort you can find some more intense skiing fun (called cat-skiing), In many places throughout the state you can go for some winter hunting (there are hunting opportunities all throughout the year!), and take a trip to one of Idaho's plethora of lakes to go ice fishing! While on your skiing trip in McCall you can also stop by the famous McCall Winter Festival, which has been a long-standing tradition in the small town and is a highlight of the cold weather season of Idaho. No matter where you find yourself in Idaho, consider yourself lucky this winter season, as there isn't an end in sight of fun activities during this time of year!
Sources:
https://www.sunvalley.com/about-sun-valley
https://visitidaho.org/things-to-do/alpine-skiing-snowboarding/
https://visitidaho.org/travel-tips/best-places-to-learn-how-to-snowshoe-in-idaho/
https://visitidaho.org/travel-tips/top-snowmobiling-destinations-in-idaho/
https://theculturetrip.com/north-america/usa/idaho/articles/top-10-winter-activities-in-idaho/