What is the Capital of Idaho?
Posted by Hughes Group Blog Team on Monday, February 8, 2016 at 9:35 AM
By Hughes Group Blog Team / February 8, 2016
Comment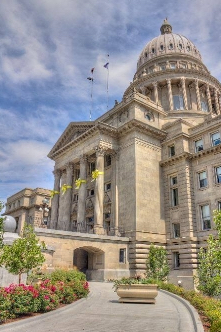 Idaho, like most other states, is proud of its capital city of Boise. It is a capital city that has captured the attention, and allured the praise, of thousands of people since its inception in the late 1800's. But, why has it been so alluring? What about Idaho's Capital City of Boise that brings so many people to its streets year after year? Could it be the dynamic culture? Could it be the outdoor activities, or the opportunities to create? The answer? Yes, Boise's dynamic culture, outdoor activities, and opportunities to create are all parts of why people are coming to Boise, but only parts. This is a simple description about the capital city; it will help you to understand what it is that attracts so many people year after year.
When it comes to moving somewhere, most people want a place that is on the rise—a place that is better than it has ever been before, and that is the perfect way to describe Boise. Boise is a leading American city when it comes to livability, innovative design, walkability, and more. It has even found itself on numerous 10 lists like National Geographic's 'Places to Live and Play' list for most adventurous city, Bike Magazine's list for best cities for mountain biking, and many others.
However, why would it be so adventurous or a mountain biking haven? It has, in essence, a lot to do with its location. Boise is settled in the southwest corner of Idaho about an hour from Oregon and an hour from Nevada. It is located along the Boise River and is in part of the Snake River Plain. It is pretty secluded (when it comes to larger cities), but is only a 5 hour drive (1 hour flight) to Salt Lake, 6 hour drive from Portland (1 hour and 10 minute flight), 7 hour drive (1 hour and 20 minute flight) to Seattle, and a 10 hour drive (1 hour and 30 minute flight) to Las Vegas. These drives may seem daunting at first, but there are plenty of historical sights, outdoor getaways, and more along the way.
If you want to just vacation in Idaho, however, you can easily find yourself in resort towns like McCall (2 hour drive) or Sun Valley (2 hour and 45 minute drive). Or even visit the Sand Dunes, the Boise National Forest, and more.
The population of Boise is a little over 200,000 people, which makes it the most populated city in the Treasure Valley and the State of Idaho—as well as the third largest city in the Northwest after Seattle and Portland. The surrounding area, however, is about 3x as large as the city of Boise alone coming in at 600,000 people. These people are all spread out over the Treasure Valley which helps preserve the small town charm of the area.
History
Boise is a thriving city, however, it wasn't always like this. It started out as a simple military base along the Oregon Trail known as Fort Boise (it is even a featured stop on the 1970's cult class video game 'The Oregon Trail'). On their way west, pioneers stopped at Fort Boise to resupply and get some rest. It wasn't long after the forts establishment in 1863 that it was named the capital of the Territory of Idaho. Later, when Idaho was incorporated as a state, it remained the capital of Idaho and has stayed that way ever since.
Over the course of its time as the State Capital of Idaho, Boise also became a fertile place where much more than potatoes were grown. Rather, businesses, sports teams, and amazing people. Two of Boise's most famous businessmen would have to be Joe Albertson and JR Simplot. Both were influential in their own way, but have both had important impacts on the food industry of America.
Joe Albertson, creator of the Albertson's grocery chain, was a Boise resident when he established his first grocery store. It was built in downtown Boise—where it still stands today—and quickly spread around the city, state, and then country. They are now one of the most influential grocery store competitors in the national market.
JR Simplot, on the other hand, did not open up grocery stores, rather he was an agricultural tycoon. Simplot specialized in growing potatoes and soon became one of the best and largest in the state. It was a feat he was proud of. However, he didn't stop there; the Simplot Company was one of the first companies to sell pre-sliced and frozen potatoes. This product caught the attention of Ray Crock, former CEO of McDonalds, and the two soon became business partners. From that point on, Simplot became the largest supplier of frozen french-fries to McDonalds.
Amenities
In Boise, Idaho, there are more amenities than you can count. Some of the most popular include its easy going and outdoor integrated lifestyle, for others it's the creative opportunities, and so on and so forth.
Outdoor Opportunities
As mentioned earlier, there are two great resort towns within a day's drive of Boise, there are also sand dunes, rivers, lakes, skiing opportunities, leisure paths, and places for photography and bird watching. Within the Treasure Valley itself there is a plethora of activities that can be enjoyed; from Lucky Peak Reservoir to the ends of the Boise River, there is plenty to do. So, if you love the outdoors, you will love it here.
Other Amenities
Among other things, Boise also has plenty of great schools to offer, as well as a state university. It is also home to hundreds of both 5 star dining establishments, cultural restaurants, and even old fashion western food. However, if you want to learn more about the world around you there is also a massive library system, cultural and art museums, and even a zoo. So, it doesn't matter what you're into, Boise will have something for you.
If you want to learn more about Boise, contact one of our licensed agents, they will be glad to help you.