What brings you to the Treasure Valley
Posted by Hughes Group Blog Team on Thursday, October 27, 2016 at 11:14 AM
By Hughes Group Blog Team / October 27, 2016
Comment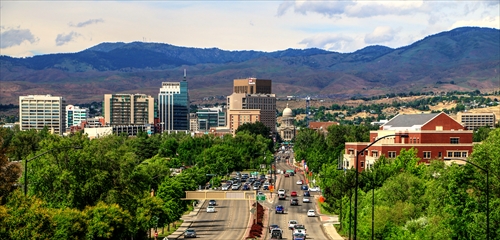 What brings you to the Treasure Valley? Is it for a job, for school, or just for fun. Whatever it is, however, you can rest assured that you'll find it here. The Treasure Valley is one of the dynamic yet underrated parts of the Northwestern United States. It is home to 6+ of the state's most popular cities as well as over a half a million people. It is a hub for business, agriculture, art, and learning, not to mention good ol' fun.
If you are coming to the Treasure Valley to work, then you will be pleased to see the vast array of different jobs that are available here. There are jobs in business, in tech, education, music, art, medical, and much more. The top employers in the area, which come from many different industries all together, are Micron Technology, Inc. (a company that specializes in computer memory), Saint Luke's Regional Medical Center, Hewlett-Packard Company, the J.R. Simplot Co. (one of the largest frozen potato companies in the US), Albertsons, Saint Alphonsus Regional Medical Center, and Boise State University.
However, since no one likes to work all the time, we here in the Treasure Valley also have quite of bit of fun things to do. For instance, as many people have probably gathered, Idaho is a very outdoorsy state; it has many places to enjoy the simple beauty of nature whether you walk through it, sleep in it, climb it, or snap a picture of it through a lens. One of the biggest outdoor hobbies that Idaho is known for is its abundant camping spots. If you like to camp, backpack, or anything like that, then you are in luck, you are surrounded by some of the world's best destinations. You may spend a night near North America's largest sand dune or spend a week next to the rivers and mountain meadows of the Rockies, whatever suits your fancy.
Hunting and fishing are another two of Idaho's big pastimes. All throughout the state there are prime hunting and fishing spots for just about any animal. In Idaho you can hunt deer, elk, moose, wolf, pronghorn, black bear, bighorn sheep, ducks, geese, turkeys, and much more-- assuming you have the proper tags and licenses. When it comes to fishing in Idaho, you can always snag yourself some salmon or some steelhead on the North Fork, or on any of the other rivers really. There are also dozens of places to get your guns, bows, and reels serviced so you can always be ready for a trip. (http://fishandgame.idaho.gov/public/fish/; https://fishandgame.idaho.gov/public/hunt/).
If you are into more of the water sports, there is always boating or swimming at Lucky Peak Reservoir. This man made lake is one of the most popular places to take to the water in the Treasure Valley. It is just up the canyon from Southeast Boise and is lined on either of its sides with docking ramps. It is perfect for any kind of water activity thanks to its usual calm nature.
Hiking and climbing are also very popular pastimes for the people of the Treasure Valley. This is due in part to the foothills region that lies to the east of Boise. They offer miles and miles of hiking trails that lead up to the base of the mountains even; eventually, they lead to great climbing opportunities. Be sure to wear proper gear, though. In the foothills there are plenty of opportunities to see local wildlife and vegetation, so be sure to bring your camera. It is very important to always remember that the foothills are these creatures home so you should always be respectful and careful as you go adventuring about.
If outdoor fun doesn't strike your fancy, then you need to check out the Treasure Valley's many sports opportunities. Fans of football, hockey, baseball, and basketball will love it here. However, if you prefer concert music, learning about the world around you, and enjoying art, then you should check out the Boise Philharmonic, Zoo Boise and the Discovery Center, any one of the museums around town, and so on. These opportunities are just as prolific as those of the sporty or outdoor kind. There are also many concert tours that make their way through the valley. Notable performers have included Imagine Dragons, Nick Jonas, Skillet, and much more.
But what people really appreciate in the Treasure Valley is not the entertainment or the outdoors (though they play a large role in people's decision to move here). No, the real reasons that people are attracted to the Boise area are the low median house price, the low cost of living, and the low crime rate.