Weekend Fun in Boise
Posted by Hughes Group Blog Team on Monday, January 28, 2019 at 2:18 PM
By Hughes Group Blog Team / January 28, 2019
Comment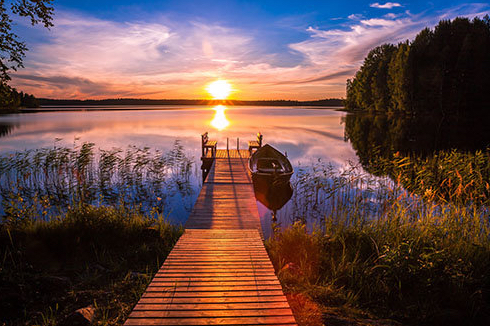 Boise is by far the biggest city in Idaho, followed by neighboring cities Meridian and Nampa. With so much there, if you find yourself spending a weekend in the Boise area, there are tons of great activities to enjoy! Whatever time of the year it is, and whether you enjoy being outdoors or indoors, there is no shortage of fun things to take part in this part of the Gem state.
A nice relaxing outdoor activity to do during your weekend in Boise is fishing. Idaho is known as one of the best places in the United States to fish, and you can do it right there in the city of Boise! The Boise River is a beautiful and convenient place to fish at any time of year. The river is stocked with rainbow trout every Spring and Fall so you are likely to get a bite. In addition to the high amount of fish, the Boise River is a popular place for people to go because of its location. You don't have to go on a day trip with a pickup to get to it, you can stay right there in the city! There are many parks and ponds scattered across the city that make for great fishing in the area, so just grab your fishing pole, find a spot, and start casting!
In addition to going fishing in the Boise River, the Boise River Greenbelt is the ideal place for a hike or a stoll! The park is a 25 mile stretch of trails along the Boise River that provide breathtaking scenery that anyone needing a break from the hustle and bustle of the city is sure to enjoy. As an added bonus, if you enjoy going for a bike ride there is a popular 10-mile bike trail along the river as well. The Greenbelt offers for a nice quick getaway for those needing a little bit of adventure during their weekend.
Ever wonder what it would be like to visit a petting zoo for underwater animals? Wonder no more! Another great place to go check out while you are in the city is the Aquarium of Boise. This fantastic aquarium has been enjoyed by many since it opened in 2011 and provides a fun interactive experience for its visitors. During a visit to the Aquarium of Boise, you can hold and touch and interact with various underwater creatures, including starfish, corals, crabs, rays, sharks, and even a Russian tortoise that lives in a sunken ship! Other attractions include a tide pool where visitors can have a hands-on experience with starfish, sea urchins, lobsters, and fish, a Bird aviary with many colorful birds that may come and perch on your arm for a bit, and a Shark Nursery where sharks lay their eggs and you can find baby sharks taking their first steps… or first swims rather. This aquarium is a must-go for anyone with even a mild interest in marine animals!
If your visit to the Aquarium of Boise gets you on an animal kick, you can go from there to Zoo Boise and check out even more animals that you would find in the wild! The park started over 100 years ago when a monkey got away from the circus, and the zoo was built around the little guy. Now there are tons of different kinds of animals to check out when you pay a visit to this zoo! You'll find everything from amphibians and reptiles to arthropods to mammals! A lot of their more popular animals include lions and tigers, as well as rare species like Bald Eagles and Komodo dragons. Like the aquarium, Zoo Boise provides many interactive experiences with their animals. Guests can actually feed sloth bears and giraffes, and Zoo Boise's butterfly exhibit during the summer, considered by many to be the highlight of the zoo, is a beautiful place to visit, with hundreds of the colorful winged creatures flying all over the place and right into the palm of your hand! Spending a few hours of your weekend in Zoo Boise will definitely be a memorable experience!
Another great attraction in the Boise area that makes a great weekend activity is the Discovery Center of Idaho. This marvelous place contains over 200 different exhibits showing off what kind of fascinating things science is capable of. Like the last two attractions, the Discovery Center is super interactive and is sure to pique your interest in the worlds of science, math, technology, and engineering. The Center is constantly adding new exhibits, so it is always worth dropping by to check out what kind of new things have been incorporated. If you are looking for something unique to pay a visit to while you are spending time in Boise, this is definitely the place to be.
One more popular place to be on a weekend in Boise is the Capital City Public Market, which is open every Saturday and has been a weekend mainstay since it opened in 1994. The Market is a fantastic place to go and buy fresh, locally grown produce, and as an added bonus, it helps businesses in the area to grow. It is far larger than your average farmers market, sporting up to 130+ vendors on a good Saturday, making it the perfect place to go to get a large variety of fresh fruits and vegetables grown in the Boise area. The freshness of these local foods will really bring out the most flavor possible. In addition, to produce, vendors at the Capital City Public Market sell a lot of fish, baked goods, meat, and more! It really is a special place to check out when you are in the Boise area, and one of the city's best weekend attractions.
There are tons of fun things to do in Boise! No matter what kind of fun you are looking for, there is something in the area for you to do. Do you want a relaxing day to go fishing? Do you want to see some cool animals? Do you want to get some of the Gem state's best fresh produce? The possibilities don't ever end!
Sources:
https://parks.cityofboise.org/vo-learn-teer/boise-parks-community-education/nature-guide-for-boises-parks/fish/
https://vacationidea.com/destinations/best-things-to-do-in-boise.html
https://vacationidea.com/attractions/aquarium-of-boise.html
https://vacationidea.com/attractions/zoo-boise.html
https://vacationidea.com/attractions/discovery-center-of-idaho-boise.html
https://www.capitalcitypublicmarket.com/the-market