Use this checklist to prepare for winter
Posted by Hughes Group Blog Team on Wednesday, December 1, 2021 at 12:05 PM
By Hughes Group Blog Team / December 1, 2021
Comment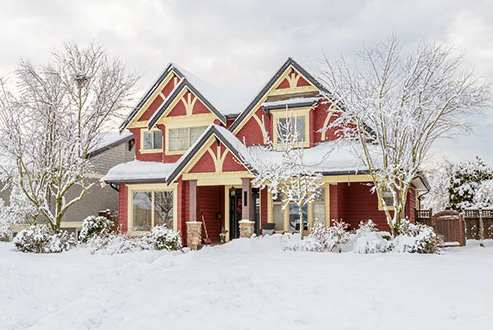 Whether you've lived in Boise your whole life or have decided to call Boise home recently it's about that time when preparing for winter fun, festivities, and the finer details that tend to help make the holiday season one to remember joyfully! Have you ever had a moment where you take a minute to chuckle at the mess you've created or unintentionally found yourself in. You know the time where you've done something so silly that all you can do is laugh at the moment and shrug it off. Well, no matter how silly one of those moments may feel, generally most of us tend to do our best not to relive misfortunes and try to better prepare or avoid mishaps all together. Below you will find a list of items to help better prepare for winter:
It may be time to check…
Whether or not its time to change out a vehicle's windshield wipers for new ones and the windshield wiper fluid for the winterized formula may help melt off snow and help prevent fluids from freezing when the temperatures drop.
Checking the tire pressure in vehicles may be a consideration if planning to travel for any length of time, especially once the temperatures and road conditions have transitioned to colder weather.
It may be time to consider transitioning to an all season tire or snow tire prior to snow fall, as the extra seasonal vehicle support may help when the wintry weather arrives.
Some folks keep a set of snow chains in the vehicle in the event of unexpected severe snow or snow on passes.
It might be wise to consider transitioning to a motor oil specifically designed for colder temperature will help allow vehicles to properly function in colder weather.
The handy dandy windshield scraper may be the perfect addition for clearing off snow and frost from a windshield.
It's always better to removing technology and electronics from a vehicle can help prevent damaged batteries.
The cooler temperatures have the ability to be demanding and can cause damage to vehicle batteries. Proper vehicle maintenance can help aid in preventing unwelcome surprises.
It's best to assume that the driver next to you doesn't know how to drive properly especially in snowy conditions and to keep a safe distance from all other vehicles.
Planning ahead can come in handy especially for the days when snow is in the forecast. Consider allocating extra drive time for any necessary commutes, gather groceries and the necessities before snow storms arrive, consider helping out folks in the neighborhood who may not be as prepared as you and who might appreciate help with shoveling the driveway or sidewalk, there's plenty of ways to bring about the holiday cheer.
Perhaps consider carrying an extra set or two of hat mittens in the car, you never know when you might come across someone who could greatly benefit.
Be aware that black ice may be present.
Remember to pack hazard flares, cones, and other means to identify a stalled or broken down car.
Making plans…
Check local road closures before heading out and consider throwing a 12v source heating throw or blanket in the car for cold mornings.
If traveling any significant distance be aware of any area wildlife.
Instead of stuffing pockets full of disposable warmers consider trying battery operated gloves, hat, and coats.
Keeping a travel bag with a set of winter clothing, socks, gloves and hats, in the car might come in handy if weather takes a quick turn for the worst and at one point in time or another will likely present itself as useful.
No one enjoys finding an exploded can of soda in the freezer that was placed in the freezer and forgotten overnight. A vehicle is no different. Remembering to take drinks and other fluids out of the car in winter conditions may help prevent surprises, as most carbonated drinks explode when the fluids freeze and expand.
Consider avoiding surfaces that may be frozen water to any depth.
Consider not activating cruise control on wet or icy roads.
It may be beneficial to keep phones charged and an extra charger in the car when traveling.
Check the headlights and fog lights on a vehicle to ensure good working order and consider replacing with newer brighter lights if lights appear dim.
Allocating a few minutes to let a vehicle warm prior to getting on the road helps make for a more comfortable start to any travels and it help maintain better care of the vehicle overall.
Stop signs and road signage sometimes gets covered when its snowing its best to be aware.
If new to the snow concept it is helpful to practice driving and getting comfortable driving in the snow in large open and empty parking lots.
Preparing at home…
No matter how resilient plants may be, bring potted plants indoors if it makes sense to and if you don't want to replace them next season.
Remember to bring in the pets water bowls or purchase a heated bowl units to prevent from freezing water and food.
If pets stay outside for any length of time, providing a warm shelter for them to seek protection from the cold is necessary as temperatures have the potential to change quickly, especially in this state.
Clearing out rain gutters to allow for proper drainage once the snow begins to melt can aid in preventing damage.
Identifying where storm drains will be emptying and ensuring that there is proper cleared drainage systems can help assist in preventing water puddling or draining where it. doesn't belong, it is especially important to clear fall leaves gutters before it rains
Closing the vents on the side of the house can help aid in the prevention of frozen pipes, improve heating and overall heating costs.
Remembering to close the garage door when coming home, backing out vehicles, taking out the trash, can help prevent frozen pipes in the garage.
If leaving for the weekend do not turn off the heater leave the temperature at the normal comfort level no less than 65 degrees to help prevent the possibility of freezing pipes while gone.
Keeping snow melt on hand before snow arrives will help save a trip to the store and the possibility of limited supplies or supply shortages.
Keeping a snow shovel or snow blower handy for clearing off the driveway and sidewalks
Always assume there is ice under the snowpack.
Preparing for colder weather might include window covering to help maintain warmer temperatures.
Revving up insulation in the home can help overall heating costs.
Getting the chimney maintenance in the warmer months may assist in avoiding cleaning it out in winter conditions.
Toboggans and snow toys are best purchased before the snow season as prices usually tend to increase during the season and supplies typically dwindle when its time to go outdoors and play.
Be sure to wrap tree trunks to aid in survival if trees are saplings or have damage to their trunks and reduce disease prone trees.
Keep chap stick, cream, or lotion handy in order to aid with dry skin and to help protect skin from the colder conditions.
Quality boots and shoes with tread help keep traction when trekking through any amount of snow or icy surfaces.
Hearty socks help keep warmth where it is needed the most.
Purchasing blankets for horses and dogs coats help keep pets warm.
Empty birder feeders and waterers that may get damaged by colder temperatures.
fill in any pits, dips, or sizable holes in the yard in order to prevent trip hazards once the yard is covered in snow.
Plan of filling prescriptions prior to snowfall to save a trip in less than ideal weather
When snow melts it has the potential to freeze and become ice, be prepared to salt sidewalks and areas that could present concern.
It's much more difficult to attempt to get warm if any portion of clothing has gotten wet from rain or snow, so avoid this scenario if at all possible.
Have emergency utility services numbers readily available.
What might helping others look like when it snows…
Offer to shovel neighbors driveway and sidewalks.
Offer to help neighbors who may not be able to drive in the snow to go shopping.
Offer to help neighbors take out trash cans.
Notify neighbors of possible hazards to avoid.
Share with neighbors expected harsh weather conditions if advisories mandate to take shelter.
A warm greeting when entering the neighborhood is always nice.
What to do when it snows…Have fun!
Build a snowman.
Bake.
Have a snowball toss.
Build a snow fort.
Make a maze design or pattern in the snow as a creative piece of artwork.
Warm up with hot cocoa and seasonal pie.
Get out the toboggans.
Place seasonal cookies, treats, and drinks out on the table for all to enjoy.
Visit a local ski slope or resort.
Go tubing or sledding.
Go to the movies.
Warm up with a big blanket next to the cozy fireplace.
Go swimming for a polar plunge or an indoor hot springs.
Decorate a gingerbread house.
Plan for a trip to go snowmobiling.
Complete a difficult puzzle.
Check out local holiday lighting and sculptures.
Go to a local orchestra.
Create holiday gifts and wrapping creations.
Organize the house.
Go on a horse drawn carriage or sleigh.
Write a list of ways to help others!
Purchase holiday scented pine cones and candles to freshen up the house.
Enjoy spending a little extra time personalizing greeting cards.
Make time to spend with people that maybe you hadn't had as much time as you would've liked during the busy months.
Call people you haven't talked with in a while and catch up.
Now that you've gone through the list for items that may be helpful for the upcoming winter season, it's time to take a break and enjoy the best the Boise and the surrounding areas have to offer. Enjoy a wonderful winter season! Check out list of area things to do and places to go for ideas on where you might want to go next!