Unbelievable Backyard Ideas
Posted by Hughes Group Blog Team on Monday, February 20, 2017 at 10:25 AM
By Hughes Group Blog Team / February 20, 2017
Comment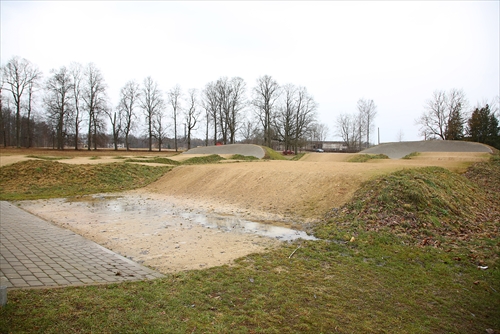 Backyards can be a great place to relax, or they can be a place to party. Depending on your individual style, you may be looking to revamp your backyard space to fit your needs. Well, occasionally in the renovating process you come across an idea that seems crazy at the time, but may be something that you could use in your yard on a smaller scale. Here are a few of the craziest backyards we have come stumbled upon. See if there are any ideas that could work for you!
Are you a BMX racer who would love to be able to roll out of bed and hop on your bike? If this sounds like you, then maybe you should take a page out of one enthusiast's book and create a BMX track in your own backyard. Of course, it's important to check and make sure you have the approvals of your HOA, because you don't want to build a fantastic course and then find out it was slightly too tall. This idea, however, is a stellar concept could really be a fun way to use up the space in your backyard and might even be the tipping point to help you win your next race and beat your own personal records!
If you've considered getting a pool in your backyard, maybe it's time to look into getting a splash pad instead. You could do things like add a rock wall, splash bucket, and station for water guns. Building a splash pad can be a considerable amount cheaper than building a pool, though a professional one would still be around $2-3 thousand dollars, so still expect a healthy budget for building your dream mini water park. Plus, cleaning and caring for your splash pad is fairly easy compared to all of the upkeep and cleaning required by a pool. These work by recycling the water and storing it in an underground tank, so there is also less worry about wasting water by having to fill a pool, and it's plenty more fun than attaching a sprinkler head to a hose.
Movie buffs will love the idea of building an outdoor theater. Perfect for warm summer nights, you can either buy an inflatable movie screen, or project a show on a large, uninterrupted side of your house or shed. If you want a more permanent option, going to the scrap yard and picking up a few old, convertible cars that no longer drive could be a great fixer-upper project and would provide seating for a mock drive-in. Your neighbors and friends would love barbeques hosted at your house with a back to back viewing of two of your favorites on the big screen! And, if you wanted a more weatherproof option, buying old cars with a roof would make watching a show in the rain a bit more enjoyable.
Do you yearn for a more peaceful outdoor experience? Why not build your own zen garden right in your backyard. Seclude yourself from the louder areas of the backyard with smaller, Japanese Maple Trees. Their lower, wider spread branches will offer enough privacy while their vibrant red leaves will bring a bit of color to your oasis. Meanwhile, build a long, yet not wide, pond with a short, flowing fountain at the end to create the illusion of a trickling stream. You could add a filtration system and even add some koi goldfish to care for in your area of serenity. While you are at it, create a Japanese Stone Garden and learn to harness the calm that can come from taking care of that space.
Mini golf is a fun activity as well, but going to a course built especially for putt-putt can be pretty expensive if you go often enough. A better idea is to build your own golf course in your backyard. Sure, it's not likely to be large enough for a professional golfer, but you can have fun with the creative aspects of mini gold and setting up challenges for the individual holes. Would you like a castle theme where you must find a way to take over the kingdom? Or maybe you would enjoy putt-ing your way through the open seas to vanquish a crew of pirates on ships? Try your hand at putting in your own mini greens and water traps and see how much fun it can be to have your own course within a few footsteps from your home.
This last idea comes from the old European estates but has been all but abandoned in our current day and age. It will take some work and upkeep, as well as a bit of a green thumb, but the results can be awe-inspiring. Why not create formally manicured gardens in your own backyard? This lovely idea can include many different types of plants: leafy bushes, floral bushes, ground cover, and more. Likewise, it can showcase some stately statues and fascinating fountains scattered in between various walking paths that put the beauty of a structured garden on display. It may even strike your fancy to have an ornate outdoor table in the center of the garden- perfect for serving afternoon tea and sandwiches. Of course, if you like a more hearty meal, that can be arranged as well!
There are so many opportunities to inject your backyard with your own personality and create a space that you will want to spend most of your days enjoying. Being outdoors can have some many great health benefits, so it is a great idea to personalize your space to help persuade you to soak up some Vitamin D. Grab your work boots and go out to get started on creating your dream space!