Things You Need In Your Kitchen
Posted by Hughes Group Blog Team on Monday, May 26, 2014 at 2:13 PM
By Hughes Group Blog Team / May 26, 2014
Comment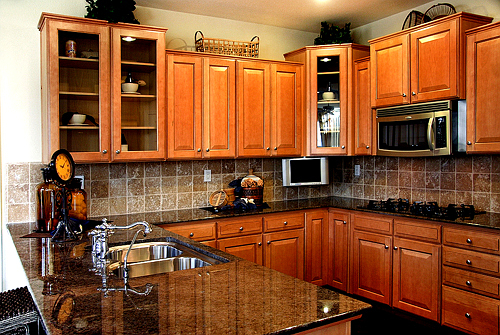 In a home, the kitchen is usually the center of the home. If not physically the center, socially, the kitchen is the center. It is where people gather to eat and be with one another. So, making your kitchen efficient and as perfect as possible is a must for any homeowner. Here are a few gadgets that will enhance your kitchens performance and make your life easier.
A spaghetti measure
Have you ever tried to guess how much spaghetti you are about to cook? It's a pain! You need an electronic scale or some equivalent machine. Nonetheless, there is a way you can measure that dry spaghetti with ease and that is with the handy spaghetti measure. It effortlessly measures the thickness of your dry spaghetti and tells you if it is one, two or more servings. This way you can know exactly how much you are preparing and will have enough for everyone at your table.
A Two-Tone Cupcake Dispenser
For making epic cupcakes, there is not much cooler than the two-tone cupcake dispenser. It is a plastic circle that you place in the cupcake tin that lets you pour a different batter on the outside of the cupcake while pouring a different color of batter in the center. Your friends will be amazed when they see that it's not really the flavor they thought it was!
A Brush Dish
When you are washing dishes, it's nice when something can make things go faster. Not only that, but if something could help you save a bit of cash and speed up the process-- well, that's a must have. A brush dish is a dish that sits to the side of sink. It acts as a soap dispenser, so, you just dip your brush into the dish until you have the amount of soap you need for the dishes you are working on. With this tool, there's no more setting down the brush or dish to pour more dish soap out at the risk of wasting a drop or two of it.
Herb Mills
Herb mills are great for when you want to use herbs in a recipe, but all there is are the dried container variety in the kitchen. The herb mill allows you to add fresh herbs to any dish by simply chopping them in a miniature mill.
Collapsible Utensils and Cookware
Some people have been investing in buying silicone utensils and other cookware for their stability. Recently, there have been many companies that have been taking silicone to the next level by making much more than things that come in contact with heat out of silicone. What these companies have been doing is, in order to save space in the kitchen, making all sorts of cookware from silicone, adding creases in the material so that they become collapsible! There is a wide variety of items that you can buy for your kitchen like: bowls, strainers, measuring cups, baking pans and more. With these great tools, you can save much more room, and be able to clean your cookware much easier.
An Apple Corer
This is self explanatory but, extremely useful. When you are preparing meals or snacks a pre cored apple makes the process much faster and easier!
A Pot or Frying Pan Spout
When you need to drain off some meat or pasta of some sort, having a spout you can attach to the lip of the pot or frying pan will make your life much easier. It's good for just about every recipe that requires straining.
Hamburger Stuffer
Have you ever wondered how great it would be to have a cheeseburger with the cheese inside the burger? Well with a burger stuffer, you can. The way it works is first, you put half of the patty meat in the bottom of the suffer, push an imprint into the meat with the suffer, put on the next layer of meat on and squish it together. Voila-- a stuffed burger. You can stuff your meat with anything you please: mushrooms, pickles, or anything else.
A Can Strainer
This nifty tool makes it easy to drain the liquid out of any of your canned foods. If it's green beans, pineapple, or anything else, the can strainer has your back. Now, you won't lose any of your canned food and be able to drain it completely.
Having tools like this will help to make your kitchen perform at optimal efficiency and effective kitchen is a vital part of a great home. To learn more about how to improve your home check out the websites listed below.
http://www.surlatable.com/product/PRO-640748/Joseph-Joseph-Spaghetti-Measure
http://www.ivillage.com/kitchen-gadgets-cooks-your-gift-list/3-a-552538
http://www.housebeautiful.com/kitchens/tips/cool-kitchen-items-20#slide-6
http://blogs.villagegreen.com/stlouis/2013/02/25/20-must-have-kitchen-gadgets-under-20/
http://www.amittenfullofsavings.com/20-must-have-kitchen-gadgets-under-20-bucks/