The Parks of Boise's North End
Posted by Hughes Group Blog Team on Wednesday, July 22, 2015 at 12:36 PM
By Hughes Group Blog Team / July 22, 2015
Comment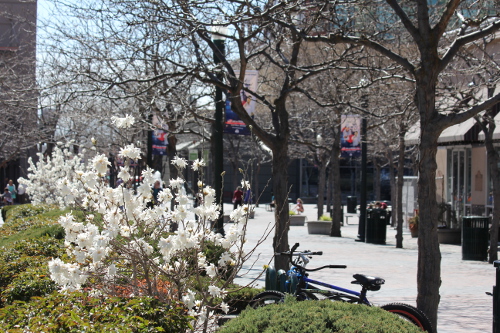 While North End might be the historical community of Boise, that's not all it has going for it. From stunning attractions, historical and cultural centers, varied architecture, and access to the great outdoors, North End is the full package. If you're looking for Boise real estate that blends nature with urban life, and a community of freethinking and open people, you don't need to look any further. Nature and the outdoors are really important in North End. It has a lot of parks that offer different ways for you to get outside and really enjoy nature.
Camel's Back Park
This is a popular park in Boise, and home of the Hyde Park Street Fair. The fair is a multiple day event featuring live music, entertainment, food, and good company. Camel's Back Park is on West Heron Street, and the developed area covers around 11 acres. The park is also home to excellent views for watching fireworks and astronomical events. It's also popular for kite flying, and in the winter, it's one of the favorite sledding spots in Boise.
You're bound to find something you'll enjoy at Camel's Back Park. There are tennis courts, playgrounds, hiking trails, biking trails, picnic areas, and even beach volleyball courts. If you have a big gathering, you can reserve the park.
Elm Grove Park
This park is a popular picnic spot, because of its large and shady trees. Elm Grove Park is bisected by an irrigation flume. The flume features a paved bike and walking trail. This park has a rather unique neighbor. It's only a block away from the old Governor's mansion, which was the official residence for several decades.
Elm Grove Park is great for picnics. It also has a playground, basketball courts, and tennis courts. Not to mention, the large trees. This park is a great location for a nice picnic, where you can sit in the shade of a beautiful tree.
Bernardine Quinn Riverside Park
This is an undeveloped park just north of the Boise River. The majority of the park is the 22-acre pond. It's terrific for paddle sports, like canoeing, kayaking, and stand up paddle boarding. There are rentals available for any of these activities. There's a picnic area and a small beach, as well as docks near the Greenbelt.
This is a beautiful area, and there are plans to improve it. The Boise River Park is expanding, and Bernardine Quinn Riverside Park will become a part of the expansion. There is also a new waterway planned, which will include two ponds at the Simplot Site and the Bernardine Quinn pond. This will create more recreational opportunities, as well as creating a better environment for wildlife and improving water quality.
C.W. Moore Park
This next park is a little different from most parks. It showcases different pieces of buildings and architecture from Boise's history. Within the park is an original Boise canal water wheel, old arches, and stonework from historic buildings. It's a delightful journey through the history of Boise, told through old buildings and pieces of architecture and engraved stones.
Memorial Park
This is a peaceful park. Originally, it was named the Union Park, and it's possessed several names before becoming Memorial Park. It's also the second largest park in North End. It sits near the Federal Building and the Military Reserve. It's serenely beautiful, with trees, a playground, and places to enjoy a picnic.
Outdoors in North End
There are a lot of parks in Boise's North End. There are still more that aren't mentioned here. For a full list, be sure to check out the North End's website. You'll also find many other attractions, features, and the history of North End there.
If you're looking for beautiful outdoor spaces, easy access to outdoor recreational activities, and an active urban environment, North End is where you need to buy real estate. There's so much you can do here, and the community is so full of charm and character. You can enjoy a delightful meal in the historic Hyde Park after you've spent the day exploring the parks, and maybe even biking in the Boise Foothills. North End epitomizes the Idaho lifestyle, and you'll never be bored here. Adventure is around every corner, and often in your own backyard.