The History of North Boise
Posted by Hughes Group Blog Team on Saturday, October 6, 2018 at 2:23 PM
By Hughes Group Blog Team / October 6, 2018
Comment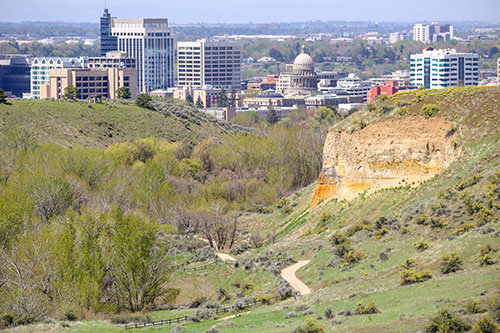 The North End of Boise was the first suburban development in Boise. It was first built in 1878 and it only stretched across a couple of blocks. In 1891 more people began to move to the area and they created a twenty-five-year boom in home construction. The people that were moving to this area were of conservative means and the homes were not extravagant but they hold a certain charm and they are now popular acres to go and check out the old houses that were built at the starting of the city of Boise. The benefit of this area that a lot of people are drawn to is that it is a suburban area that has a great school district and has all the benefits of living close to other people but unlike most modern suburbs the homes are all differently styled and unique. This makes the area more fun and vibrant. This was the first residential area that was built in the middle of a remote area but as the area grew it is where some of the most prominent citizens built homes. This means the introduction of some really great architecture that was not only built to last but also built to stand out. Again, every home in this area is unique and wonderfully different from the houses down the street. The area was made eclectic with not only the different styles of architecture that was used to erect the suburbs but the different colors that the houses are now. People in this area use their creative license to paint the houses different colors that bring out the beautiful flowers and plants that most people have growing in their yards.
The North End of Boise is picturesque and there is a lot of history that is held in the area. There were a lot of people that made new lives for themselves when they moved to the area and that is something that you can do too. The North End is a great area that is close to the downtown area where there are a lot of job opportunities or even places where you can build your own company if that is something that you are wanting to do. You will find a lot of people that are similar to you and others that are completely opposite. The great thing about Idaho, in general, is that the people in Idaho are very kind. All of Idaho has a lower crime average than most places in the United States and this area of Idaho is no different. The people here are generally friendly and warm. There are a lot of things that you can do. There are a lot of trails and small ponds and creeks that you may fish in.
This area is a historic place to live and was listed as such on The National Register of Historic Places in 1980. It was later designated as a local historic district in 1989. There were homes that were first built to be separate from each other called the Queen Anne homes but from an influx of students coming to study at the Boise Junior college, they turned the homes into apartments by connecting them together. The population in this area more than doubled in just ten years. There were thirty-four thousand people in the early 1960's and by 1970 there were about seventy-five thousand people. That is a huge increase that created a decline in the integrity of the neighborhood. Luckily, there was a neighborhood association that formed in time to make set zoning areas and keep the area in a proper neighborhood formation. Now the neighborhood is in a steady state and the area is beautiful. It is known for its gardens and beautifully landscaped front and back yards. There are a lot of trees that are beautiful and add a vibrant and lush green color to the already beautiful homes.
There are also several friendly people that are either descendants of the first people that lived here and were raised on the honest hard work that started the state, or the people that were drawn to the area for those very qualities. Whatever the reason may be for you moving to this area you very well may experience some of the consistent friendliness. The area is as beautiful and a great place to live. It is a great place to make a home for yourself and even your loved ones. There are all kinds of things that surround the area that provides you with great work opportunities, nice ways to get involved with your community and get outside and enjoy nature. While the area is a lot more developed now than it was in the past, there is still room for more to come and have the pleasure of living in North Boise. There are very many people that will share the same interests as you and you are sure to find your own little niche in the beautiful city of Boise. There are also great things to do that are not involving agriculture or the outdoors either in North Boise or very close to it. There are great places to go eat on the weekends, bookstores and clothing shops to visit as well. You will not be bored and you will not be disappointed if you make the move to Northern Boise.
Sources:
https://pds.cityofboise.org/planning/hp/districts/