The Boise River Greenbelt
Posted by Hughes Group Blog Team on Friday, March 13, 2020 at 12:08 PM
By Hughes Group Blog Team / March 13, 2020
Comment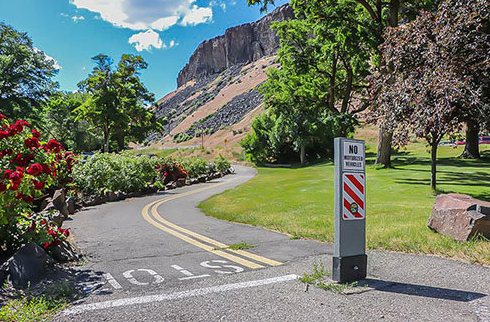 The city of Boise tops the charts when it comes to desirability with strengths ranging from affordable housing, cost of living, quality of life, as well as a balanced array of recreational activity opportunities. One local attraction, in particular, begs the attention of all Boise residents and visitors alike. The Boise River Greenbelt is an ideal destination for all to enjoy, with over 25 miles of a pathway that meanders graciously through the heart of the city and is nestled alongside the beautiful Boise River waters. Stretching from the city of Boise across to portions of the neighboring Garden City and then making its way over to the city of Eagle, the Boise River Greenbelt sits as the center attraction to several cities. The greenbelt acts as a harmonious connection between these communities as people gravitate to this location year-round.
The Boise River Greenbelt has flourished into a destination where there is a daily convergence of adventurers, outdoor enthusiasts, travelers, nature-lovers, and those seeking to head over to this terrific pathway for some time outdoors. As the Boise River Greenbelt leads through the heart of area happenings, meandering to some of the various destinations alongside and near the greenbelt brags a considerable allurement for many seeking to take part in some of the vast selection of area attractions. A few of these stops might include Kathryn Albertson Park, Lucky Peak State Park - Sandy, Idaho Shakespeare Festival, The Mill Station at Harris Ranch, Barber Park, Marianne Williams Park, Wood Duck Island Conservation Area, Red Bridge, MK Nature Center, Boise State University, Julia Davis Park, and Downtown Boise. Downtown Boise boasts dining and eatery options, shopping boutiques, brand named stores, sporting events, community gatherings, pubs, art galleries, furniture stores, classes, as well as many others.
The Boise River Greenbelt is lined with abundant beautiful area tree life and pleasant birdlife with access to the Boise River. Enjoy a myriad of pedestrian entry points, pavement mile markers, and directionals for ease of access. The Boise River Greenbelt makes for the ideal day exploring the outdoors, as there is so much to discover! Whether the goal is a nature adventure for exploring or perhaps the greenbelt is an alternative to car transportation, the journey has the potential to make for a very relaxing and delightful experience. Rain or shine, there is sure to be folks out enjoying the tranquil atmosphere while running, biking, rollerblading, cycling, trekking, skating or boarding, walking, strolling along, as well as taking part in a host of nearby recreational activity opportunities. Some adventurers may utilize the Boise River Greenbelt for access to the Boise River for water sports and activities that may include kayaking, rafting, swimming, surfboarding, canoeing, standup paddling, and fishing to name a few.
A few more stops that may peak your interest might include the Discovery Center of Idaho, Zoo Boise, the Boise Rose Garden, Boise Library, Ann Morrison Park, Ann Morrison Park Outdoor Gym, and the Gene Harris Band Shell. Also find locations such as Shoreline Park, The Idaho Fallen Firefighters Memorial, Rotary Park, Bernardine Quinn Riverside Park, Boise River Park, Quinn Pond, Boise Whitewater Park, and Esther Simplot Park. The Boise River Greenbelt offers direct access to Ester Simplot Park. The park features a vast selection of recreational opportunities, including area trails, water activities, a playground, open grassy play areas, and fishing. Other parks located alongside the greenbelt also include Peregrine Park, Heron Park, Willow Lane Athletic Park, Willow Lane Bike Park, Kiwanis Park, Westmoreland Park, Fish Park Glenwood Bridge, River Pointe Park, Riverside Park, and Reid Merrill Park. Some additional neat scenic locations include Garden City Pollinator Habitat, Plantation Country Club, West Greenbelt Bridge, Kirkham Lake, Boise River Diversion Dam, and the Ridenbaugh Canal. Appreciating the Boise River Greenbelt doesn't require heading off in different directions or even participating in other activities as the greenbelt itself is remarkably scenic and pleasant.
Nature lovers and those who gravitate towards the natural environment may take delight in discovering an array of Boise tree life while exploring the Boise River Greenbelt. A few types of tree life known to the Boise area, including the beautiful Flowering Dogwood, Saucer Magnolia, Rocky Mountain Maple, Serviceberry, Green & White Ash, River birch, American linden, Horse-chestnut, Northern Catalpa, and various Oak - Fagaceae Family Trees. The beauty of the tree life provides a stunning display while also offering shaded areas for the ideal balance of fun in the sun and relief from the midday heat.
For those who enjoy birding or simply find these charming creatures interesting, there's a chance to come across bird species, including the American Coot, Crow, Goldfinch, Kestrel, Robin, and Wigeon. Additional birds might also include the impressive Bald Eagle, Bank and Barn Swallow, Calliope and Black-Chinned Hummingbird, California Quail, Ring-billed Gull, Belted Kingfisher, Rock Pigeon, Ring-necked Duck, Red-tailed Hawk, Downey Woodpecker, as well as the Great Blue Heron to name a few.
Creature, critters, and animals that are known to frequent the Boise River and the Boise River Greenbelt area are also part of what makes exploring the pathway so enjoyable. Wildlife viewing opportunities may include Mule Deer and White-Tailed Deer, River Otter, Rabbit, Racoons, Mink, and Squirrels. Of course, a few of those animals are much less likely to be out roaming during the daylight hours, though, every now and again, people observe these darling creatures out and about. The river waters during the warmer months remain popular among the collection of people who flock to this area; notwithstanding the river waters are also an attractive destination for area wildlife seeking to cool down and replenish. At one time, there was a moose on the loose who gallantly made its way to the refreshing waters of the Boise River for an afternoon splash. The moose was safely transported by Idaho Fish and Game to a location in the higher country, though not before giving Fish and Game officers a performance as the moose swam across the Boise River waters. The harmonious relationship between wildlife and greenbelt adventurers is simply one of the splendid elements that make Boise so grand.
The delightful Boise River Greenbelt pathway is popular among those who appreciate the scenery and for many who take delight in utilizing the greenbelt for exercise or simply taking in the fresh air. That being said, staying current with updates concerning current closures is a good idea during the rainy season, as the Boise River Greenbelt does accumulate water and will occasionally present portions of the greenbelt that requires closure until the flooding has subsided. With so many access points, any closures that may occur on the greenbelt during the rainy season are generally accessible with minimal rerouting. Find time to explore the Boise River Greenbelt and become acquainted with this fantastic 25 +/- mile pathway that is sure to amaze.
Sources:
https://www.cityofboise.org/departments/parks-and-recreation/parks/boise-greenbelt/
https://www.idahopress.com/news/loose-moose-in-boise-tranquilized-and-relocated/article_f24e44c4-f0e4-11e3-a6f7-001a4bcf887a.html