The Best Fishing Spots Near Boise
Posted by Hughes Group Blog Team on Monday, October 22, 2018 at 11:54 AM
By Hughes Group Blog Team / October 22, 2018
Comment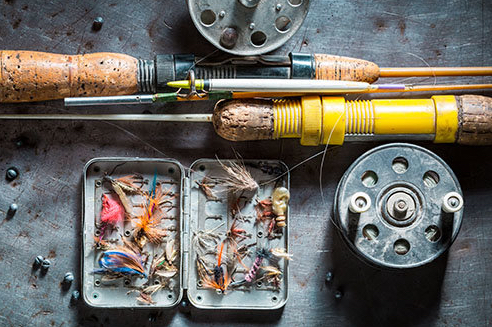 Idaho is a fisherman's paradise. The Gem State prides itself on its gorgeous scenery and mountainous landscapes, ideal for any outdoor-lover. Wherever you go there is something new to behold! Idaho's winding rivers, serene lakes, and large reservoirs carve their way through the rugged landscape and serve as the ideal fishing waters. Dedicated anglers from all over the country flock to these fishing hot spots each year.
You'll find all kinds of fish species swimming their way through Idaho, including smallmouth bass, channel catfish, sturgeon, Chinook salmon, rainbow trout, and more. So grab your pole and tackle box! Here are the best fishing spots near Boise, Idaho.
South Fork of Snake River
About an hour from Boise is South Fork, where you'll find incredible opportunities to fish for trout and whitefish. This section of the river not only features world-class blue-ribbon trout fishing, it is also a popular place for animals to appear, giving you a unique chance to spot some wildlife. Only lures and flies with a single, barbless hook are allowed, so make sure you come prepared. A great way to score a nice catch on the river is to hop in a drift boat and do some exploring. Be aware that fishing is catch-and-release from December until March, but after that, there is a two-fish limit for fish over twenty inches.
CJ Strike Reservoir
Even though it's just a little over an hour south of Boise, the 6,759-acre CJ Strike Reservoir has some of the most diverse fishing around. Due to the vast amount of different species of fish you can catch here, it is a popular fishing location for anglers to conquer. Both warm and cold water species can be found here. Besides its excellent bass fishing, you might also catch salmon, perch, catfish, trout, or sturgeon. There are even fishing tournaments held here due to the sheer amount of fish there are! The reservoir is stocked regularly with rainbow trout that grow quickly, so you can catch yourself a tasty meal.
Swan Falls Dam
The Swan Falls area is an especially beautiful one. Not even an hour's drive from Boise, you'll find the Swan Falls Dam in the canyons just outside of Kuna, Idaho. The dam has created two separate habitats for fishermen to enjoy. The upper part of the dam is an excellent place to go boating as you fish for smallmouth bass, and in the lower section, you'll find a good amount of sturgeon and catfish. You'll probably have the most success if you use live worms as bait while you fish at Swan Falls. Fishing in such a picturesque location as this will have you coming back for more.
Lake Lowell
West of Boise, near the city of Nampa, at the Deer Flat National Wildlife Refuge, you'll find lots of large smallmouth bass that are highly sought after by anglers at Lake Lowell. The lake provides many recreational areas to camp under the stars and bow fish for carp. Some other species you'll find are salmon, brook trout, and the mighty sturgeon.
Arrowrock Reservoir
Boise offers so many different fisheries for anglers of a wide range of skill and preferences. Each beautiful and unique in their own way, it can be hard to choose just one fishing location! The more you explore the Boise area, the more you will fall in love with the city and just how excellent the fishing really is there. Wherever you live, great fishing often makes for an excellent day trip!
Spend all day lounging around on the dock, bank, boat, tube— whatever your fancy may be. Each location provides you with something new and different to admire, unique wildlife to spot, and an ample amount of fish to catch. Who knows? You might come across a species you've never caught before. If you're new to the world of fishing, you'll have many chances to hone your skills and continue to improve your fishing know-how and tactics. Test out what works where, and what doesn't. You get to choose what adventure you'll have, and you'll love spending time appreciating nature and all its many wonders. So where in Boise will you decide to explore? Happy fishing!
Sources:
Only thirty minutes northeast of Boise is Arrowrock Reservoir, a popular fishing spot for anglers in search of Kokanee and Chinook salmon. You can take a boat out on the reservoir and fish to your heart's content, or head to the bank where there are loads of smallmouth bass near certain rocky spots. Ensure that your vehicle has four-wheel drive in order to navigate the bumpy road leading to the reservoir.
Big Wood River
This river branches off the Snake River and runs through central Idaho for 137 miles. Not only is the scenery here breathtaking, it's also a great spot to challenge yourself by fishing for wild trout that have a little fight in them! In the summertime, both casting and fly fishing might catch you a nice rainbow, brown, or brook trout.
Local Ponds
Wherever you are in Boise, you're probably close to a nearby pond! There are many fisheries in the Treasure Valley, and they offer anglers a great opportunity to practice using any new equipment they might want to try out. Head to Horseshoe Mill Bend Pond to fish for some seriously huge catfish, or make your way to Parkcenter Park in East Boise to easily fish for trout and bass.
You'll discover the hidden gem that is Riverside Pond and its plentiful largemouth bass, bluegill, and rainbow trout. If you're searching for a more off-the-beaten-path kind of fishing experience, you'll enjoy Quinn's Pond at Bernadine Quinn Riverside Park. There you can fish from a tube or kayak for trout, channel catfish, and bluegill. Veterans Park Pond and Settlers Park Pond are both easily accessible spots to fish for rainbow trout, bluegill, and largemouth bass. Some of these ponds even include park facilities like picnic areas and restrooms.