The Beautiful Lakes of Idaho
Posted by Hughes Group Blog Team on Friday, February 14, 2014 at 1:25 PM
By Hughes Group Blog Team / February 14, 2014
Comment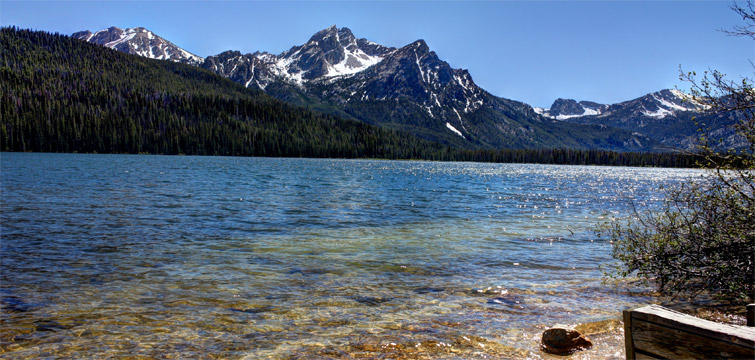 Some of the most beautiful locations in Idaho exist around water. And Idaho is teeming with lakes, rivers, and reservoirs, which have as much aesthetic value as they do recreational. Idaho is no stranger to both, and boasts picture perfect locations in areas found everywhere in the state.
Pettit Lake
In the heart of the gorgeous Sawtooth Mountain range is Pettit Lake, a lovely alpine lake just south of the town of Stanley. If you're looking for a beautiful backdrop for Idaho camping or trail hiking, then Pettit Lake is the destination for you. Beginning at Pettit Lake, you'll find trails that lead into the Sawtooth Mountains, including Toxaway Lake Trail, an 18 mile round trip with unbelievable scenic views.
Payette Lake
McCall is a resort town not far from Boise, and is located on the southern shore of Payette Lake. McCall has blossomed into being an all-season tourist destination for the bounty of recreation found there, including the many opportunities available on the 5,330 acre expanse of crystal clean, glacial water found at Payette Lake. If sandy beaches, excellent boating and beautiful mountain views are on your list of must-haves, don't miss out on this one of a kind lake. When visiting the great state of Idaho check out the towns near theses lakes and more as fun places to live.

Lake Cascade
Lake Cascade is found on the North Fork of the Payette River, located in the Boise National Forest. With a surface area of 47 square miles, it is the fourth largest lake in the state. If you're into fishing, the lake contains Perch, Trout, Small-mouth Bass, Kokanee, and Coho Salmon. Winter is one of the most beautiful times on Lake Cascade, and anglers come out for splendid ice fishing. The Lake Cascade State Park houses more than 2, 330 campsites in 9 different campgrounds with six boat ramps as well as affluent hiking, bird watching, skiing, and snowmobiling.
Redfish Lake
Redfish Lake is a breathtaking alpine lake in central Idaho, located in the Sawtooth National Recreation Area. Redfish Lake hosts an entire list of recreational opportunities in parts of the most picturesque backdrop in Idaho including boating, camping, and hiking. Redfish is named for the once brilliant display of Sockeye Salmon that once returned from the Pacific Ocean in such huge numbers that the lake shimmered red during spawning season.
Alturas Lake
There's a number of alpine lakes around the Sawtooth Mountain range, and Alturas Lake is set apart for its many bird watching opportunities, from Raptors, Shorebirds, Songbirds, Upland Birds, Waterbirds, and Waterfowl. Enjoy camping in one of the most pristine areas in Idaho, as well as pleasurable drives, backpacking, boating, fishing, horseback riding or fishing.
For more information on Idaho living, don't hesitate to contact us at (208) 571-7145.