The Amazing Boise Library
Posted by Hughes Group Blog Team on Wednesday, September 21, 2016 at 1:49 PM
By Hughes Group Blog Team / September 21, 2016
Comment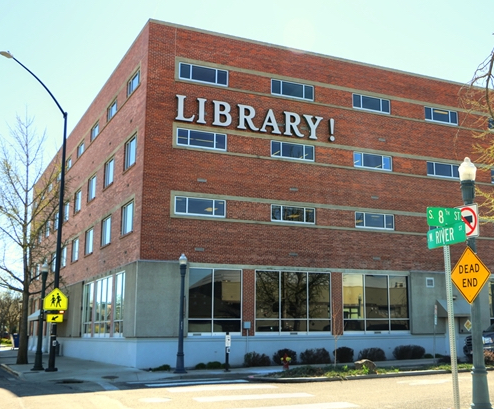 When you move to a new town, it is good to take in the sights, get a feel for the culture, try out the food, and, most importantly, check out the great community resources that are available to you. There are many amazing community resources available to residents of the Boise area, so when you move here, you need to put finding them on the top of your list of things to do. However, amongst the parks and the historical sights, there are hardly any resources like the Boise Library.
In Boise the library's title on its buildings (yes buildings, there are many around the valley, just check their website for the one closest to you) and letterhead is not just Boise Library, it's 'Library!' with an exclamation point. At first, it seems strange to have an exclamation point in the name of the library, but once you see what all the library has to offer the community, you too will be shouting "Library!" at the top of your lungs.
Books and Movies
Let's start with books and movies— the traditional library resource. As you would expect the Boise library system is full of books and movies. In fact, they have books and movies that cover nearly every genre and topic. Want the latest fantasy novel or maybe a documentary on volcanos? Well, you are in luck— they have it there. Their books range from fantasy (as we said before) to investing and nearly everything in between. They also have plenty of great movies, documentaries, instructional videos and more. Most of the time, books can be checked out for 2 or 3 weeks and DVDs/ VHSs can be checked out for 1 (depending on the current library policy). So, you will have plenty of time to enjoy that book or movie you've been dying to have.
Ebooks
As an extension of the library's collection of books, DVDs, and other media, the library also has hundreds of Ebooks and Eaudiobooks that can be rented and downloaded remotely if you have a library card.
Computers and Technology
Probably the next popular reason to come to the library, computers. At any of the many library locations around the valley, you can, if you have a library card, use the library's computers and internet (or WIFI if you have your own device) to do work, school work, research, check your email, check your social media accounts, or just play games. They are a great resource for people who either don't have a computer or internet connection. Sometimes, when you move to a new place, it may take a week or so to get the internet hooked up to your new house. So, if you are in that situation, don't hesitate to go to any of the library branches.
At some of the libraries they even have laptops and tablets you can check out and use while you are in the library. These are meant to allow everyone the chance to the technology they are comfortable with and to get comfortable with technology they may not know how to use.
The Garden City Library, though it isn't one of the Boise libraries, is open to citizens of Boise who hold normal Boise library cards. At their facility, you can also check out MiFi devices to take home for 2 weeks at a time.
3D Printer
One thing that the Boise library system has that many do not is a 3D printer. 3D printers are new to the consumer market and can be pretty expensive. However, thanks to the Friends of the Boise Public Library (an organization dedicated to helping the library stay up-to-date , the money to buy two of these printers was made available to the library. Anyone can schedule an appointment to use the printer for free, all they have to do is schedule a time on the library website. Patrons are limited to 2 hour sessions (and no more than 1 session per week). So, as long as your print can be done within the 2 hour timeframe, you can print just about whatever you want.
Now, don't be worried, you don't need to learn how to render your own 3D schematics, you can easily download any number of designs for free from websites like https://www.thingiverse.com/ directly onto the library's computer to be uploaded to the printer.
Classes, Clubs, and Events
As with many other libraries, the Boise library is full of great clubs, classes, and events. These can range from youth groups to board game nights to movie nights. There are also some very useful classes too, not just ones to entertain. If you go on the library website you can find a complete schedule with their events on it, and even though they are all great, there a few we'd like to highlight that are quite extraordinary:
Free Law Clinics
As a service to those who can't afford legal consultations, the library is offering free law clinics on the 2nd and 4th Mondays of each month. This is a first-come-first-served clinic so you need to come early and be checked in by 5:30 PM the night of the clinic.
These law clinics are being held at the library, but are really run by volunteers from around the valley that are studying or practicing law or are in connection with Concordia University School of Law, and the University of Idaho. The organization that heads the clinic, however, is the Idaho Trial Lawyers Association.
Tax Help
Another great event that the library hosts is its annual Tax Help clinics. This is a free service for people who make under $62,000 a year. It is run by volunteers from Boise State University and they can help you get all your taxes ready to be filed and may even help you file electronically.
Usually, this clinic is held in April, but sometimes there is another class similar to it during the months prior to tax season (consult the library for specific schedules for each year).
Coding Classes
The library's coding classes are possibly their most popular of their online classes. With your library card, you can get free classes in all sorts of computer coding, web development, and many other fields. This is provided to offer the public with more opportunities to improve their job skills.
Language Classes
On that same note, the library also has many online classes to learn languages. Library card holders immediately have access to dozens of online courses in languages like Spanish, Japanese, French, Portuguese, Chinese, and so forth. This service is provided by the Mango Languages program.
There are also online basic ESL classes (English as a second language) for those who are moving to Boise who want to improve their English.
Databases
The library also has access to many online database that can be used for any number of purposes. There are databases for auto repairs, investing, business, history, literature, science, travel, and, of course, the technology and coding classes.
Free Music Downloads
Another great resource that the library offers is free music downloads. If you like music and can't afford to buy the songs, you can download some of them legally, and for free, from the library's access to Freegalmusic account. Each user gets to download 5 free songs each week and can listen to a predetermined amount each week as well. It is a great way to build up your own music library. You can even enjoy many of the most new and popular songs, so don't worry, if you hear it on the radio, it will most likely be on there— not a guarantee.
If this hasn't gotten you excited to come to the Boise 'Library!' then we don't know what will. The Boise 'Library!' is a great part of our community and it can enrich lives, cultivate minds, and broaden horizons. So, take some time when you get into town to not pass one of the library branches by. Check it out. Boise is your new home and you deserve to enjoy the amenities that come with being a Boise resident.
To learn more about the Boise library and its branches, or anything regarding Boise, the Treasure Valley, or moving to Boise, call one of our licensed and trained members of the Hughes Group. They know the area like the back of their hands and are ready to show you many more of the great amenities that will be available to you. Call today!