Summer Day trips from the Treasure Valley
Posted by Hughes Group Blog Team on Tuesday, August 27, 2019 at 10:59 AM
By Hughes Group Blog Team / August 27, 2019
Comment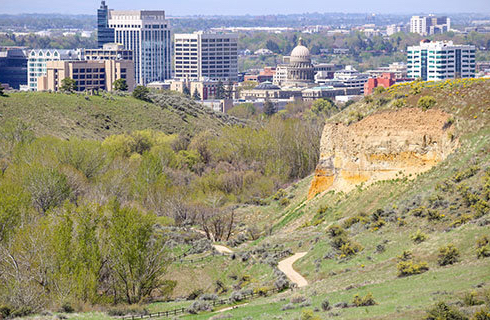 Summer in the Treasure Valley is a fun and energetic time where people are always outside and being active. The landscapes are beautiful and there are so many places to check out wildlife and interact with nature. There are plenty of places to go fishing for a day or floating on the Boise River in a raft, on a paddleboard or in an inflatable tube. There are parks where you may set up a picnic, play games and enjoy time outside. The sky's the limit in the summer in the Treasure Valley for there are so many things to do. There are places to go hiking, biking and if you want to extend the day trip into a weekend trip you may find places to set up camp as well. A lot of people enjoy going to the Boise Zoo in the summer and they make a day trip out of that by packing a lunch to enjoy in the nearby park and then making their way through the zoo. There are festivals and other carnivals that open up for certain amounts of time during the summer that are fun to participate in. Water activities are very popular in the Treasure Valley and there are many small ponds where you may rent paddle boats and feed the geese or the swans. You may also consider bringing out paddleboards to float on in the calm ponds that are scattered around the Treasure Valley.
You may consider visiting places like Ann Morrison Park, the Boise zoo, Kathryn Albertson Park and other recreational spots in the Treasure Valley. You can organize a large gathering or something small and simple in these areas. Pack a picnic, frisbees and water guns for a fun-filled day with friends and loved ones. There are so many places that you can go to spend time outside but you do not have to have everything planned out. The Treasure Valley is a very laid back place where you can just go with the flow and see what happens. In most cases that is how the best stories are made. There are trees where you can tie up a slackline and practice your tightrope skills. There are already several locals that do this and it is a very fun pastime during the warmer months. The parks that were listed above are places where a lot of wildlife resides. You can relax in a hammock under the shade of the trees or you can play a game of soccer with some friends. There is a lot of outdoor space that is great for spending time outside and interacting with the outdoors. Some of these parks even have places where you can either set up your own barbeque or you can use the ones provided. You can go for a day of spending time with your friends and loved ones, playing games and eating good food all under the sun.
There are also a lot of water activities that you can participate in during the summer. The Boise River runs through the Treasure Valley and it is a great place to raft, paddle board or just float in a tube. You can also fish in this river and spend time on the green belt. The great thing about the green belt and the river is that everything is so close to each other that you do not just have to do one thing while out on the river. Most stretches of the river last from one to three hours and there are great places to stop for a picnic along the way. You might consider walking the greenbelt or ride bikes along it as well. There are trees that line the river that people have tied ropes on so they can swing into the river. This is a fun activity to do during the summer when you want to cool off so long as you are careful about where you are landing, You can set up a hammock on the trees right next to the water and relax when you are ready to relax after being out in the sun and on the river for a while. It is a great area to spend a day if you want to be outside but do not want to be far from home. There are a lot of people that come to this area and it is not uncommon for you to meet new friends in this area that you can share your resources with and have a great time together.
The Treasure Valley is full of so many fun things to do in the summer. There are so many people that like to go to Camel's Back or Table Rock in the Treasure Valley and go hiking in places where they can take their dogs with them and spend time outside. There are also great places near Camel's back that are at the bottom of the trails where there is a park with a play structure and benches and other places that you can set up a picnic or play games and have some quality time with your friends and loved ones. A lot of these things may seem simple but they are very fun and there are always people out that you can meet and talk to. There are so many places to go and enjoy from the river, lakes and ponds to parks and the green belt. The world is yours in the Treasure Valley and there is so much to do. You can even go to the farmer's markets that are open in the mornings and use the produce that you get from there to bring to the picnic in the park.