Subdivisions in Idaho
Posted by Hughes Group Blog Team on Monday, August 8, 2016 at 1:38 PM
By Hughes Group Blog Team / August 8, 2016
Comment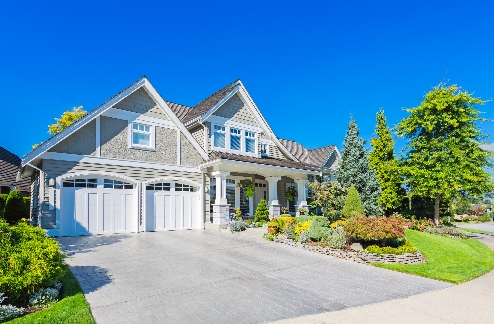 There is a host of reasons why Idaho has been growing in popularity for the past few decades. It is a state where, even in the big cities, you can still find small town charm and helping hands. It is a state where businesses can grow, the economy thrives, and fluffing lives can be lived. And it is a state where homeownership is still possible and the American dream is still alive.
Thanks to its continually growing reputation, there has been a fast influx of great subdivisions, neighborhoods and other new developments in Idaho. Some of these are highly coveted luxury neighborhoods and some are small urban communities. However, with all these subdivisions and new developments, it begs the question: What can they offer me? What makes Idaho subdivisions so attractive?
To answer those questions, the following is a simple breakdown of the three basic types of subdivisions there are in Idaho: Urban, Suburban, and Rural.
Idaho's Urban Subdivisions
Despite the usual idea that Idaho is only a rural state, there are actually many amazing urban communities, subdivisions, and neighborhoods, as well as apartments and condos available. Idaho's urban subdivisions are the place for fast paced or convenient lifestyles. They are also home to some great amenities in some of the best locations, locations that give their residents access to some of Idaho's greatest hot spots—outdoor and indoor
Locations
If you are looking for an urban subdivision in Idaho, then the best place to look is around its bigger cities like Boise, Meridian, Nampa, Idaho Falls, and Coeur d'Alene. However, the largest collection of urban subdivisions is located in the Capital City of Boise. They usually center around Boise's downtown and the surrounding areas of the Boise Bench and North End. (The North End being Boise's most famous and highly coveted part of town—urban or not. It gets this title due to its culture, atmosphere, and classic architecture).
Home Styles and General Atmosphere
In Idaho's urban environments there are plenty of diverse subdivisions. There are the apartment and condo high-rises in Downtown Boise, the cottage style communities of the Bench and North End, not to mention some historical neighborhoods with Victorian and colonial style homes. When it comes to the condos and apartments, they are have the air that is to be expected in a city—fast paced, convenient, and easily maintained.
However, when it comes to the cottage style and historical neighborhoods of the Bench and North End, there is a feeling of closeness, like a tight-knit community. Among the charming homes there are coffee shops, restaurants, public pools, libraries, and book stores. Their streets are calm and relaxing and these neighborhoods are also just as convenient as the downtown condos and apartments.
Amenities
One of the biggest draws for people to come live downtown on in the North End are the amenities. Living in these urban environments give them quick and easy access to shops, stores, museums, businesses, schools, and anything else they could need or want. Not to mention everything is only a few minutes away.
Idaho's Suburban Subdivisions
After rural neighborhoods, suburban subdivisions are some of the most popular destinations for people who are relocating to Idaho. There are suburban areas close to every major city in Idaho. They are tranquil and serene and serve as a connection between the countryside and the cityscape. These subdivisions and neighborhoods are made up of collections of affordable homes of all ages and types. Some of them designed for new construction of custom homes.
Locations
As stated earlier, almost all of Idaho's major cities will have a suburban area available. Due to the rapid growth of Idaho's population and economy over the last few decades the need for suburban subdivisions has skyrocketed. These neighborhoods are frequently found around South and West Boise, Meridian, Eagle, Nampa, and parts of Kuna, and Middleton. They can range from being simple and without much pomp or circumstance to lavish and expensive—as well as everything in between. This makes it easy to find any kind of neighborhood in Idaho for any need.
These subdivisions are also very close to many of the popular outdoor hot spots of the area, so there is always an abundant amount of things to do.
Home Styles and the General Atmosphere
Thanks to the large amount of suburban subdivisions available in Idaho, any kind of atmosphere or home style can be found. There are some subdivisions that are plain and tranquil, and others can be themed with pools, gyms, and other amenities.
Amenities
It doesn't matter what subdivision it is, Idaho's suburban neighborhoods have some of the best amenities available. They may not have a coffee shop around the corner, or a supermarket ten steps from their door, but they still have some amazing things to offer. Idaho's subdivisions are usually populated by pools, tennis courts, basketball courts, gyms, parks, and clubhouses for their residents, not just nice homes. These subdivisions are also close to many of Idaho's attractive outdoor hotspots—resort towns, campgrounds, lakes, rivers, resort towns, and much more.
Idaho's Rural Subdivisions
In Idaho, one of the most popular places to live is in rural subdivisions. These are not agricultural communities where the nearest neighbor is over 500 yards away, rather they are subdivisions that are focused more on connecting with the great outdoors. Most of the time they are properties with large amounts of land and are far removed from the urban or suburban areas of the state, and can even be in the mountains as well. These are the neighborhoods that are the embodiment of Idaho's outdoor culture—it allows for modern living in the beautiful Rocky Mountains and desert plains.
Locations
In Idaho, finding a rural subdivision is not hard. There are many on the outskirts of towns as well as the mountains. However, in the more urbanized cities, there are still some rural neighborhoods that can be found. This is due to the fact that when Idaho's cities were settled, they were still relatively close to each other. This made it so that when the cities expanded, the rural areas were squashed between them. This is the case with some of the City of Meridian's border with Boise.
Home Styles and General Atmosphere
These rural Idaho subdivisions are very outdoor oriented. They are surrounded by open fields or mountain sides, and sometimes these are even incorporated into the construction of the neighborhood. The houses come in all shapes and sizes. For instance, there many modest ranch style homes, custom craftsman style homes, and lavish cabins as well all throughout Idaho.
Amenities
In the way of amenities, these rural subdivisions have nearly unlimited access to the great outdoors. For instance, the communities that are built in the Boise Foothills allow their residents to access the hundreds of miles of trails that spider-web through the hills at any time. Not to mention they are near to rivers, mountain passes, lakes, and more.
Even though these subdivisions are amazing, they are not the only reason why people come to Idaho. There is much more that makes this state great. Contact one of our local agents for more information about Idaho and what it can offer you.