Street Art Alley
Posted by Hughes Group Blog Team on Friday, October 4, 2013 at 7:06 PM
By Hughes Group Blog Team / October 4, 2013
Comment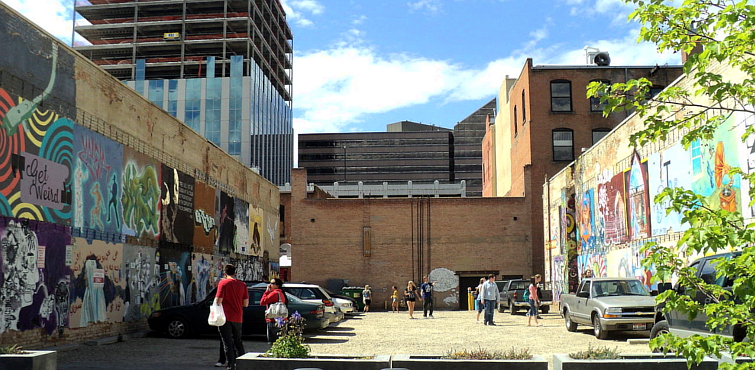 Throughout time, communities have longed to share with each other what they're passionate about, and communicate to each other through art. No matter the opposition, artists in these communities strive to always create life through a painting. When trials attempt to overcome them, they fight back through artwork. Governments who have oppressed their expression have been overthrown. People have and will always eventually fight for their freedom of expression. In America, our founding fathers have fought for this right. And though the Revolutionary war is over, the fight is still being fought today.
Today in Boise, Idaho, artists take fight to keep that right, not a fight against government but rather a fight against unimaginative and complacency. Their weapon of choice: creative public art murals. While still following the law, artists from all over the state gather to an alleyway in downtown Boise to express themselves by painting on the walls of the buildings; this is known as "Freak Alley." This is the largest public mural collection in Idaho. Freak Alley is a public display showing that creativity still strives in America today.
This battle started with a simple piece of artwork in a doorway. The detailed artwork was born out of creativity and a desire for a revolutionary idea: an art gallery not only for the public but also by public. This would be a representation of the community around Boise and the ideals and emotions that originate there. This would be a collection of imagination in the Boise community.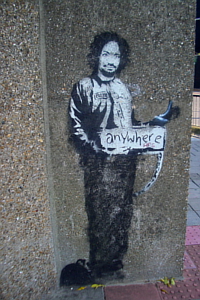 13 years ago, this revolution was started the artist by the name of Colby Akers. He took a stand against the fading ingenuity in the public art world. Akers sought out permission to paint inside of an outside doorway in downtown Boise. This was the start of the Boise mural art project.
Since then, between Bannock Street and Idaho Street, countless murals have been added to the collection; each has an important story to tell and idea to share. Every artist gives themselves to the community through this passionate expression. Art in the alleyway is made from everything from chalk, to an airbrushing, to a sharpie, to broken glass. The priceless artwork is shared to all who come to marvel in the beauty found in Freak Alley.
This open air gallery project officially started in 2002 and is continuing to expand today. Every other year, almost a hundred artists gather to repaint the alleyway, thus keeping Freak Alley alive and expressive. Most of the artists are local but there are artists that are commissioned in order to participate in this thriving public artwork. Anyone who wants to participate in the artwork is invited. They do, however, need to get permits beforehand.
And though the artwork in Freak Alley is constantly changing and modifying, one thing is kept consistent, the passion that the artists in Boise share with the community. The creativity these artists show truly represents the human expression.
The passion that started the American Revolution continues in America today. And as a result: priceless artwork is shared to those who come to bask in the timelessness of Freak Alley.
Source:
http://boisestatepublicradio.org/post/freak-alley-gallery-breathes-life-boises-art-scene
http://en.wikipedia.org/wiki/Freak_Alley
http://www.boiseweekly.com/boise/freaks-and-fish/Content?oid=2919580