Strange Street and City Names in Idaho
Posted by Hughes Group Blog Team on Monday, December 5, 2016 at 4:53 PM
By Hughes Group Blog Team / December 5, 2016
Comment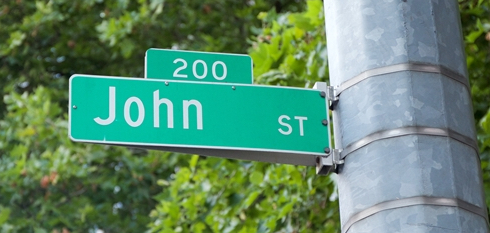 Every state in our country has its own blend of odd location and street names and Idaho is no exception. In fact, Idaho has quite a few official place names that will shock you— some will have a legitimate and verified back story, others will not. However, we promise that all the names listed below are actual places here in Idaho. So, if you are searching for a place to live in Idaho, you'll have to consider moving to these streets or cities.
Roads
Ustick
When you are traveling anywhere in Boise, Meridian, or even Nampa, you are sure to come across this famous street. Ustick (pronounced YOU-stick) is a busy street that stretches all the way from the Boise bench out into the city of Nampa. This street got its name from the small township of Ustick that used to be located between Cloverdale Road and 5 Mile Road on Ustick. The township got this unusual name from the man who founded it: Dr. Harlan P. Ustick. The Ustick name, according to Ancestry.com, originally comes from Germany.
KCID
This street in Caldwell isn't very long, but it does a great job of connecting east Caldwell to the city of Middleton. The KCID street go its name, not from any acronym or anything like that, but rather, it is assumed, they are the call letters for an AM radio station (KCID AM) located not too far from KCID Road.
Deer Flat Road
Deer Flat Road is a major road out in southern Ada and eastern Canyon Counties. It is named after the Deer Flat National Wildlife Preserve which is part of what is now Lake Lowell. The reserve got its name from Lake Lowell's previous name: Deer Flat Reservoir. Early settlers from the Oregon Trail noticed that deer and elk were spending their winters down in the valley and decided to call it Deer Flat (flat meaning a shallow or marsh). So, the next time you travel down Deer Flat Road, you'll know that it doesn't have anything to do with a deer being run over, but rather a deer getting a nice drink from the reservoir.
Frozen Dog Road
Located on the northern part of Emmett Idaho is Frozen Dog Road. While we don't know how this road got its name, considering what we learned about Deer Flat, Frozen Dog Road probably— we say probably— doesn't have to do with a poor pooch getting frozen.
Can Ada
At first glance, one might think that this is just a strange form of the word Canada, however, this road has nothing to do with our neighbors to the north. In fact, Can Ada Road is the division between Canyon and Ada counties. To avoid confusion we suppose, they separated the two parts of the name very distinctly. However, we think that the best way to avoid confusion here would be to just switch it to Ada Can road or something like that.
Chicken Dinner Road
Probably the most talked about of all Idaho's strange named streets, Chicken Dinner Road's origin has many variations with many becoming disputed urban legends. However, the only thing that is consistent is that the farmers who owned the farm on Chicken Dinner Road were either well known for the fried chicken they made, or the fried chicken they always ate. Either way, chicken was definitely involved.
Coffin Street
This is another street name that we will have to use our imaginations on. Whether it was named for a renowned coffin maker who lived there, or just after someone with the name coffin we'll never know. It is located in Atlanta Idaho which, for some reason, also comes up as saying it is in Boise. Whatever town site or incorporated city it is located it in, it is still closer to Atlanta than Boise.
Chinden Boulevard
Chinden Boulevard runs from downtown Boise, through all of Garden City, and on out to Caldwell (however it does turn into a highway around Eagle Idaho). What most people consider to be the origin of the name Chinden (pronounced Chin—like the part of your face— and Den like in "let us retire to the den…") has to do with what was once on Chinden Boulevard— a Chinese Garden. Garden City was settled by Chinese immigrants who ran large farms near the border of Boise. The name is a mixture of China and Garden— Chinden.
Slickpoo Road
Slickpoo Road is named for the town it is in— Slickpoo Idaho. While it sounds like a joke, there really is a place called Slickpoo.
Cities and Places
Slickpoo
Well, we couldn't start this part of the list without talking about Slickpoo. This town is located up north by Lewiston Idaho and is legally considered an unincorporated community. It is rumored to be named after the man who founded it—his surname being Slickpoo. Whether this is true or not, we don't know.
China Hat
While China Hat is not a city, it is a very popular place name for strange name lists like these. If you look on a map of Idaho and find China Hat, you will notice that it is simply a mountain out in the middle of the southern Idaho desert. It is the only mountain of hill for miles around and is probably named after its shape as it sort of looks like a Chinese Hat.
Cabinet
This is an abandoned town site in northern Idaho. It hasn't been lived in for several years and all that remains is the crumpled remains of an old school house. However sad it's history, the name is still strange enough to make it on this list.
Nampa
The city of Nampa Idaho is the second most populated city in the state (followed closely by Meridian). It is said to be named after the combination of a few words from a Native American language. However, it is still a name that is not heard often by those outside of Idaho and the surrounding area.
Picabo
Picabo Idaho (Pronounced Peek-a-boo) is a small town near Carey Idaho. It is another unincorporated community. Picabo is said to have around 130 people and it is mainly made up of one gas station, one store, and many acres of ranch land.
Paris
While this isn't necessarily a funny name, it is just fun to think about Paris in Idaho. Though it is nothing like the City of Love Paris Idaho is also a good place to go if you are looking for a vacation. You see Paris Idaho is near to Bear Lake and provides a great place to stay for a weekend on the water.
Atomic City
This strange named town is home to only about 30 people. Despite its small population, however, its name would suggest it was meant for bigger things. The city was originally called midway but it changed its name in the mid-1900s thanks to the "National Reactor Testing Station" the laboratory where nuclear energy was harnessed and controlled long enough to light the entire city of Arco (near Atomic city). Nowadays the lab is known as the Idaho National Laboratory.
Coolin
Coolin is quite the cool place to be. No seriously, it is very close to the Canadian border so it isn't rare for people in Coolin Idaho to experience very cold winters. However, during the summer, when the weather is warm, it is a great place to visit if you want to enjoy some time at Priest Lake.
Porthill
This little town is aptly named for it being the portal from Idaho to Canada. Only two roads go from Idaho to Canada, and one of them is guarded by this cool unincorporated vacation spot. Though the population is less than 100 people, this beautiful community is a great place to take a load off and enjoy the Idaho countryside.
Well, there you have it, some of the strangest names in our state. Idaho is a great place— a unique place as you learned above. It is the ideal place for someone who wants to be close to nature and urban amenities or the person who is looking to get more bang for their buck when buying a home or someone who just wants to live in the best state the Northwest has to offer. Idaho has something for everyone. Its dynamic mixture of urban and rural lifestyles will all you to get the best of both worlds.