State Parks
Posted by Hughes Group Blog Team on Friday, November 14, 2014 at 9:27 AM
By Hughes Group Blog Team / November 14, 2014
Comment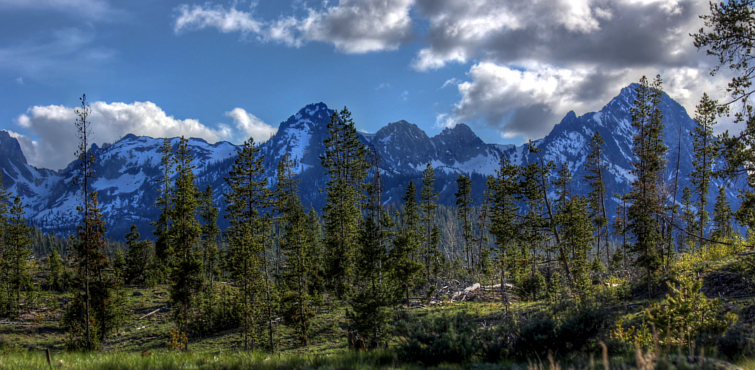 When someone says that they "enjoy the outdoors," they have a personal experience with nature. Enjoying the outdoors is different for every individual because they have made many different memories with the outdoors. The outdoors is a vast space with many different landscapes and activities. So how does one enjoy the outdoors? And what does that entail?
In Idaho, there are 27 state parks that are available for the public to enjoy. These parks range from beautiful lakes, to rocks with character, to fields of wildflowers. Each park is unique and holds something that can be enjoyed by everyone.
Lake Cascade
Lake Cascade State park is a gorgeous 40 square foot lake with 86 miles of shoreline. This park is only 75 miles north of Boise. With six boat launch ramps available, the most popular activity at Lake Cascade is boating. Boats are the gateway to truly enjoying the outdoors on water. You can water ski, wake board, or tube. Lake Cascade be a place to have a good time by both the expert and the beginner. Uniquely this lake, there is also windsurfing and sailing because of the wind there.
Another way to enjoy the outdoors at Lake Cascade is a relaxing day of fishing. There is nothing like the combination of the calming atmosphere of the blue water and the anticipation of feeling the line jerk in your hands as you hope for a bite. Cascade has a variety of fish: rainbow trout, coho salmon, small mouth bass, and perch. And because it's open year round, you can fish there all seasons. Many people enjoy both summer fishing and ice fishing.
Other ways to enjoy nature at Cascade are hiking, bird watching, photography, mountain biking, and swimming. In the winter there is snowmobiling and cross country skiing.
If one day is justnot enough to fully enjoy the outdoors at Lake Cascade, you could take advantage of the many camping opportunities. Around the lake, there are seven developed campgrounds and 200 individual campsites. In addition, there is also a group yurt complex available for rent.
City Of Rocks
As Lake Cascade is true to its name, City of Rocks is as well. At Lake Cascade, the most popular attraction is the lake. While at City of Rocks, the most popular attraction is the rocks. These humongous rocks are full of character and history.
Accounts of these rocks date back to early pioneers. City of Rocks National Reserve has been explored by nearly quarter-million people between 1843 and 1869 of travelers past. Hundreds of journal accounts and pioneer inscriptions attest to the fact that this path was well traveled. The first record that we have of this place was by James F. Wilkens in which he described this now state park as a vast "City of Rocks." The name stuck and is called by that today.
Originally used as an important landmark on the California Trail, City of Rocks is now being used to enjoy the outdoors as a place of recreation and an opportunity to appreciate the creations in nature. With 14,407 acres of rocks, there is ample opportunity for an adventure. The granite spires and monoliths reaching 60 stories tall make the most popular activity at this park rock climbing. And the 700 routes on the reserve also give an almost endless opportunity for travelers to hike, bike, or go horseback riding. If you're looking for adventure, this is the park for you.
Eagle Island
Eagle Island is perfect for a relaxing day to unwind or a day to have some exciting fun. It isn't too far away from Boise so you don't have to travel far to enjoy the outdoors. Eagle Island State Park 545 acres full of diverse activities.
The main attraction of this park is the sandy beach. This beach is on the edge of a channel with a roped off swimming area. On the water is fun for everyone, whether you like to splash around in the water or would rather lay on the beach with a towel and enjoy the sun. You could also canoe or Kayak; though, no motorized boats are allowed. Fishing is also a fun activity on the water. If you want to try something new but don't have the equipment, you can rent some at the new Visitor's Center.
Another attraction to enjoy the outdoors with water is the huge water slide. This long slide is fun to slide down again and again and again. There's nothing like zipping down a slide of water on a hot summer day. If you would rather stay dry, there is also playground. With slides and swings, this playground is a great place to use your imagination and form memories that will last you forever.
If you are a sporty person, you can take advantage of the one of the disc golf courses. There are two fun courses available: one nine hole and one eighteen hole. Or, if you are more of a volleyball person, there are volleyball courts as well. These a great for a competitive game or just a relaxing fun time hitting a ball over the net. In addition to the golf courses and the volleyball courts, there are horseshoe pits available as well.
Probably the oldest way to enjoy the outdoors is to explore. With more than five miles of trails, Eagle Island gives ample opportunity to explore. There are also many biking and walking trails and equestrian trails for those who desire to ride horseback.
Heyburn
Stretching across 5,800 acres of land and 2,300 acres of water, Heyburn is perfect for almost every form of land or water activity. As the oldest state park in the Northwest created in 1908, this park is full of traditions of past and present travelers looking to enjoy the outdoors.
Complete with boat launches, docks, and a full service marina, Heyburn makes it easy to have a fun day on the water.You can do the typical activities that are most common with boating- water skiing, tubing wake boarding. Or you can try something different like row boating, kayaking, paddle boating, or canoeing. And, of course, there is the oldest activity to do with water- fishing. Lake Heyburn is home to pike, bass, trout, bullhead, crappie, perch, and sunfish.
Land activities include biking, cycling, swimming, horseshoes, and a playground, just to name a few. There is also access to the 72- mile Trail of Coeur d' Alenes, the most popular long distance biking trail in Idaho.
Many people have spent days at Heyburn to enjoy the outdoors. This park is full of wildlife. It is home to bear, elk, moose, osprey, bald eagles, waterfowl, whitetail deer, and wild turkeys. Because of the variety of birds, bird watching is a tradition here.
Another tradition is camping. This park includes three main campgrounds and several small ones. With many campgrounds, there is a place for everyone. These campsites are perfect for a weekend to get away from the worries of life and just experience the beauty that nature has to offer.
There are a variety of places and a diverse amount of ways to enjoy the outdoors. To each person, "enjoying the outdoors" means something different. Whatever it means to you, there is a place in Idaho for you. With 27 different unique state parks, Idaho has something that will help you enjoy the outdoors perfectly.
Sources used:
http://www.visitidaho.org/state-parks/
http://parksandrecreation.idaho.gov/parks/
http://www.nwtravelmag.com/day-tripping/bruneau-sand-dunes/
http://www.americasstateparks.org/Idaho/park/Eagle-Island-State-Park/868
http://www.reserveamerica.com/camping/Heyburn_State_Park/r/campgroundDetails.do?contractCode=ID&parkId=311018