Solid Hardwood or Engineered Wood: Which is Better?
Posted by Hughes Group Blog Team on Friday, July 24, 2015 at 12:32 PM
By Hughes Group Blog Team / July 24, 2015
Comment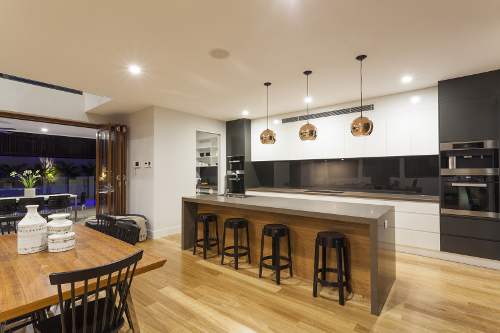 When you started looking for flooring, you didn't think it'd be so challenging. Who knew there were so many kinds of flooring? You know that you want hardwood floors, but there are so many choices there as well that it can start to get overwhelming. Do you get domestic or exotic? What color do you want? What kind of grain? Just when you think you've started to narrow it down, you run into something else. Do you want solid hardwood planks or engineered hardwood planks?
Don't give up
With the right information, you'll be able to make an informed choice and pick the flooring that's perfect, both for you and your home. Solid wood and engineered both have their places, and you can't really make a wrong choice with either. Both kinds are even considered hardwood floors. Knowing the differences can help you choose the flooring that you want in your home.
Solid Hardwood
When you first think of hardwood floors, you are typically thinking of solid hardwood. These planks are created from a single piece of wood. After the hardwood is milled, the planks are covered with a thin coating that acts as a protective layer. The type of protective coating can vary, but the end product is all the same; it protects the hardwood from stains and normal wear and tear.
Solid hardwood has a unique advantage over any other type of flooring, however, because the planks are thick, typically around three quarters of inch, they can be sanded down and resurfaced a lot of times. Essentially, if you install solid hardwood floors, they last forever. When the floor starts getting beat up, you just refinish the floors, instead of installing new ones.
Solid hardwood planks do have some quirks. Because they are a solid piece of wood they behave like wood. Hardwood floors will expand and contract with the humidity and temperature of the home. The best conditions for solid hardwood floors tend to between 45 percent and 65 percent humidity. Solid hardwood is not a good candidate for flooring where humidity is higher, like in a basement on a concrete subfloor.
When solid hardwood planks are installed, they are nailed directly to the subfloor. There are usually gaps between the flooring and the walls to account for the wood's natural expansion and contraction. Solid hardwood should only be installed above grade, and only on plywood, wood, or oriented strand board subfloor.
Engineered Hardwood
Engineered hardwood is not a solid piece of wood. Instead, it's composed of layers. The layers are bonded together using heat and pressure. The top layer is a veneer of hardwood that can range in thickness. The thicker the veneer, the more times the engineered hardwood can be refinished. However, because engineered hardwood isn't as thick as solid hardwood, it can't be refinished as many times.
Engineered hardwood isn't affected by humidity to the extent that solid hardwood is. This makes it a great choice for areas where humidity would be a concern, like in a basement, bathroom, or in the kitchen. Although, there does need to be a moisture barrier.
Unlike solid hardwood, engineered hardwood doesn't need to be nailed to the subfloor. It uses a tongue and groove system, just like laminate. This allows engineered hardwood to be installed as a floating floor. This means it can be installed on any type of subfloor, including concrete.
Making Your Choice
In the end, it comes to down to where you want to install your floor. If humidity is a concern, the obvious winner is the engineered hardwood. It won't warp like solid hardwood. If you want to install hardwood throughout your house, including the basement and bathrooms, you'll also want to use engineered hardwood.
Of course, if you don't have to worry about a basement, or humidity, you can use solid hardwood. The difference of appearance between the two types of hardwood is almost impossible to tell, but if it's important that you have real hardwood floors, you'll want to use solid hardwood planks.
Both engineered hardwood and solid hardwood look fantastic, and either one will add value to your home. But, if you're looking for flooring that will last forever because you can keep refinishing it, the winner is clear. You'll want solid hardwood, because it really can last a lifetime. Now that you know your choices of hardwood, talk to an expert and find out what will work best in your home. No matter what you choose, you won't be disappointed, and you'll have the beautiful hardwood floors you've always wanted.