Small Yard? Make the Most With Simple Design Choices
Posted by Hughes Group Blog Team on Thursday, June 9, 2016 at 12:16 PM
By Hughes Group Blog Team / June 9, 2016
Comment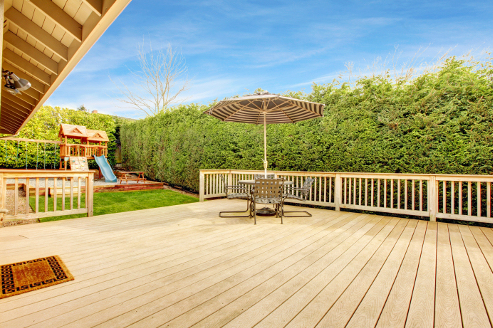 When you live in the city, or you're downsizing your home, you'll often have a small backyard. And that's okay. You can still turn your small backyard into a fully functional and beautiful outdoor space. You'll just have to be a little more creative when making design choices and planning on how you'll use the space.
With the proper planning, design, and layout, you can still have the outdoor space of your dreams, even if it doesn't seem like you could fit everything into your small backyard. Sure, you'll probably have to make some compromises, but as long as you prioritize how you want to use the space, there's no reason you can't have a great outdoor space that will fit your needs and your backyard.
It Begins With a Plan
Before you do anything, you're going to need a plan. You want your outdoor space to work, so just jumping into it without any idea of how you're going to use the space or lay it out will turn into a potential disaster.
You'll want to begin with making sure that your layout is balanced. Figure out how much space you'll need for dining or entertaining, and how much landscaping that you'd like. If you want your outdoor space to be virtually maintenance free, you might want to give up having a lawn. You can still bring plant life and greenery to your backyard, but choose plants that are easy to take care of.
Color is important. The wrong colors, or too many, can create a visual train wreck. Keep it simple by only using a limited color palette. If you want nice contrast, consider using white, or other light colors like silver or grey. Make sure your color choices work well together in order to create a cohesive space.
If you're going to be using your outdoor space at night, you'll likely want lighting. You can use lighting outside of your home the same way you do inside your home. Layer your lighting, using light for functional purposes as well as aesthetic. Remember that lighting doesn't just make the space usable at night. It can also deter burglars. For low maintenance, and nearly invisible lighting, consider using LEDs.
Don't forget about the storage. If you're going to have garden tools, hoses, bikes, or anything else in your outdoor space, you're going to want someplace to keep it. You can either use hidden storage options to keep everything out of sight, or you can just create a neat and organized storage system.
Organize the Space
Once you have your plan, and you've started creating your outdoor space, you'll want to make sure that you can arrange your seating in a way that provides the widest view of your backyard. Just because you have a small space, doesn't mean that it has to look small. Getting creative with how you organize your space, like placing your seating to view the widest part of your yard, will allow you to enjoy your space that much more, and it will make it seem bigger than it is.
Another great way to help add to that illusion is by using different elevations to your advantage. Raise your main seating area higher than the rest of the space. This will create separation of the spaces, while still making the most of the space that you do have. To further that visual separation of your spaces, you can even use different materials for flooring.
You're still going to want some green in your backyard, even if you don't have a lawn. Use plants that are low maintenance, so you don't have to spend a lot of time taking care of them. You want to relax and enjoy your backyard, not add to the list of chores around the house. Use tall planters and pots that are easy to move. You can arrange them however you want, while also adding an extra layer of privacy to your new space.
Since you're limited on space, you're not going to want your outdoor furniture to take up all of the room. Use small-scale furniture, like built-in benches that double as storage, or a small bistro set. Even just using furniture with thin frames or a smaller footprint can make your outdoor space seem even bigger than it really is.
Everything, from the layout, design, lighting, plants, and furniture all work together. With the right layout and design, you can create the perfect outdoor space, even if your yard is small. Get creative, and have fun. After all, you're creating a space that you want to enjoy and relax in.
Sources-
http://www.bhg.com/home-improvement/porch/outdoor-rooms/improve-small-backyard/#page=1
http://www.hgtv.com/remodel/outdoors/optimize-your-small-outdoor-space