Silverwood Theme Park: Largest in the Northwest
Posted by Hughes Group Blog Team on Thursday, September 19, 2013 at 5:37 PM
By Hughes Group Blog Team / September 19, 2013
Comment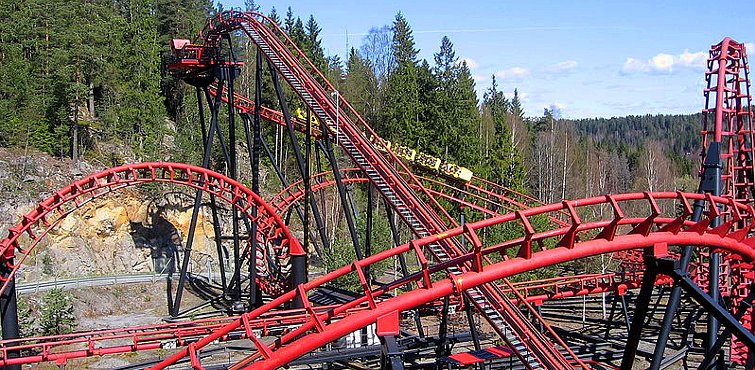 The heavy click-click-click of train cars over tracks grows louder and louder as they climb the steep incline. Each car holds two to four people. The train crawls along the rails like a caterpillar on a vine. High pitched shouts of delight and terror gather over the slowing clicks as the rollercoaster ride reaches its peak. The passengers seem trapped in the sky for a few suspended moments, then the moments pass and the caterpillar takes off on a wild ride. Below the rumbling rollercoaster, booths line the packed walkways. At one you can win a seven foot plush snake for tossing rings on a bottle, at another you can win a ticket to tonight's magic show for climbing a rickety ladder. Along the walkway, a giant orange cat greets and entertains a willing crowd. Further down, the sounds of running water and delighted screams draw the attention of passersby. Welcome to Idaho's own Silverwood Theme Park, where Idahoans flock for their summer fun.
History
Silverwood Theme Park started out as a few carnival rides, a main street, and a 30 minute steam powered train ride around owner Gary Norton's land back in 1988. He saw the northern Idaho real estate for sale for its potential as an entertainment park. It's advantageous location, near Coeur d'Alene and less than 50 miles from Spokane Washington, marked it as a fantastic investment. Since then, the park has grown to include a waterpark, several large roller coasters, and a variety of entertainment shops and theaters. Today it is the largest theme park in the Northwest, and a popular destination for residents, visitors, and people interested in Idaho real estate for sale.
Attractions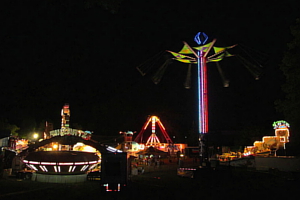 As aforementioned, Silverwood is home to several roller coasters, carnival rides, performance venues, shops, and activity centers. The thrill rides featured at the park include Tremors, a wooden roller coaster that takes you through four underground tunnels, Panic Plunge, a ride that will make you feel weightless as it drops you from the sky, and the highly rated Aftershock, which takes its passengers both forward and backward along its thrilling tracks. Milder rides include the historic steam engine train, bumper cars, a scrambler, a Ferris wheel, bumper boats, and many more classic carnival rides. If it gets too hot outside, cool off in Silverwood's Boulder Beach water park, which features water slides, lazy rivers, and many other water features to keep you comfortable. If you prefer keeping your feet on the ground, attend one of Silverwood's many theater productions. Watch incredible feats of illusionary genius at resident magician Nick Norton's Theater of Illusions. Or sit down for an old time black and white movie experience in the Main Street Theater. If you are hungry for dinner and a show, sit down in the High Moon Saloon for live music and the night's home cooked special. And if you are a fan of Garfield, come see the giant cat and his sidekick Odie in the Main Street Courtyard.
Rates
Silverwood is a screaming deal for theme park enthusiasts. A day pass for adults is about $45; for seniors and children only $23. If you buy your passes online, however, you can get a $3 discount. If you would like to go with a group, Silverwood will help you plan, and cater to your needs, whether you bring twenty or two hundred guests.
As you search for Idaho real estate for sale, take a look at the entertainment opportunities you will have as a resident of this fantastic state. Whether you enjoy the wild outdoors or the largest theme park in the northwest, you can find it here in Idaho. Talk to one of our agents about finding Idaho real estate for sale near great places like Silverwood and prepare to enjoy a lifetime of fun.