Should You Add a Water Feature to Your Backyard?
Posted by Hughes Group Blog Team on Monday, July 20, 2015 at 12:38 PM
By Hughes Group Blog Team / July 20, 2015
Comment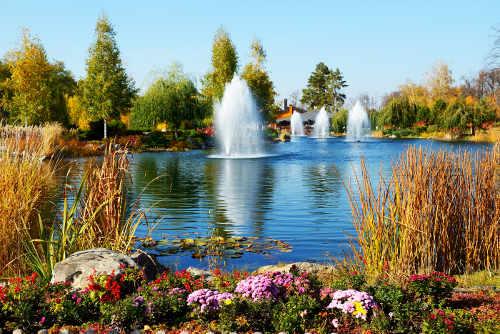 Your backyard is a private oasis for you. It's your own piece of secluded nature, and a great place to get away from it all and relax. But is it missing something? To make your backyard truly yours, and to add a unique touch that you can enjoy over and over, you should consider adding a water feature. You can add a pond, waterfall, fountain, or even a stream. Get creative, and combine different elements to create your own perfect water feature. If you're on the fence, consider the following benefits. Apart from creating a relaxing space, you could be adding value to your home.
Water and Your Senses
Water features aren't a single dimensional addition to your backyard. They engage all of your senses. You can hear the gurgling stream or splashing waterfall, and the sound of water can be soothing and calming. Even watching water can be relaxing. Water features can create a great focal point and gathering place in your backyard. Acquaintances will love being able to gather around a water feature.
Bring Nature to You
Perhaps a part of why you moved to Idaho was because of your love of nature. While living in Idaho provides you with some truly incredible opportunities to enjoy nature, why not bring nature to you? Adding a water feature is a great way to bring a piece of nature to your own backyard. It can even attract birds and other small wildlife, so you can further enjoy nature.
Relaxation
You remember what it's like being near the water. Some of your favorite memories were near a lake or a river. It was so relaxing, just being near the water and watching or listening to it. Bring that to your backyard. A water feature brings the water to you, so you can enjoy everything that you loved about the water without having to leave your home. You can even create a waterfall, to create a visually dynamic feature, with the gentle sound of splashing water.
Minimal Maintenance
You might be worried about the maintenance of a water feature. It's a fair concern; swimming pools and hot tubs can be a nightmare for maintenance. Sometimes, you might feel like you spend more time taking care of the pool then you do actually being able to swim in it. Fortunately, most water features don't require a lot of maintenance. In fact, you will typically spend around 10 minutes or less a week taking care of the plants and skimming the water. Some water features require even less maintenance. Pick the style of water feature that fits your maintenance needs, and you'll be happy with the minimal amount of work required to enjoy your very own water feature every day.
A Solid Investment
Unless you've found the home that becomes your forever home, you'll probably be wondering about the kind of investment that you're making. While you might enjoy a water feature, will it add any value to your home? Worse yet, you might be worried that adding a water feature will decrease the value of your home. Fortunately, landscaping and adding a water feature tends to increase your home value. Value is always dependent on the market and your neighborhood, but adding a water feature is usually a solid investment. If you like the water feature because it adds some unique flair, and a bit of nature, to your yard, you can bet that future homebuyers will feel the same way. Build a solid water feature that looks nice, and it's a good investment. Plus, think of all the memories that you'll make as you enjoy it.
Rethink Your Backyard
You spend a lot of your time outdoors. Your backyard is your own slice of nature, and you love using it as often as you can. It makes sense to add a water feature. It will make your backyard more dynamic, and really step it up to that next level. You have the perfect home, so why not have the perfect backyard? A water feature can add that next level, and you'll love heading out to your backyard everyday.
Imagine being able to sit next to your own pond, stream, or waterfall after a day at work. Relax, and enjoy the sunset with the calming sound of water. A water feature is a great investment, and when you use it everyday, you'll be glad you added it. Your backyard has become your private oasis, where you can enjoy nature whenever you step into it.