Securing Your Home
Posted by Hughes Group Blog Team on Monday, September 22, 2014 at 2:15 PM
By Hughes Group Blog Team / September 22, 2014
Comment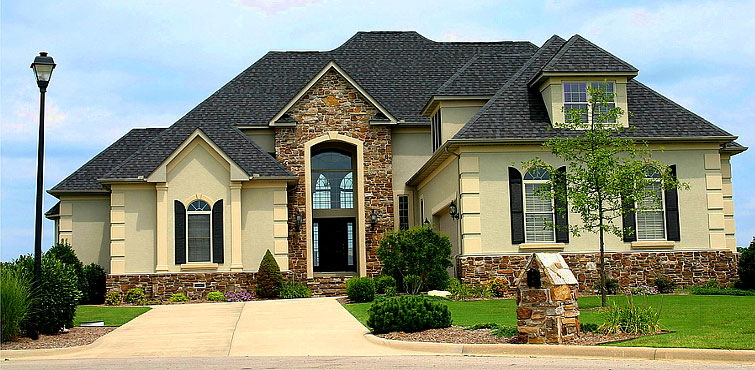 You want to feel secure in your house. And you want to know that even while you're away, you don't have to be concerned about your home being safe. Everyone, at some point, worries about the safety of their home and their possessions. About two million burglaries occur every year, and though about two thirds of these robberies are from forced entry, about 32.65% of burglars simply find an easy way in. That means that over 600,000 robberies, the loss of millions of dollars of possessions, and the compromise of these homeowner's senses of security could have been avoided.
Homes with security systems are three times less likely to be burglarized than those without, but a security system is not the only proactive measure you can do to protect your belongings. Sometimes it is the simplest of protections that can save your home and sense of safety. Here is a brief list of steps you can consider when trying to safeguard your home.
#1 Examine Your Home's Exterior
Every entryway that you use to get in and out of your home can be used by a thief, including the front door. In fact, burglars are far more likely to walk in through the front door than they are to break a window. Front doors are considered high-risk if they are hidden from the street, or have large objects like bushes nearby for cover. Eliminate these hiding places as best as you can. The harder you make it to access your home, the less likely the casual thief attempts to break in.
A word of warning: locked doors can be a deterrent, but they aren't impenetrable. Some locks, such as knob locks, can easily be manipulated. Deadbolts are much harder to break into -- installing one to your doors (and windows) that have outdoor access is an excellent way to prevent robberies. Make sure that every entryway, not just the front door, is secure.
#2 Make your Home look Undesirable
The next step you should consider is making your home look undesirable to a burglar -- not in the sense that your home can't look enticing in its beautiful exterior and landscaping. Rather, make your home appear difficult to break into.
For example, your home should appear as if someone is home around the clock. Signs of life put off the burglar. If you aren't home, elements like strategic lighting, loud broadcasts, and music can deter an unwanted entry. If you are concerned about being energy efficient, use motion lights to scare away the uninvited. Or, consider investing in motion sensors that emit the sound of barking dogs.
Also, make it seem as if you have a high-tech security system. Even if you don't actually have one, think over adding signs that you do, such as a fake camera or a security sticker on the window. This can put an element of doubt into anyone that considers intruding into your home.
#3 Don't invite Burglars to your home
An obvious rule that some people unknowingly break is broadcasting that there is something desirable in the home.
For example, if there is a box in your trash with a TV label on the outside, it could cause the assumption that you have a brand new television set. Make sure that packages like these area thoroughly broken down and aren't in plain site. Sometimes burglars go as far as to look into a window to see what is on the inside. Thus, most of the time it is a good idea to close your blinds or curtains before you leave the house.
Take care with social media, too. Smart robbers will do research on targets and could look on social media sites to see if you or anyone else posted about something brand new that could be valuable - or if the house will be vacant for an extended period of time.
#4 Make friends with your Neighbors
In recent years, burglars are getting more inventive with they break in. Instead of sneaking around at night, they will enter a dwelling in the middle of the day when nobody is home or disguise themselves as a moving company and indiscreetly steal your things. To prevent this from happening, communicate with your neighbors and inform them to stop anyone from entering your home unless you are expecting someone.
Another great benefit to befriending your neighbors is they can watch over your home during your vacations or unexpected absences. As we know, burglars will look for signs that the home is vacant for a while, and neighbors can help eliminate those signs. Ask a neighbor to house sit for you, take in your mail, and just check up on the place when you are gone.
#5 Stay in contact with local police
If you are planning on going on long vacation, you can contact the police and see if they will drive past your house to check up on it. Depending on where you live, in most cases the cops will be more than willing.
Everyone wants their home to be safe, while they are home or while they are away. By taking these few simple steps, you can increase the security on your home exponentially and decrease the chances of a break-in. The U.S. average crime rate is about 301 (meaning that every for 100,000 people, 301 of them reported a crime), so look into your community to compare. In Idaho, the largest city and capital of the state, Boise, has a crime rate 195. The second largest city in Idaho, Nampa, has a crime rate of 283.3. And Meridian, the third largest city in Idaho, has a crime rate of 189.9. Part of what makes the Treasure Valley so liveable is its incredibly low crime rates.
http://www.city-data.com/crime/crime-Boise-City-Idaho.html
http://home.howstuffworks.com/home-improvement/household-safety/security/10-ways-to-break-into-a-house.htm