Scenic Overlooks in Idaho
Posted by Hughes Group Blog Team on Thursday, October 18, 2018 at 11:56 AM
By Hughes Group Blog Team / October 18, 2018
Comment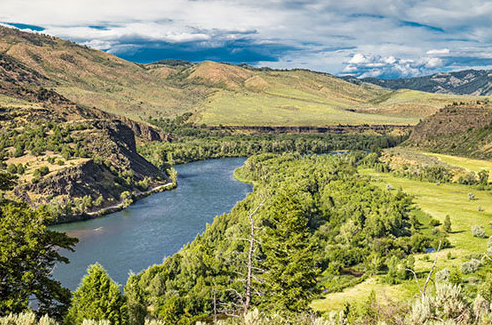 The western side of the United States has been known mainly for its majestic mountains, tall trees, and other beautiful scenery. The state of Idaho, in particular, may have some of the best ones! However, that is for you to decide. Down below are some of the greatest scenic overlooks in Idaho for you to visit.
Confluence Overlook- This overlook is located in the town of Lewiston and is close to the edge of the historical Nez Perce land. From here, you can check out the Clearwater and Snake Rivers merging with each other, as well as Lewiston on the horizon. If you visit here on a clear, wintry day, you will also be able to check out Hells Canyon and the Bitterroot Mountains. This makes Confluence Overlook one of the most picture-perfect sights on this list.
Shoshone Falls- This beautiful waterfall is located near the city of Twin Falls and is one of the most renowned waterfalls in Idaho. At a height of 200 feet above the Snake River Canyon, the view from the Twin Falls lookout station is literally breathtaking (especially if you look straight down!). No matter which season it may be, this scenery will never cease to be one of the best.
Table Rock- This scenic overlook is found on the eastern side of Boise (right next to the Old Penitentiary!). You may either drive through downtown and up the backside of the hill, or you may consider a hike up the windy path towards the front of the hill until you reach the top. Once you get the crest of the hill, you will see a giant cross close to the edge (which is clearly visible from the main road). The scenery that lies below is none other than the whole city of Boise, as well as surrounding cities like Nampa and Eagle. Perfect for sunrise or sunset pictures (and, of course, Boise pictures), Table Rock is a place that everyone will enjoy visiting.
Bruneau Canyon Overlook- The town of Bruneau has an overlook that seems to take its visitors out of this world. It is easily accessible and shows people the view of one of Idaho's famous canyon (made from basalt and rhyolite) which was carved by the river down below of the same name. The canyon itself is also very narrow and stands at 800 feet tall! It is clear why many people find this view very intimidating, but it truly is a natural masterpiece worth visiting in the flesh rather than through pictures.
Sawtell Mountain Overlook- This overlook can be found in the waterfront town of Island Park. Looking out into the horizon, you can see Henry's Lake, as well as some of Yellowstone Park. This makes this the perfect place to view three states at once (Idaho, Wyoming, and Montana)! You can also check out the beautiful Caribou-Targhee National Forest and even a little bit of snow still left on the mountains from the previous winter. Standing at an elevation of 10,000 feet, you will truly feel like you're on top of the world.
Osprey Point- This beautiful overlook is found at the Ponderosa State Park peninsula, which is located only a few miles from the city of McCall's downtown area. The Ponderosa State Park is loved by many visitors from all over the nation, as well as its locals. However, if you would like to get a grand view of magnificent scenery (such as Payette Lake, Cougar Island, and the surrounding mountain range), you should go to Osprey Point. It will give you all of these views and much more!
Elephants Perch- Elephants Perch, also known as Saddleback Mountain, stands in the center of Idaho at an amazing 10,000 feet tall! It is a popular place to go rock climbing, but it is also a wonderful camping spot near the far end of Redfish Lake and the city of Stanley. This is also a nice opportunity to get some great pictures (due to the dome-like shape of the perch). If you would like, there is a scenic boat ride that you may take across Redfish Lake which will help you stay cool. Those who decide to climb up this climber's mountain will be rewarded with views of the lake, as well as a panoramic view of one of Idaho's greatest wilderness areas. The climb may be a bit strenuous, but the end result is magnificent.
Morley Nelson Snake River Birds of Prey Dedication Point- This Birds of Prey Conservation area houses one of the world's most dense groups of raptors (hawks, eagles, owls, peregrines, etc.). It was first established in 1993 to protect this environment for the raptors, giving them shelter as well as nesting areas. Dedication Point is a great way to check out these birds in action as they fly through the skies and into the canyon. There is also a great view of the Snake River, so be sure to take some pictures!
Borah Peak- This overlook is the last one that will be mentioned on this list; however, it is possibly one of the most beautiful sites for taking in some of the beautiful state of Idaho. Since it is the tallest mountain in Idaho (standing at 13,000 feet!), it gives a wonderful view of much of the Lost River Range. The climb is a bit strenuous and definitely not for beginners, so it is advised that you bring a guide with you if you aren't an experienced climber. However, once you get to the top, you won't regret the climb up.
Some of these sights take a while to get to, so be prepared for any climbing that may be a bit more strenuous than what you are used to. It is also important to note that some of these may seem intimidating at first. In the end, you will probably have a lot of pictures, and you will have experienced much of Idaho's pure beauty.
Sources:
https://www.google.com/amp/s/www.onlyinyourstate.com/idaho/id-terrifying-views/amp/
https://www.google.com/amp/s/www.onlyinyourstate.com/idaho/scenic-overlooks-id/amp/