Sandpoint, Idaho: It Just Comes Naturally
Posted by Hughes Group Blog Team on Wednesday, May 11, 2016 at 11:57 AM
By Hughes Group Blog Team / May 11, 2016
Comment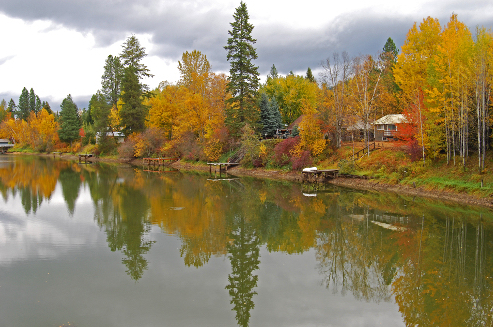 Located in the northern tip of the Idaho panhandle is a beautiful city that is unlike any other vacation destination. Sandpoint, Idaho is a paradise for recreational enthusiasts regardless of the season. This Idaho town sits along the beautiful and awe inspiring Lake Pend Oreille. Sandpoint is surrounded by the Selkirk and Cabinet Mountains, and just a few minutes away, you'll find the Schweitzer Mountain ski resort. Sandpoint, Idaho's motto is "It Just Comes Naturally," and when you see the kind of nature surrounding this beautiful city, it's little wonder. No matter the season, the nature of Idaho surrounding Sandpoint is exceptional.
But the wonder of Sandpoint, Idaho goes deeper than just nature. Within the town itself, named the "Most Beautiful Town in America" by both Rand McNally and USA Today, you'll find the historic Panida Theater and a thriving arts community. Combine that with an events schedule that's packed full, a multitude of wonderful restaurants, exquisite lodging, and one-of-a-kind shipping, and Sandpoint, Idaho is a town unlike any other.
All About Discovery
Sandpoint, Idaho is a place that is just begging for you to come and explore it. And that's what Sandpoint is all about. The invite you to come enjoy their beautiful city, in order to take in the sights, the culture, and the food. And then, to head outside and explore and discover the absolute beauty of Idaho.
In the spring and summer months, you'll be able to enjoy all kinds of water sports, hiking, biking, and more. Take to the lake or the rivers for a wet and wild time, or a relaxing float. Sandpoint, Idaho lets you enjoy the beauty of Idaho however you want, whether that means speeding down a mountain carving through the powder on skis, or enjoying a nice quiet dinner for two.
Looking for something to stay busy? You will never be bored in Sandpoint. There is far too much going on to give a chance to get bored. From northern Idaho's first ever comic con, to a song and dance social celebrating trout, you'll find everything you love and in between. Each month brings a new round of events, meaning every time you visit you'll be in for a surprise.
Food, Local Business, and Beyond
Sandpoint, Idaho caters to every lifestyle. And it's the perfect place to experience the true Idaho lifestyle. You certainly get your share of the Idaho lifestyle at your Boise, Idaho home. You find that perfect fusion of rural and urban, modern and rustic, and natural and cultural. You can hit the trails for a quick bike ride and still make it back in time for a night on the town. Sandpoint, Idaho just takes it further. Much further.
Sandpoint is a destination. And the restaurants and businesses of Sandpoint are a part of that destination. You'll find restaurants like the Floating Restaurant, just 20 minutes past Sandpoint. It is Lake Pend Oreille's only floating restaurant, and its offerings are as amazing as its location. They serve only the freshest ingredients, and many of their dishes are created from scratch.
To satisfy for your taste of the nightlife, be sure to check out 219 Lounge. It's a local favorite, and has been for over 75 years. Enjoy local brews, like the 219er beer. Play a game of pool in a great atmosphere. Check out Laughing Dog Brewing to get a great taste of locally brewed beers and drinks. Laughing Dog Brewing is all about flavor, quality, purity, and fun.
Of course, you aren't going to want to miss out on the Sandpoint Shopping District. This is an incredible and dynamic collection of a variety of unique stores. You won't find a selection like this anywhere else. The Sandpoint Shopping District is located centrally in the heart of Sandpoint, making it a great place to meetup, hangout, shop, and set off on your next Idaho adventure.
Just 30 minutes south of Sandpoint, you'll find the thrill ride of your life. If you visit Sandpoint for only one reason, that reason would be the Silverwood Theme Park and Boulder Beach Water Park. Silverwood Theme Park is the largest theme park in the Northwest, with over 65 thrilling rides. The park is home to a vintage railroad (still working) and a rustic village frozen in the past.
Sandpoint, Idaho might be around 440 miles away from Boise, Idaho, but it's well worth the trip. Boise has a lot to offer, but until you've seen Northern Idaho, you won't have experienced everything that this incredible state has to offer.