Ride Idaho: All about Cycling in Idaho
Posted by Hughes Group Blog Team on Monday, May 16, 2016 at 11:53 AM
By Hughes Group Blog Team / May 16, 2016
Comment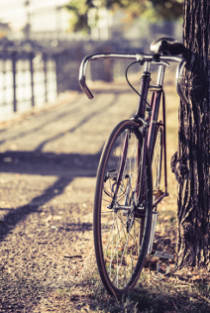 If you love heading outdoors and exploring the beautiful state of Idaho in a unique way, Ride Idaho is right up your alley. It's an incredible bicycle tour that rides across Northern Idaho. Starting in Coeur d'Alene, it forms a massive loop through the Idaho panhandle in an incredible ride that spans seven days. It's a fully supported ride, which means you'll have entertainment, campsites, showers, and food for your ride. And this is one that you'll remember. Of course, you don't have to remember it, because you can just come back and do it again every year. Ride Idaho is an annual event, and just one of the many incredible opportunities that you have in Idaho that makes this state so wonderful and unique.
All about Exploration and Inspiration
Ride Idaho lets you see Idaho in a totally different way. The scenery is incredible, and you'll never get bored on this trip. Each year, the course changes, so you can see a different part of Idaho. This one-of-a-kind tour has been pedaling across Idaho since 2005, and it's showing no signs of stopping. Not only is this a fantastic opportunity for cycling enthusiasts, it's also a great way to hit the great outdoors with other people and learn about our great state.
You'll come across the incredible variety of the Idaho landscape, by riding past farmlands, towering mountain ranges, plunging valleys, rolling grasslands, and incredible rocky deserts. And through it all, rivers twist and turn, weaving through the countryside and tying everything together. You'll discover the great history of Idaho, like learning about the intrepid explorers, Lewis and Clark, and the rich mining history that permeates the state.
And you won't do this alone. You will enjoy the company of other Idahoans that love the wilderness of Idaho, just as much as they love cycling. It's a great rolling community full of diversity, culture, and hospitality.
All about a Positive Economy
Admiring the wilderness and history of Idaho isn't the only thing that Ride Idaho champions. This fantastic tour also supports local economies by hiring local non-profit organizations, clubs, and businesses. The communities that you ride through will provide food, camping, and entertainment for the tour. Plus, Ride Idaho gives back to these same communities when it can, by helping fund development projections, such as parks and playground equipment, sports equipment, and equipment for the safety and rescue workers of the cities.
All about an Active Lifestyle
Of course, Ride Idaho isn't just about exploring the wonders of Idaho, or helping out local communities and the economy. It is, after all, a 400-mile bike ride. Ride Idaho encourages everyone to participate, and enjoy the benefits of an active lifestyle. On the seat of a bike, there is no age, as riders range from 16 to 84 years young.
Plus, Ride Idaho also helps encourage youth to stay active, by providing bikes and safety equipment to local Boys and Girls Club members. When you participate in Ride Idaho, you're helping to increase awareness for biking, safety, and being active. And, you're providing the youth of Idaho with the opportunity to grab the handlebars and enjoy the magic of riding a bike.
All about Safety
As the weather gets warmer, you're bound to see more cyclists on the road, and it's important to be aware. Ride Idaho's slogan is "Share the Road," and odds are you've seen at least a few of their bumper stickers. Ride Idaho strives to advocate safe riding, and they are members of several biking organizations. Riding safety is a huge part of Ride Idaho's mission, and this annual event helps promote riding safe by raising awareness.
All about Idaho
Ride Idaho is an incredible organization and event. Once you go, you'll be hooked. You'll keep coming back year after year. You'll explore Idaho in an incredibly unique way as you ride along the 400-mile tour. Plus, you'll meet new people that share the same passion as you do for the great outdoors of Idaho. At the same time, you'll be spreading a great message of biking safety, awareness, and supporting local communities and organizations.
Idaho isn't just about its incredible and varied landscape. Idaho is also about the people that live in this great state. Ride Idaho provides you with the opportunity of meeting these other people, while sharing in something you all love. Grab your bike, dust off that helmet, and get ready to Ride Idaho.