Relocating to Boise - 15 Things You Need to Know Before Moving to Boise
Posted by Hughes Group Blog Team on Sunday, October 28, 2018 at 11:52 AM
By Hughes Group Blog Team / October 28, 2018
Comment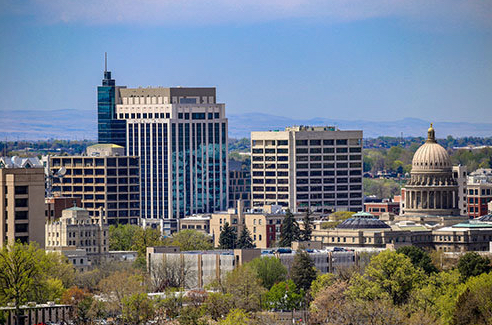 We know there are plenty of people out there who love Boise and can discuss all the day long about how great it is, but for those of you who are looking for more information about this wonderful City of Trees, here are 15 things you need to know before moving to Boise!
Boise Basics
What kind of climate does Boise have?
A lot of people are under the impression that any place in Idaho is going to be mostly cold. Well, we are happy to report that is just not true. In fact, Boise has a pretty warm climate compared to the rest of Idaho. In fact, during the summer, Boise gets up to the mid to upper 90s and in the winter usually hangs around 40 degrees fahrenheit. We don't get a lot of precipitation here; most of the moisture that we do get here is during the spring and winter in the form of rain or snow.
How big is Boise?
Boise is actually a lot bigger than you might think -- or rather, the Boise area is. The City of Boise alone only has about 200,000 people within its borders, however, the Boise area, usually referred to as the Treasure Valley, is home to a little over a half a million people.
How do people get around in Boise?
In Boise, the two main modes of transportation are car and bike. Since Boise is a western city where the majority of its development occurred over the last 60 or 70 years, most everything is spread out so the most efficient way for most people to get around is by car. However, in many parts of Boise, there have been more improvements and advancements put in place to accommodate bicyclists.
What kind of culture should I expect in Boise?
As we mentioned before, Boise is a very western city. 'Old West' and agriculture are at the heart of this city's history and culture. However, there is also a large part of our history and culture that lends itself to the entrepreneurial lifestyle. Businesses of all shapes and sizes are welcome here and quite a few of your neighbors here in Boise will probably have some sort of business venture. However, we would be remiss if we didn't mention the fact that Boise is just a nice place to live. The people of Boise and the Boise area are well known for being kind and welcoming people.
Employment in Boise
What kind of jobs are there in Boise?
There are jobs in all sorts of fields here in Boise. In fact, there is quite a diverse number of great places to work. For instance, if you are in the healthcare industry, there are two major hospitals, hundreds of doctors and specialists, and dozens of urgent care facilities you can work at. If you are in the tech field, there are several tech giants head quartered here in Boise as well as the printer division of HP.
Now, of course, there are plenty of other industries you can consider working in as well, these are simply examples. There really is pretty much everything you can hope for here. And, of course, if you are looking for a job in agriculture, then you are in the right place!
How is Boise for business owners?
Like we mentioned earlier, Boise is great for business owners. If you want to start a business or move your business somewhere, then Boise should definitely be on your list of places to consider.
Entertainment in Boise
What kind of fun things can you do in Boise - Outdoor Fun
As you probably already know, Boise and the rest of Idaho is overflowing with amazing natural resources-- and with these natural resources comes a host of fun and exciting things to do in your spare time. So, if you like camping, hiking, rafting, fishing, outdoor photography, hot springs, or anything else outside, then you are going to love living in Boise!
What kind of fun things can you do in Boise - Indoor Fun
If you aren't into the great outdoors as much and you are looking for more indoor fun, then Boise has some awesome stuff for you as well. As you will read later, there are plenty of concerts, sporting events, clubs, events, places to shop, and so much more in Boise. Not to mention there are attractions like Wahooz and Big Al's nearby!
What can sports fans can look forward to?
If you like to watch sports, then you are going to love Boise. You no doubt already know about the Boise State Broncos and their amazing sports programs; you can easily enjoy hours of sports entertainment from the BSU football, basketball, tennis, and volleyball teams. However, if you are a hockey or baseball fan, then you are in luck, Boise is also home to the Idaho Steelheads and Boise Hawks, Boise's minor league teams.
Boise also hosts Front Street Fights, golf tournaments, and many more great sporting events.
What can music fans can look forward to?
For the music lover, Boise is an amazing place to be as well. There are events, concerts, and classes all over the city at almost every time of year. If you like classical music, you can enjoy the Boise Philharmonic; if you like jazz, there is the Gene Harris Jazz Festival; and if you like pretty much anything else, you can go to one of the many concerts that come through town! In the past, we have had people like Imagine Dragons, Chance the Rapper, Lindsey Stirling, Train, Def Leppard, James Taylor, and many more.
What kinds of restaurants are there in Boise?
You can find almost any kind of food here in Boise. There are amazing burger places, fine dining establishments, world class steak, and just about any sort of cuisine you can imagine. So, if you like food, you won't be disappointed.
How is the shopping in Boise?
In and around Boise you will always find amazing places to shop. Whether it is at the Boise Towne Square Mall, the Village at Meridian, or downtown Boise, there are plenty of places to shop. Not to mention there are several great outlet malls to choose from!
Learning in Boise
What kind of schools are in Boise?
There are dozens of elementary schools and middle schools as well as a generous number of high schools if you are searching for K through 12 schools, however, there are also trade schools and higher education establishments in and around Boise as well. For instance, there is a lineman college, two law schools, a community college, and so much more.
Does Boise have a good library?
YES! Boise has a massive library downtown that acts as the hub for the entire valley's library system. This system puts dozens of library branches throughout the area so you are always close to one or another. They have books, magazines, computers, classes, and even 3D printers for the public to enjoy.
What kind of museums/cultural events can you enjoy in Boise?
As far as museums and cultural events are concerned, there are several great indoor and outdoor museums in Boise and the surrounding area. These include the Idaho Museum, the Basque Museum, then there is the zoo, the aquarium, and so much more.
Now, we know this isn't all there is to know about Boise before you're here, so if you have any questions, be sure to give us a call or an email today!