Relaxing on Lake Coeur d'Alene: Vacation Rentals
Posted by Hughes Group Blog Team on Tuesday, June 21, 2016 at 12:09 PM
By Hughes Group Blog Team / June 21, 2016
Comment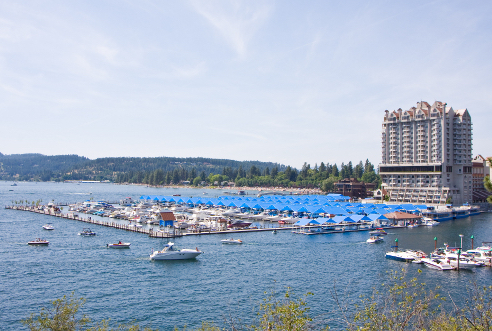 Sometimes, the best part about Idaho is that you can take a break and get away from it all. Leave the city behind and head out to the beautiful Northern Idaho and Lake Coeur d'Alene. That's right, you can relax on the shores of a beautiful mountain lake, surrounded by trees, bald eagles, and you don't even have to leave the state for an incredible getaway.
Lake Coeur d'Alene is a wonderful place to visit, and you'll never feel closer to the beautiful nature and landscape of Idaho. Whether you just want to relax and enjoy the peaceful water, watching osprey and bald eagles catching fish, or if you want to get out onto the water yourself and enjoy incredible boating or fishing, this is the perfect summer getaway. You'll find plenty to do in Northern Idaho, and the lake is the ultimate place to enjoy Idaho.
Summer Fun
Lake Coeur d'Alene offers anything water. You can rent a boat, or bring your own, and cruise around the beautiful lake and take in the incredible scenery and wildlife. You may even try your odds at competing with the osprey, and catch fish of your own. The lake is an excellent place to fish for bass and chinook salmon.
If golf is your passion, you're in luck. There are about a half dozen golf courses around the lake, including the famous floating green of the Coeur d'Alene Resort Golf Course. Any of the golf courses that you choose to play on will feature incredible views, or even let you play right on the lake. Coeur d'Alene takes your golf game to an entirely different level.
The fact is, Lake Coeur d'Alene is the ultimate summer getaway, and it's packed full of incredible outdoor recreational opportunities all along its more than 135 miles of shore. Explore the beauty of Northern Idaho while hiking along the lake. Rent a boat and take to the water. Try out the fishing. And, at the end of the day, enjoy a nice dinner on the lake itself at the Cedars Floating Restaurant. Then you'll spend the night in one of Lake Coeur d'Alene's beautiful vacation rentals.
Relaxing in Style
You always have the option of staying at the beautiful and grand Coeur d'Alene Resort. But, for a more intimate experience, complete with a private dock and easy fishing access, you'll want to rent one of the vacation homes, right on the lake. Your summer couldn't get any better.
· Grandma's Cabin. This beautiful vacation home features a dock, with a waterfront patio. Not only that, but you'll have access to your own, private 100-foot waterfront beach, complete with an incredible yard. Grandma's Cabin is completely furnished. It has both indoor and outdoor dining tables, three bedrooms, one and a half bathrooms, air conditioning, a gas grill, and high definition television. You'll also have access to a variety of boats and watercraft, including pontoon boats and jet skis. Rates start at $300 per night.
· Turner Bay Getaway. This is a quaint little cabin with its own private dock for easy lake access, fishing, and relaxing. The cabin is 1,000 square feet, and has two bedrooms, one bathroom, and a full kitchen. For extra guests, it has two futon couches in the main living area. You'll also have access to a barbecue and fire pit, as well as kayaks. Rates start at $200 per night, or you can rent it for around $1,400 per week.
· Crow's Nest Retreat. This is a beautiful lake home that offers incredible panoramic views of Lake Coeur d'Alene. You'll have access to a private boat slip and a community beach. This is a great vacation rental to get away from everything, and enjoy being able to take a refreshing swim in the lake. You'll have plenty of access for boating, fishing, or any other water activities. This rental also provides access to the Trail of the Coeur d'Alenes. It has three bedrooms, two bathrooms, and is outfitted with air conditioning, high definition television, and a gas grill. Rates start at $225 per night.
· Point Harns. For the best taste of life on the lake, Point Harns delivers. This is a beautiful home, and it offers views of the lake from virtually every room facing south. You'll enjoy a large country kitchen that opens right onto the spacious deck, so you can enjoy your meal in the open, or just watch the sun dip past the horizon. There's a grassy front yard, which is perfect for relaxing. You'll also have access to a fire pit. This vacation home has room for seven adults, and allows pets. Rates are about $2,500 per week.
Source-
https://www.lakecoeurdalene.com