Red Cabin Art Gallery
Posted by Hughes Group Blog Team on Thursday, December 1, 2016 at 4:57 PM
By Hughes Group Blog Team / December 1, 2016
Comment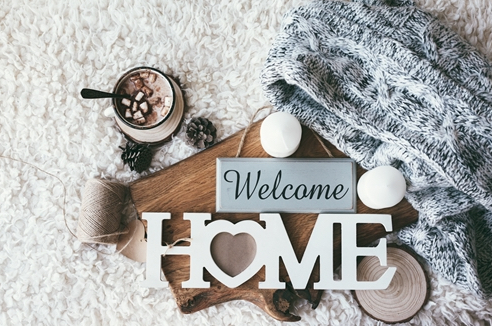 Tucked away in the scenic mountain route from Boise to McCall is the charming town of Cascade, Idaho. Located along Highway 55, it's a town with plenty of kind people and small shops that are frequently passed by on the way to other locations and cabins closer to McCall, and this lovely place sure has a lot to offer - especially a quaint gallery that may be seen right as you pull up to the main drag of Cascade. Red Cabin Gallery may not be large, but it is a must check out art gallery with a lot to offer.
Gallery owner Kathryn Farnworth is a woman with many talents and hobbies. She is well known in the area for her assistance and teaching at the town's art collective called the Cascade Cultural Arts Center. Through her connections to the Arts Center, Kathryn realized that Cascade and the surrounding areas are bursting with artistic talent, yet there was not an established gallery in Cascade for people to show and sell their pieces of art. Hence, the seed was planted that lead to Red Cabin Gallery. When a building became available for purchase right on the main road through town, the Farnworths bought a little red cabin that had previously been a popular barbecue restaurant. After much renovation, the beautiful gallery was built in the front section of the cabin while the back of the gallery was converted into a living space. Having a home in the back half of the building creates a unique opportunity for those looking to stop in and have a look at the art. Kathryn mentioned in an interview that her regular hours are Wednesday through Saturday from 11-5, but if she is at home, stop ins are welcome creating a more flexible schedule for customers and allowing her to work on more art pieces during times that there are not customers. The only day that is not open for customer drop-ins is Sunday so that she can spend time with her family.
Many artists are showcased in the Red Cabin Gallery, all using their own favorite mediums- including a few mediums that are unique to the artist who created them. For example, Leon Gaub created a technique for batiks that uses acrylic paints that he has titled "ba-crylics". You will see this unique style on display as well as another technique employed by artist Eileen Simmons. Eileen starts by first etching what she'd like to paint on wood using a wood burning tool and her delicate, steady hand. Then, she paints over the etching to create a wildlife painting that seems so life-like that it may come out of the painting. Kathryn herself has pieces available in the gallery that are quite unique. She is a sculptor by trade, but has figured out how to marry hand sculpted pots and bowls and pine needles to create gorgeous centerpieces with a unique twist.
Fused glass is an artistic technique that is difficult to master, though Wendy Wooding from Boise's North End has gotten very good at creating fused glass artworks, painting with powdered glass, and jewelry that is displayed in the gallery. Melissa Hamilton also specialises in jewelry and her magnificent, wearable art is a show stopper that would be the ideal gift.
Artists featured in the gallery are from many different places- from Mountain Home to Cascade. Some artists are even from out of state. Expert woodworker Renn Patch often displays stunning wooden jars, spoons, and other such items made from a variety of different woods. Folk art and whimsical animals are painted by Jennifer Wixom; her chicken paintings are just perfect for kitchen decor. Another artist is often travelling the world and is currently teaching in Shanghai. She is known for her amazing photography that is taken during her travels. Her name is Sandy Elder and she has a way with capturing moments in the lives of many people and places in many different distant lands.
If you are interested in watercolor, Ann Sorenson has some beautiful pieces on display that are awe inspiring in the vibrancy of their colors. The Red Cabin Gallery also has felted wool scarves, purses and soaps available, made by Joanne Duffin, that are beautiful and bring a pop of color to any wardrobe. If you are in the market for some new dinnerware, Kris Mannion has created some ceramic plates, mugs, and bowls that are as fun as they are functional.
Local artist Gail Greenfield spends her time painting intricate designs on goose eggs. The eggs have been known to feature naturescapes from Cascade, abstract patterns, and even some of the most amazing reproductions of famous artwork. Jeffrey Weston has been documenting the history of Cascade through artistic renderings in acrylic- 20 years of history including scenes of buildings that are no longer standing. Going back just a few more years, David Gilmour takes his inspiration from the petroglyphs of cave painting days and shows some spectacular art in his artistic interpretations. Oil Paintings by Betty Wocicki were donated and all proceeds will go toward furthering the work done at the Cascade Cultural Arts Center.
The Red Cabin Gallery is a place where many artists show off their personal style, and as such, is a great location to visit. Just about anyone can find pieces they will appreciate at many price points, and it's an amazing thing to be allowed to view a small piece of a person's soul through their art. The gallery itself is a beautiful place with a calming quality to its cozy interior. Next year will bring the exciting addition of outdoor art that will be viewable on the lawn.
If you find yourself passing through, make sure to stop in and say hello. You'll get to meet some of the amazing people that have made the Red Cabin Gallery a reality. Currently, Red Cabin has a Facebook page and has a website under construction. Warm and inviting, the art is waiting for you with open arms.