Recycling in Boise - Making Boise Greener One Step at a Time
Posted by Hughes Group Blog Team on Sunday, July 31, 2016 at 12:47 PM
By Hughes Group Blog Team / July 31, 2016
Comment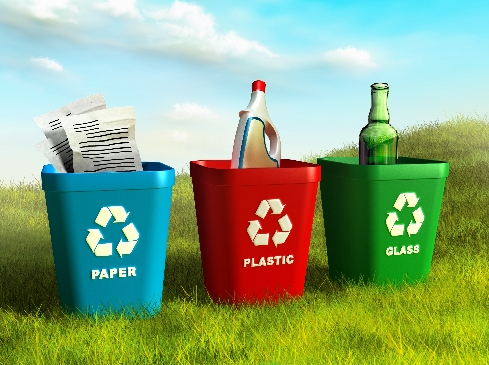 Part 1 of 3: Curb It
Boise is known, as are many other cities, by a slogan. Ours is 'the City of Trees'. This slogan gives residents a good frame of mind in the ever present fight to make our planet greener. Over the years, Boise has done many things to try and make itself a greener city. They have invested in bicycle travel lanes and paths, bus systems, and many other great things. However, there are few green government programs that are as simple, elegant, and impacting as the Curb It program.
The Curb It program is Boise's initiative to promote more resident recycling. It is a wonderful system that has worked beautifully for this city since its inception in the mid 2000's. But what makes this program so special? Why is it different form other city's programs?
No Sort
The first big thing that makes the Boise Curb It program so much better than standard city recycling systems is because it is a no sort system. This means that instead of making the resident sort their recycling into different bins they can simply put all of their recycling in one bin and send it to a specialized sorting facility. This simplifies the resident's part of the deal, making them much more likely to recycle instead of throw things away.
Cost Reward
The second thing that makes this program so great is that it rewards residents for recycling. It isn't a huge reward, but it is a noticeable one. When you go to the City of Boise's Curb It website, there are charts that have all of their prices (remember, garbage collection is a part of your city utilities) as they would appear on your monthly bill. For a house to have one garbage can, and that is it, they would have to pay around $18.53 a month. However, for a garbage can and a blue recycling can it is only $14.37 a month.
So, in all honesty, you pay less to recycle. This is how much the City of Boise wants its people to recycle, they are willing to offer more for a lower price. That is how much Boise values a clean green planet.
To back up this claim, let's see what the Wallethub.com has to say about Boise:
In a study that compared 100 US cities, Boise Idaho came in at #20 for greenest cities (overall). These cities were rated on their environmental quality, the greenness of transportation, and greenness of energy sources. For information on the full study, check out the Wallethub.com's article.
However, back to the Curb It program. The Curb It website has some great tips and guidelines for recyclers, including a detailed list of what the curb it program can and can't take.
The following is an excerpt from the Curb it website. The Curb It recycling program can take the following items on pick up days:
"Aluminum & steel (tin): Rinsed soda cans, soup cans, pie pans, 
aluminum foil, uncoated metal hangers, and empty aerosol cans. Labels may remain on cans. Corrugated cardboard: Flatten or cut boxes so they fit completely inside the recycling cart. Paper: Newspapers, shredded paper (put in a paper sack and scrunch the top down), magazines, catalogs, junk mail, white or pastel paper, paper bags, envelopes, brochures, greeting cards and wrapping paper without foil, construction paper, and phone books. Plastics: Household plastic containers with a number of 1-7 on the bottom (maximum size: three gallons). Labels may remain on containers. Smash or flatten plastics. Lids may be recycled." (Curbit.cityofboise.org-- Full Article Link)
They will also take used motor oil. However, this must be placed in a disposable plastic container that you are ok not ever having returned to you, labeled as used motor oil, and placed on the curb next to the actual recycling bin. Also, the motor oil cannot be mixed with anything else. Only used motor oil.
There is also a list of things that they cannot accept in their program. Most of the items on the list are things that can't be recycled like baby diapers, food boxes with lots of food still clinging to the inside, and so on. However, there are a few special things on this list. For instance, they cannot accept milk or juice cartons (these are the cardboard ones, not the plastic ones; they take those), paper plates, cups, tissues, towels, and so forth, and even glass.
Now, a note on glass: there is a way to recycle glass here in Boise, you just can't have them pick it up for you at the curb. You must take your glass to a specific glass recycling pick up spot. They will usually be in the parking lots of fire departments and will be large metal boxes with small holes to throw your glass. You will have to look online for more information on where your nearest station is.
Furniture, leaves, branches, trees, and appliances— now this is a special one. When it comes to furniture and appliances, if you want them hauled off you will need to call Allied Waste Services, the company that is contracted by the City of Boise to do trash pickup, and schedule a time for them to come by and get your undesirables.
Leaves and other yard waste is usually to be put straight in the garbage can as it is biodegradable and does not need to be recycled. However, during the fall and winter there are special times when they will come by to collect waste matter of this kind in addition to your normal garbage and recycling. This means you can put your yard waste on the curb in paper bags for them to take and they will collected as well.
Lastly, a note on batteries. Batteries can be recycled here in Boise, however they have to be taken to the hazardous waste collection site. This is due to the toxic make up of these single use batteries. You can either take them to the landfill where they have a hazardous waste collection site open almost every day. Or, you can look at the website and find the nearest mobile collection site. They are at different locations on different days and are usually at libraries or fire stations. The website as a full schedule of when the collections will be where so it is best to check there before making any plans.
So there you are, the basics of the Boise Curb It program. Boise is a green city which is why it is dedicated to being responsible citizens. If you are one that values recycling, keeping the earth green, and so forth, then you will love Boise. Call one of our real estate agents for more information about this great place and come check it out today!