Preserving Camel's Back Park
Posted by Hughes Group Blog Team on Friday, July 15, 2016 at 12:54 PM
By Hughes Group Blog Team / July 15, 2016
Comment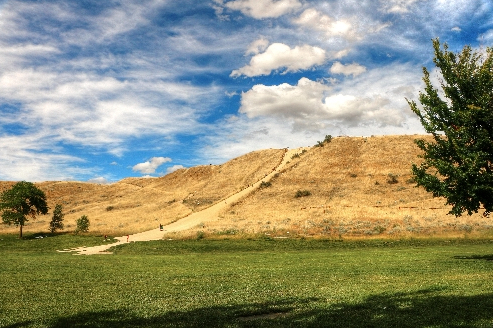 The beauty and diversity of the Boise Foothills is apparent here. You are above the city, surrounded by the beautiful hills and grasslands of the Boise Foothills. Below, you can see Boise's historic North End sprawled out below, dotted with the green of trees and parks. Camel's Back Park is a beautiful hill, full of trails, wildlife, and sometimes steep terrain. But it's a popular place, and when you visit it, you'll know exactly why it's so popular.
Camel's Back Park is a beautiful reserve, and its developed part covers approximately 11 acres. Much of the area was saved as a reserve due to preservation efforts of North End and Boise residents. Nature is important in Idaho, and Boise is filled with parks that are a testament to the preservationist spirit of the local Idahoans. But that doesn't mean you can't explore Camel's Back Park. In fact, there are plenty of trails for you to use, so you can head out in to nature, and enjoy the beautiful Idaho wilderness that so many have worked to preserve.
Eroding Away
Camel's Back Park is incredibly popular, largely in part because of its elevation. The views from the top of the hill are unmatched, and a popular spot for viewing Boise and the surrounding landscape. Unfortunately, many people have used the incredibly steep trails that are not a part of the designated trail system. This has lead to erosion of the hill, and the killing of the grass and some native plants. These plant systems were key to keeping the hillside from eroding. But, thanks to awareness, and a desire to keep Idaho, and Boise, green, there are active efforts to restore the hill and its ecosystem.
The restoration efforts will only be successful with the help of everyone. Being respectful of nature is of the utmost importance, and involves a simple action. Stick to the designated paths. There are nearly three miles of trails that you can use, and they allow you to explore much of Camel's Back Park and experience the vibrant and amazing array of plant and animal life.
Helping to preserve the natural life here isn't just important to the ecosystem, or to prevent the hill of Camel's Back Park from eroding away. There are also many unique and rare plants here. They only grow in specific areas, and in some cases, this small slice of Idaho wilderness is the only place in the world where the plant grows. This plant is Aase's onion. It blooms with beautiful pink flowers in March and April, but then it becomes dormant. For the rest of the year, it is all but invisible. It only grows in sandy areas of the Boise Foothills.
The Importance of Preservation
Camel's Back Park is important. It's a beautiful area of the Boise Foothills, right next to Hyde Park in Boise's North End, and is the home of the Hyde Park Street Fair. This fair is an annual event, that spans multiple days, and it acts as a fundraiser of sorts to help the North End Neighborhood Association. This group works to protect the historical nature of North End, and to preserve the quality of life that is present here.
But helping the city isn't the only reason that Camel's Back Park is important. It's home to local animal and plant life, and it's important to preserve and restore this park so that it remains a viable ecosystem and habitat. It's the only place in the world where Aase's onion grows, which is an incredibly rare plant.
Esto Perpetua
While Camel's Back Park is just one of many parks in the Boise Foothills, it's a monument to the lifestyle and values of Idahoans. We value nature. That's a large part of why we live here, and why you're looking for real estate here. So get outside and enjoy nature. Idaho has plenty of it to offer. Just be respectful, stick to the trails, and enjoy the great Idaho outdoors responsibly.
Esto perpetua is our state motto, and it means "let it be perpetual." Living in Idaho, we want the nature and beauty of our state to endure. The lifestyle that's available here, and the nature that encourages that lifestyle, is important. You want to live here because of that. So come live here, and help us preserve the nature of this great state.