Pioneers of the Mountain: Sun Valley Helicopter Skiing
Posted by Hughes Group Blog Team on Monday, October 26, 2015 at 1:53 PM
By Hughes Group Blog Team / October 26, 2015
Comment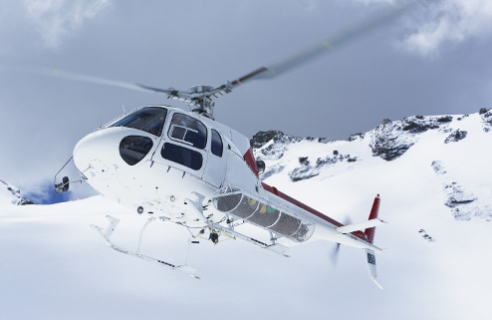 Sun Valley. Clear blue skies, pure white powder, and endless possibilities. These are just a few of things that come to mind when thinking of this legendary ski resort tucked away in the Wood River Valley along the Sawtooth, Pioneer, and Smoky Mountains. The resort is not only a breathtaking place, it's also a place of firsts. The first chairlifts in the world were created and used at the Sun Valley Ski Resort. But creating the first chairlifts wasn't enough for Sun Valley. The resort continued to pioneer the skiing world, and this time, they went big.
When you hear the booming rotors and feel the rush of wind and powder swirl around you, you know that this isn't going to be just another day skiing. This is going to be the best day, and you're going to ski where few others have. Helicopter skiing might not be anything new, but when Sun Valley first started offering helicopter skiing, they were once again the first in the United States.
Cutting Through Air and Powder
History permeates the mountains and slopes of Sun Valley. The Wood River Valley is rich with a history of mining, sheepherding, and skiing. First built in 1936 by a chairman of the Union Pacific Railroad, the Sun Valley Ski Resort became not only one of the first in the United States, but also among the best skiing the world has to offer.
Sun Valley wasn't content. With three massive mountains, Sun Valley offers some of the most diverse skiing and terrain. It's both a paradise for alpine skiers that use the extensive chairlift system as well as for backcountry skiers that love carving through untouched powder. Sun Valley was the first destination ski resort in the United States, and then it became the first helicopter skiing operation in the country.
Now, you can spend a day skiing down the mountains without waiting for a chairlift. A helicopter takes you, your friends, and your guides to the top of the mountain, and you ski down the breathtaking slopes. Within minutes of reaching the bottom, you're soaring back to the top to do it all over again. It's a high energy experience that will keep you grinning from ear to ear the entire ride.
Experience the Alpine Rush You might be intimated by the prospect of going helicopter skiing. Images probably pop into your head of extreme skiers jumping out of the flying helicopter and tearing down the mountain and cliff faces. You want to go, but that experience just seems terrifying, and quite honestly, beyond what you're comfortable doing.
But you don't need to worry. While you can ski some incredibly challenging terrain if you have the skill, Sun Valley Heli Ski is all about having a great time that matches your skill level. You won't be leaping out of a helicopter with a feral yell and carving through impossible terrain. The Sun Valley Heli Ski operation is all about the experience that you can handle. The helicopter will gently touch down at the top of the mountain, and you'll have plenty of time to prepare for your trip down.
Whether this is your first time helicopter skiing or you've been doing it for years, Sun Valley Heli Ski is all about customizing the trip for you and your group's skill level. You'll be lead by experienced guides, and they'll never take you to slopes that are beyond your comfort zone. If this is your first time helicopter skiing, you won't find a better experience, or guides, anywhere. The slopes are not beyond your grasp, and you'll be able to take the plunge (metaphorically) into helicopter skiing at the skill level and pace that's customized for your needs. If you are an experienced skier, you'll find an incredibly diverse amount of terrain and slopes to offer the challenge you've been craving.
The Best of Idaho
When you ski at the Sun Valley Ski Resort, and take a helicopter to the top of one of three mountains, it will hit you. You don't have to leave Idaho to experience some of the best skiing in the world. Idaho is full of opportunities like this, and it makes the state a great place for outdoor lovers to live. You'll soon find that you don't have to go to Alaska for backcountry skiing. Some of the best skiing in the world sits right in your own backyard. If you look, you'll find the best that Idaho has to offer, and you'll be glad you decided to call this incredible state your home.