Paddle Boats: A Julia Davis Park Cruise Powered by You
Posted by Hughes Group Blog Team on Tuesday, May 3, 2016 at 12:02 PM
By Hughes Group Blog Team / May 3, 2016
Comment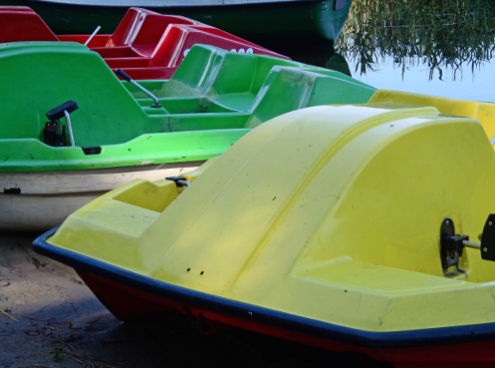 When you think of Julia Davis Park, there are probably plenty of other things that come to mind before you think of paddle boating. There is, of course, Zoo Boise, which garners a lot of attention, and for good reason. It's an incredible zoo, and definitely worth checking out, whether you live in Boise or anywhere else in the state. It really is that impressive. There's also the Boise Art Museum, which features a delightful mix of culture and art. And you can't forget the Idaho Historical Museum. This museum showcases the history of Idaho through unique exhibits, and even includes historical buildings outside.
That's just a taste of what the Julia Davis Park has to offer, and the zoo and museums are probably among the most popular. At the very least, they are the most well known in the park. Julia Davis Park is filled with ponds and canals, with a variety of waterfowl and greenery. You don't have to admire the natural beauty from the shores, though. You can head out onto the water using your own power by renting a paddle boat.
Paddle Boat Rentals
Before you hit the water, you'll need to rent a paddle boat. The rental shack is in the north-central area of the park, near the 3rd Street entrance to Julia Davis Park. You'll soon find the privately run paddle boats lining the dock near the quaint little shack. It's not all that expensive to rent one, and you can fit a maximum of three people per boat. Current costs are $8.00 to rent a paddle boat for 30 minutes and $12.00 to rent a boat for an hour.
If you are bringing small children, or if you're swimming skills aren't something you can boast about, life jackets are provided free of charge. You don't need to worry too much, though; paddle boats are pretty stable. You have two styles to choose from. For up to three people, you can rent the more traditional pontoon-styled paddle boats. They float on two pontoons with a sunshade. For something a little more fun, and potentially more intimate, you can rent one of the two-seater paddle boats. These come in the shape of a swan or pelican and bring (depending on your opinion) a little more style to paddle boating.
Cruising the Waterways
Either way, you go, whether you rent a pontoon-style paddle boat or a swan, you'll enjoy the leisurely ride across the water. Paddle boats don't go very fast, even if you peddle fast. In essence, they are miniature water-wheel boats. It'll take you close to 30 minutes to paddle around the canals and head back to the rental shack. If you'd like to take the time to explore a little more, or maybe squeeze in an extra lap, you'll want to rent the paddle boat for an hour.
Apart from enjoying the water and the greenery along the shores, you'll also be able to enjoy the ducks and geese. The local waterfowl have become somewhat accustomed to the paddle boats, so don't be surprised if they get a little close. They're just begging for some pieces of bread.
Paddle Boat Season
You have a fair amount of time to be able to enjoy paddle boating in Julia Davis Park. The season runs from April to October. However, from April to May and from September to October the paddle boats are only available on the weekends. Between the months of June and August, though, the paddle boats are available daily. Be sure to plan ahead and plan accordingly. If you'd like more information on the paddle boats in Julia Davis Park, be sure to call. The number is (208) 412-2278. There isn't a website.
Fun Powered by You
Julia Davis Park is a delightful place to visit, and it's full of a lot of fun and interesting things to enjoy. From the zoo to museums and rose gardens, Julia Davis Park has a lot to offer. For a truly unique experience, however, you'll want to check out the paddle boats.
You can enjoy the canals and ponds, the greenery, and the geese and ducks. It's a leisurely and entertaining experience. And it's powered completely by you. So this year, make plans to visit the Julia Davis Park in Boise. Whether you live in the city or not, you'll enjoy the park, and you'll have plenty to keep you busy and entertained.