Neat Things to check out around the Boise Area
Posted by Hughes Group Blog Team on Friday, September 29, 2017 at 9:43 AM
By Hughes Group Blog Team / September 29, 2017
Comment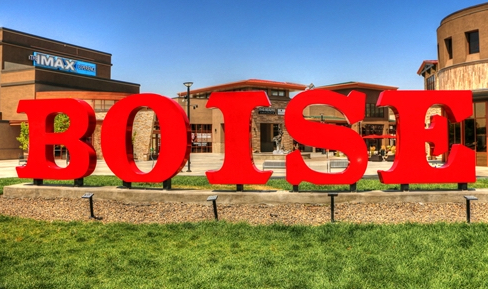 The City of Boise, Idaho is a unique city that is the capital city of quite an interesting state. When people consider moving to Boise, they often wonder what there is to do, what places are nearby, and how large the "greater Boise area" really extends. Well, for starters, there are several cities nearby with plenty of interesting draws, and most of the neighboring areas can be reached in under an hour. Meridian, Eagle, Nampa, Caldwell, Kuna, Garden City- all of these cities can be considered part of the Boise area.
The City of Meridian borders the City of Boise directly to the west. This city covers almost 30 square miles and the center rests only 12 miles from the capital city. There are many things to do, especially in the summertime. From enjoying the beautifully cared for parks to splashing down water slides at Roaring Springs, this city offers lots of chances to enjoy the outdoors. Shopping mostly can be found all along the main roads and there are two malls for folks to peruse at their leisure. Since the City of Meridian is growing so quickly, new neighborhoods are popping up all around and the entertainment scene is slowly growing, with new theaters and bowling alleys to enjoy and numerous restaurants offering scrumptious dining experiences. Meridian is a great place for the enjoyment of the City of Boise, without living inside its borders.
Continuing west from Meridian, rests the City of Nampa, Idaho and this city has its own charm and draw. Only 21 miles from Boise, this booming city offers unique entertainment options. For example, a night at the Nampa Rollerdrome can find people cheering for their favorite competitors in a competition or enjoying the feeling of wind in their hair as they skate on a public skate night. Avid antiquers will find the jackpot in Nampa as there are several fantastic antique shops to check out while in town. Plus, the Snake River Stampede and Rodeo is one of the greatest professional rodeos in the nation, so swing by and enjoy watching the variety of events.
Slightly northwest of Nampa rests the City of Caldwell, Idaho. 28 miles from the center of Boise, Caldwell is the home to the College of Idaho and a few other campuses. Because there are so many campuses, it's no surprise that Caldwell is home to many museums and a planetarium. Education is very important around the valley. There is also a cool drive-in theater called the Terrace Drive-In that has reasonable pricing and upholds the slowly fading torch of days gone by when drive-in movies were all the rage. Check it out- it's a great way to experience a movie.
Around 20 miles from the center of Boise sits the City of Kuna. Instead of taking the freeway west past Meridian, however, to get to Kuna one must head to the southwest. Kuna has a lot of outdoor activities as well - shooting ranges are plentiful in this city as well as the beautiful, naturally occurring Kuna Caves. Golfers may find that there are several well-maintained golf courses scattered throughout various cities surrounding Boise, and Kuna boasts great golfing as well. Those who are interested in wine tasting may be pleased to know that this city has a few wineries to check out.
The City of Eagle, Idaho boasts of wide open spaces and newer buildings mingling with the old. Main street can be a fun little road to stroll down with restaurants and boutique shops lining both sides of the road. Every year the City of Eagle holds customer appreciation days and a fun festival called "Eagle Fun Days". Complete with a parade and booths with homemade goods for sale, this tradition has won a place in the hearts of all who attend. Since Eagle has many homes with land, the Eagle Saturday Market (the local farmer's market) is brimming with fresh fruits and vegetables as well as artisan cheeses, breads, and even homespun and home dyed clothing. Eagle sits 10 miles away, to the northwest of Boise, next to Meridian.
Next up on the tour of the cities surrounding Boise is Garden City. Home to the Western Idaho State Fairgrounds, many people find that the Western Idaho State Fair is an enjoyable event with a number of food options, carnival games, rides, and even a concert series. Each year brings with it a new crowd of people selling products in booths, submitting projects to be judged and put on display, and bringing their prized animals to show. The fairgrounds are home to many other events such as the Boise Gun Show and the racetrack for horse racing. Garden City has a fair number of artist galleries including small show venues and metalworking studios..
Of course, Many things can be written about Boise itself. From a hopping nightlife to the various shopping centers throughout the city, Boise is a metropolitan area with a flavor all its own. The Boise Art Museum houses various installations that can satisfy any number of art styles and tastes. Concert venues are great places to catch popular musicians and comedians. As for food, Boise restaurants cater to the tastes of many different cuisines including fusion dishes that will make a heart sing. For people who are looking for good hiking, Boise has many options with varying difficulties.
Anyone who is looking to visit or move to the Boise area would be remiss to not acknowledge the wonderful opportunities to explore all the surrounding areas as well. Those who claim boredom while living in Idaho just haven't had a chance to get to the many fascinating places that may be tucked into a less often seen corner. It would take a lifetime to fully appreciate the Greater Boise Area, but it would be a rich lifetime- time well spent.
Sources
https://www.bing.com/search?q=map+of+boise+area&PC=U316&FORM=CHROMN
https://www.tripadvisor.com/Attractions-g35531-Activities-Meridian_Idaho.html
https://namparollerdrome.com/
http://www.nampa.com/things-to-do
https://www.tripadvisor.com/Attractions-g35507-Activities-Kuna_Idaho.html
http://www.tripbuzz.com/things-to-do-with-kids/caldwell-id
http://eaglechamber.com/