Most fun parks in the Treasure Valley
Posted by Hughes Group Blog Team on Monday, February 19, 2018 at 9:54 AM
By Hughes Group Blog Team / February 19, 2018
Comment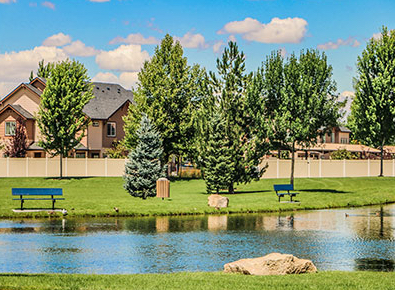 It's not hard to find fun parks in the Treasure Valley. The number of delightful and unique parks in this area of southern Idaho certainly helps the region to live up to the nickname of "Treasure Valley". Our many parks are certainly "treasures", as they offer activities and beautiful landscapes for locals and visitors alike to enjoy.
Right in the heart of Boise, and bordered by the beautiful Boise River, you will find the almost 90 acre Julia Davis Park. The Julia Davis Park is home to Zoo Boise, the Discovery Center of Idaho, the Boise Art Museum, the Idaho State historical Museum, and the Idaho Black history Museum. A beautiful and formal Rose Garden graces the north end of the park, offering visitors a bit of serenity in the midst of this vibrant location. For visitors interested in a little more activity, the park also features a 6 court tennis complex, a playground, 16 horseshoe courts, and areas to fish and watch birds. Activities and events are plentiful in Julia Davis Park. The outdoor amphitheater is host to concerts and plays, and every year in September, hundreds of thousands of people converge on the park to enjoy Art in the Park, the Boise Art Museum's most popular fundraiser.
Also in downtown Boise, you will find the Morrison Knutson Nature Center. Located behind the Fish and Game offices, the MK Nature Center encourages scientific exploration of the wild life of Idaho, and their habitats. Take a guided trip along the Nature Center Path or just explore on your own. The Center features many hands-on activities and is a very popular destination for school field trips.
The Ann Morrison Park on Americana Boulevard, is another park located on the Boise River. Bocce ball enthusiasts, cricket players, and fans of disc golf, will also find places to enjoy their sports at Ann Morrison Park. This beautiful park with its distinctive spray fountain, has a Candy Cane playground for the little ones, volleyball and tennis courts as well as lighted softball diamonds and football fields. Birders find this location to be one of the best viewing opportunities to see the variety of birds that call Idaho home.
Floating the Boise River is an activity that has been enjoyed by generations in the Treasure Valley, and Barber Park is a put-in point to a simple but enjoyable float, that ends at Ann Morrison Park. As many as 100,000 people float this section of the Boise River each year, gently meandering through downtown Boise, and enjoying the scenery of the beautiful City of Trees.
Lucky Peak State Park is located 8 miles southeast of Boise. The Lucky Peak reservoir provides recreational opportunities for boaters and for fishing. Sandy Point, at the base of the dam, is a very popular swimming hole, with sandy beaches and clear cool water. Many people look forward to going to this park in the spring, when water is let out of the dam, creating a huge "rooster tail" of water going into the Boise River.
Located west of Boise in the beautiful town of Meridian, Idaho, you will find Meridian Settler's Park. This 58-acre park has everything that you would look for in a fun park, as well as things that you wouldn't necessarily expect see. Adventure Island playground area is Idaho's first universally accessible playground, with plenty of fun things to do, and plenty of room for grown-ups and kids too. At Meridian Settler's Park you will find not only standard park activities such as swings, tennis courts, horseshoe courts, and softball areas, but you will also find unique opportunities to make music in the Sound Garden, and to climb around in the Little City of Rocks. Covered picnic shelters provide places for family reunions, parties, corporate events and other gatherings, and the pond provides a place to spend a lazy afternoon fishing.
The Boise River Greenbelt follows the tree-lined Boise River from the town of Eagle Idaho, through the city of Boise, and ending at (or beginning at, depending on which direction you are traveling) Lucky Peak State Park. Created slowly, beginning in 1968, the Boise Greenbelt continues to grow in length with the support of the Boise Parks and Recreation Department and local landowners in public agencies. The Boise Greenbelt is a path that is used by walkers, runners, bikers, and pretty much everyone else who enjoys the tree-lined view along the Boise River.
Eagle Island State Park is bordered on the north and the south by the Boise River and features a sandy beach for swimmers as well as four picnic shelters. Truly a park where everyone is welcome, (as Fido is also welcome if kept on a leash), Eagle Island State Park allows only non-motorized boats, keeping the water quiet and safe for swimmers of all ages. The park supports activities such as volleyball, disc golf, and horseshoes. There is a waterslide and many multi-use trails winding throughout its 545 acres.
A favorite park for dog owners is the Nampa dog park located at 2900 2nd St S in Nampa, Idaho. This spacious off-leash dog park has great seating areas for humans, and water features for their four-legged friends. People drive from all over the Treasure Valley bring their dogs to this well laid out park. With trees for shade, gravel pathways for exercise, and a separate fenced area for smaller dogs, this is a great place to take your best friend.
The Indian Creek Park in Caldwell Idaho has all of the amenities we usually find in a park, but while many parks get used more in the summer than in the winter, the Indian Creek Park has one activity that brings in thousands of visitors during the holiday season. Located along with Indian Creek the park is ablaze with over 800,000 colored lights, as the city of Caldwell decorates the trees shrubs, bridges and along the creek. Holiday music completes the experience and is a must see every year, for thousands.
The Treasure Valley is home to many wonderful and fun parks, and this is just a small representation of the great options available to residents and visitors to the Treasure Valley.
No matter what your interests, there is sure to be a park in the beautiful Treasure Valley that will tickle your fancy and provide you with great times.
www.parkscityofboise.org
www.idfg.idaho.gov
www.meridiancity.org
Tripadvisor.com