Morley Nelson & The Birds of Prey National Conservation Area
Posted by Hughes Group Blog Team on Friday, July 20, 2018 at 11:36 AM
By Hughes Group Blog Team / July 20, 2018
Comment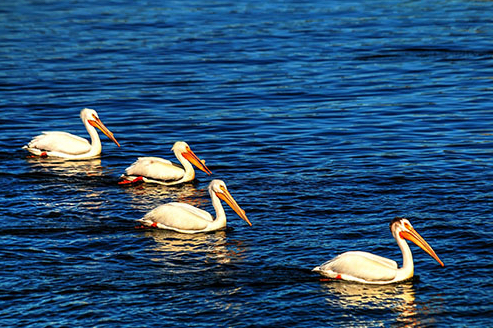 Morley Nelson was born in 1917 in North Dakota. During much of his childhood, Morley Nelson had a passion for birds of prey, and it continued to be an unwavering interest for the rest of his life. The first moment that he began his devotion to hawks and other birds of prey was when he saw a peregrine falcon diving to kill a duck instantly. From that moment on, he had a passion for all raptors, especially falcons. He wanted to understand and preserve the raptors and their habitats as much as he could.
Even though Morley was a huge advocate for raptors, he actually started out as a soil scientist by trade after he graduated from North Dakota State University in 1938. He had many other accomplishments such as working with the Soil Conservation Service and working within his field of hydrology. During World War II, he trained under General Patton and went on to serve in Europe with the 10th Mountain Division. He went through a lot of tragedy and serious injuries during his time there, but he came out of it as a hero and received the Silver Star for leadership and bravery during combat.
Other notable accomplishments were starring and developing seven wildlife films for Walt Disney and other films for PBS and many different networks. He considered his films as some of his most significant achievements, opening the door to bringing the subject of raptors and their preservation to the public's attention (this was done by merging entertainment with education). In the films, Morley Nelson worked with Disney, Nell Newman (Paul Newman's daughter), John Denver, and many others. He also worked with former Idaho governor, Cecil Andrus, in 1980 to start establishing the Snake River Birds of Prey National Conservation Area to home numerous raptors; this became a permanent protection in 1993. To help with this, Morley also was largely responsible for facilitating the Peregrine Fund's headquarters in Boise, which is the home of the World Center for Birds of Prey.
The establishment of the Snake River Birds of Prey National Conservation Area (NCA) by Congress around the year 1993 was to protect the inimitable desert setting that houses the nation's highest density of raptors. This nearly 485,000-acre plot of land located near Kuna, Idaho, contains more than 700 raptors pairs that nest along the eighty-one miles of the slopes of the Snake River Canyon; this includes around an approximate 200 pairs of Prairie Falcons—one of the most dense breeding populations in the world! Other nesters include American Kestrels, Golden Eagles, Ospreys, Northern Harriers, Peregrine Falcons, Red-tailed and Ferruginous Hawks, Barred Owls, Burrowing Owls, Great Horned Owls, Long-eared Owls, Northern Saw-whets, Short-eared Owls, and Western Screech Owls. Raptors are in the Snake River Canyon year-round; however, the best times to view them are in the spring season. You may watch eagle flight displays around March, chick feeding in May, and even experience young raptors taking flight for the first time around the beginning of June. There are also riparian bottomlands that provide nesting areas for Lazuli Buntings, Say's Phoebes, and other forms of songbirds.
If you're wanting to watch some specific birds in their habitats, here are some pointers. Celebration Park is located on the western side of the Snake River Birds of Prey National Conservation Area and is home to many of the raptors. Specifically, if you travel north of the parking area, you can spot some flight displays of Long-billed Curlews. Closer to the Kuna Visitor Center, you may view some Nesting Killdeers, Bullock's Orioles, and Lazuli Buntings. Some other birds that are worth watching are the Black-chinned and Rufous Hummingbirds, both Eastern and Western Kingbirds, six different swallow species, both Rock and Canyon Wrens, and Loggerhead Shrikes.
If you are visiting during the fall or winter season, American White Pelicans can be seen if you look hard enough. Some species that can be seen year-round are as follows: Great Blue Herons, Black-crowned Night-Herons, Chukars, California Quails, Northern Bobwhites, Common Nighthawks, Gulls, and Terns. Obviously, there are a number of species of raptors that can be found in the park. In fact, there are about 20 species that can be seen, which includes nesting Golden Eagles located on Guffey Butte.
In addition to wildlife viewing and bird watching, visitors may also hike, ride horses, hunt, picnic, mountain bike, and even camp in the Birds of Prey area, since it also encompasses outstanding recreation sites. You may view the Celebration Park Visitor Center, go Cove Camping, see the Dedication Point Overlook (a magnificent overlook on the rim of the Snake River Canyon which includes a quarter-mile trail with interpretive signs giving information about the birds, geology, and other wildlife of the park), hike the Halverson Bar Trail System, and eat a lunch at the Swan Falls Picnic Area. If you're wanting to explore any other areas of the park, there is a map of the whole Conservation Area that you may look up. This map also outlines a vehicle tour of the Conservation Area so that you can plan the best route for you before you get there. If you visit during the winter, early spring, and fall months, the weather in the sheltered area of the canyon averages 5-10 degrees warmer than the temperatures in Boise. This makes outdoor recreational activities possible during this time. However, this means that the summer months are also warmer, so come prepared with some hats and lots of water.
All-in-all, visitors from all over the nation give a big thanks to Morley Nelson for providing the area with such a wonderful conservation area for raptors and other birds of prey alike. During his lifetime, he mentored the youth with his passion and was also the go-to man for when anyone found injured birds. A biography of his life was written in 2002 entitled Cool North Wind: Morley Nelson's Life With Birds of Prey (if you would like to learn more about him). In 2005, Morley Nelson passed away, but his legacy still lives on through his greatest accomplishment.
Sources:
https://m.boiseweekly.com/boise/morley-nelson/Content?oid=921237
https://visitidaho.org/things-to-do/wildlife-viewing-birding/morley-nelson-snake-river-birds-of-prey-national-conservation-area/
https://idfg.idaho.gov/ifwis/ibt/site.aspx?id=65