Mini Remodels
Posted by Hughes Group Blog Team on Wednesday, June 29, 2016 at 12:05 PM
By Hughes Group Blog Team / June 29, 2016
Comment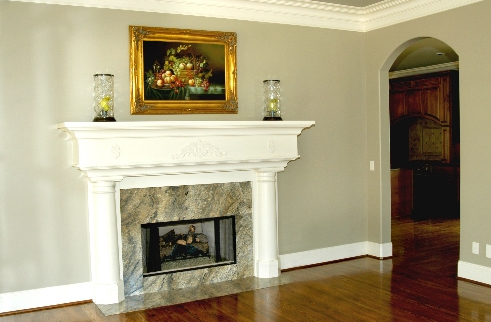 Most homeowners have, at one time or another, wanted to remodel their home. Due to the indomitable laws of entropy, even the best of homes will need a little attention now and again. However, the unfortunate truth is that a full home remodel can cost much more than most people can afford—even if it is just one room that they choose to fix up, the price can easily skyrocket higher than expected. To save money, however, there are some alternatives to a full remodel. In fact, there are dozens of projects that can be finished in a few short days—with a lot less effort for that matter—that can have equally striking results on your homes interior. Below is a list of some simple projects that you can do in a few days or a few short weeks.
Brighten up your world with new lighting.
It doesn't matter if you are adding new lights altogether or just replacing the old ones, a change in the lighting of your home can make a big difference. It doesn't even need to be that extensive, all you need is maybe a new lamp or a different kind of chandelier and presto, your room will look bright and new. But, if you are looking for a way to change things up without buying new lights or changing the way things are arranged in the first place, you might try getting a few Fluorescent bulbs. Getting Fluorescent bulbs, or equally as radiant bulbs, can make you home look brighter and feel more alive. This is because Fluorescent bulbs are known to simulate sunlight in the spectrum of light that they produce, which is great for you because your body may respond the same way and perk up like it would on a sunny day.
Change out your switch plates and vent covers
Your light switch, outlet and vent covers may seem like an obsolete part of a remodel, but with some quick touching up, they can take the appearance of your home to a whole new level. Much the same as in an actual remodel, attention to detail in your mini remodel can yield some great results. If all you do is take a few hours to replace the plates and covers your home cleaner one (or different colored ones) your home will feel newer in an instant. If you don't want to buy new plate or vent covers, you can always spray paint them an accenting color to give the room some pop. Be sure to take them off the wall before you spray paint them, though.
Change up your closet
Although changing up a closet won't necessarily help the look of your home, it can actually do a lot for the homes functionality. There are many ideas for closet makeovers, you can easily turn it into a place for extra storage, or a hide able office, or even a space for a day bed. However, you aren't limited to just these ideas, if you can think it up, you can do it with an extra closet. There are plenty of out of the box ideas on the web that can make your closet what you need it to be.
Fire up the remodel with a change of face with your fireplace
When it comes to things that can alter your home's ambiance, one of the most influential ones is the fireplace and mantel. For a quick weekend project you could clean up, or even repaint the mantel to better suit your desired atmosphere for the room. However, great changes in appearance can also be achieved by simply redecorating the mantel, if you don't want to go to more extensive lengths.
If you want to completely change your fireplace or mantel, then it would be advisable to call a professional for help.
Make your home wheelchair accessible
There are many homes that are built in the Treasure Valley with steps to get into the front door, back door, and garage doors. There is no problem with this, but, to make your home more accessible to everyone, you may consider adding short ramps to the entryways of your home. You can easily build a ramp for your home with only inexpensive materials, however, be sure to make sure that it is safe and that it is able to hold the appropriate amount of weight. The same goes for handrails, if you want to add a few handrails, be sure that they are stable and can hold weight. To be sure that a ramp or handrail system are up to code and safe, it may be worth it to hire a professional to come in and install them.
Add to your kitchen with a backsplash
One way to improve the look of your kitchen without ripping out any cupboards or floors is to add or revamp a backsplash. It can give your kitchen a great new look as well as keep it clean for the future. There are some simple backsplash sets that can be simply stuck on the wall in sheets, making the job simple as pie. However, if you want a more hands on project, you can bet backsplash sets that need to be affixed piece by piece to the wall, which ban be a bit arduous and could be more expensive.
Put up some shelves
A quick way to add some style and functionality to your home is to add a shelf here or there. You can pick up a shelf at almost any department store, or designed at home with some simple carpentry. Once you have the shelf up, you can add décor and storage space to your home all at the same time. For instance, if you have a collection of old books, you could easily put them up on a new shelf in the den, giving the room a homier look. there are many other great mini remodel ideas out there, so keep saerching until you find one that is perfect for your home. And remember, if you want to make some big changes around your home, think small.
http://www.bhg.com/home-improvement/remodeling/budget-remodels/weekend-projects-under-20-dollars/#page=11
http://www.bhg.com/home-improvement/remodeling/budget-remodels/mini-but-mighty-remodels/#page=24