Mesa Falls Lodge- Restored and in the Now, Your Adventure is Here
Posted by Hughes Group Blog Team on Monday, April 6, 2015 at 9:58 AM
By Hughes Group Blog Team / April 6, 2015
Comment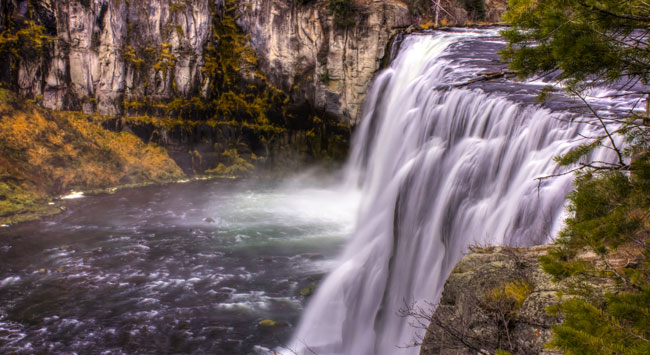 You're sitting in the hot tub. The river flows quietly near you. The birds are flying, the fish are jumping, and if you're lucky, you might just catch a moose taking a drink from the river. You've had a long day of travelling and sightseeing, and now you are just relaxing. Nature is just at the end of the deck, calling you to go back out and explore. Who knows, maybe after the hot tub, you might enjoy a dip in the river. But first, you go back into the cabin. The gloriously restored lodge where the rest of your friends are gathered in the large dining area, talking about the day and what the plans are for tomorrow. You decide to turn in, and head to your large room, one of five, where you fall asleep and dream of what you'll do tomorrow.
The Mesa Falls Lodge is a real treat. It's been beautifully restored to better than its former glory. It's been updated with all of the amenities, including wireless internet and a Blu-ray player. It's a sprawling 3600 square foot paradise nestled right along Henry's Fork of the Snake River. It has plenty of room for however many people you need, with 5 large bedrooms, plus a bunkroom. It also has ample entertaining space and cooking space, complete with a barbeque area, and a fantastic deck. You don't have to give up the finer things just to experience the great Idaho outdoors.
Speaking of the outdoors, Mesa Falls Lodge is a prime spot for outdoor activities. It's right on the river for swimming, boating, floating, or even fishing. Or, you can go hiking, four wheeling, bike riding, etc. The list goes on. The point is the lodge is in a fantastic location, where you'll be hard pressed to not find anything to do. Or, simply stay inside and enjoy the Xbox or Blu-ray player. However, being so close the namesake waterfalls, it might be worth heading up and checking them out.
The Mesa Falls are made up of two waterfalls. The first is Upper Mesa Falls, and it plummets over 110 feet from the basalt cliff and gorge. The second is Lower Mesa Falls, and it falls about 85 feet. Both waterfalls are spectacular. And both present you the opportunity of getting right up next to them. There are paved pathways and viewing decks for both waterfalls, and being that close to the rushing river and untouched natural beauty of the forest is an opportunity that's hard to ignore. Plus, the Mesa Falls are the only major waterfalls in all of Idaho that aren't used for hydroelectric power. They are pristine, and just as nature intended.
With the lodge as a base of operations, it would be easy to make a day out of visiting the waterfalls. There's a visitor center and gift shop, and it would be a fantastic place to take a picnic and just really become a part of nature. Or, head down to the river. You can feed the fish (and there are some big ones in that river), or maybe enjoy the river otters playing. The Mesa Falls Scenic Byway is a great little detour heading up to Island Park or Yellowstone National Park, and both of those are just a short drive away from Mesa Falls Lodge. If you head south, instead of north, you can end up at St. Anthony. From there, you can visit the St. Anthony Sand Dunes. The sand dunes are impressive all on their own. They are 15 miles of white sand, seemingly in the middle of nowhere. Needless to say, the lodge is in a great location, and you'll be hard pressed to run out of anything to do.
Eastern Idaho has a lot to offer. The Mesa Falls Lodge is just a drop in the bucket. Living in Idaho presents you with so many opportunities to explore and to discover new things to do, new ways to enjoy nature, and parts of nature you've never seen before. Idaho is full of surprises, and it often seems like each one is better than the last. You live in Idaho. You might as well go out and experience all that is has to offer, because Idaho can offer a lot.