Maximizing Small Spaces
Posted by Hughes Group Blog Team on Monday, March 22, 2021 at 10:05 PM
By Hughes Group Blog Team / March 22, 2021
Comment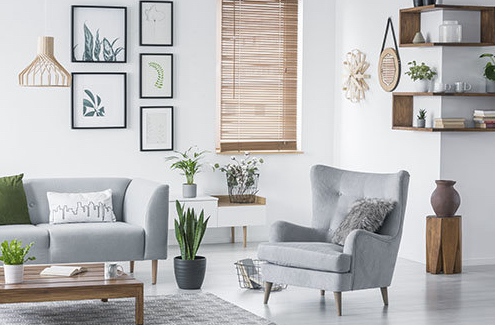 Whether it be a small bathroom or perhaps even a small kitchen, getting around and managing life's every day to do's in smaller spaces has the potential to be the bane of most everyone's existence. Keeping organized, minimizing clutter, maintaining spaces, and keeping an open mind can change off of that for the positive! Trying to find a good home for all of the things that belong in this room can be a challenge that gets put off time and time again until it finally becomes too much. Amazingly enough, organizing a small bathroom or kitchen is a task that can be managed with success. Accomplishing the feat of having everything within its designated place and all things organized can be incredibly liberating. Coming home to a bunch of extra stuff scattered around the house, piling up, and staring at every turn can lead to an underlying sense of stress that is completely unnecessary and easily resolved with a little determination. Minimizing the distractions of clutter has the ability to make each start to the day feel more peaceful.
To begin the task of organizing, decluttering, and making each space your own, it's a great idea to sift through one small section of the room at a time. Gather any objects that are unnecessary and perhaps start a donation box and discard the unwanted remaining items. It's fairly common for folks to purchase, say, a bottle of medicine, and then misplace it only to buy another. A short time later, the original bottle is bound to show up; this leads to overflowing medicine cabinets, many of which may be expired. This concept can be applied to various items around the house.
Consolidating other aspects is key, there may very well be the perfect spot that wasn't available previously. Are there various items around the house that are possibly sitting in the same spot they have been for quite some time gathering dust? If items are not used in a reasonable amount of time it may be time to consider whether that something is worth the space it's taking up. Furthermore, there is likely a fair amount of trash lurking around within various places. Disposing of empty bottles in the tub or shower, refill or replace empty soap dispensers, and dispose of any household cleaners that are not being used properly is a great consideration.
Once everything is out in the open or has been discarded, it's possible to get a better idea of what items can be stored together for ease of use and what items may require a new space. Not only does it feel better to prune the old items wasting space, but it can also open up a more clear visual regarding the types of products to buy in the future. Take inventory of any spare products so that they can be used when necessary.
This next step is where the fun really begins- organizing! To cut the appearance of clutter, buying shelves may help. Shelves simplify the spaces around the house are often easier to clean. For folks who have many gadgets and knick-knacks, the walls or the insides of cupboard doors are often available for adhesive hooks or magazine holders adhered to an open stretch of the wall can be just the ticket to keeping organized. Whatever the solution, it's important to use it regularly to keep shared space available.
As with most projects, there are so many ideas floating around regarding design and ways to make the most of small spaces. Even the slightest change can positively affect the atmosphere of a room, so get started and the house will be well on its way to high functionality and pristine organization. Using drawers in the place of large cabinets with one or two shelves each is actually a great way to not only make the house feel chic, but it can also help a lot with organization and maximizing the storage space that is available. Drawers create a similar effect to the pullout shelving because it is easier to view all of the drawer's contents without displacing things that have been placed in the front, as is common in cabinets.
No matter the solution, whether big or tiny, a more organized kitchen is a happier kitchen. While actual square footage and counter space may not gain inches, if everything has a logical place then the kitchen is more likely to stay cleaner for a longer time. That is the trick to a small kitchen. Visual clutter can be a huge hindrance, but luckily there are ways to keep the clutter down and the efficiency of a tiny kitchen at a max. It just takes a bit of practice to turn a small space into space with big possibilities.
Sources
http://www.hgtv.com/design/decorating/clean-and-organize/how-to-organize-a-bathroom
http://www.realsimple.com/home-organizing/organizing/organizing-bathroom/ultimate-bathroom-organizer/show-disposables
http://www.hgtv.com/remodel/kitchen-remodel/making-the-most-of-a-small-kitchen
http://www.instructables.com/id/DIY-Magnetic-Spice-Rack/
https://www.forbes.com/sites/houzz/2017/02/07/how-to-make-the-most-of-your-small-kitchen/#77f5d2764361