Match the style of your home to your personality
Posted by Hughes Group Blog Team on Wednesday, May 28, 2014 at 2:11 PM
By Hughes Group Blog Team / May 28, 2014
Comment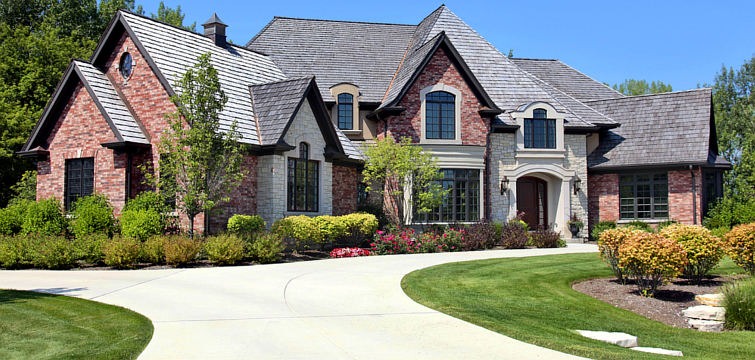 Everyone has different tastes and styles. They have different styles of hair, clothes, car, and everything in their life. Most of the time, the style a person chooses matches their personality. Your home shouldn't be any different. It should match your personality just like everything else in your life. There are many different styles of home in their architectural design. In order to find one that fits you, you first need to know what styles are out there and what specific features those styles have.
LOG HOME
A common style of home is the log home. It is one of the oldest styles that is still popular today. Originally, when the log home started as a small cabin the the 1600's, it was for practical purposes. It was built with one room and was easy to build due to the fact that no nails were needed. Today, the log home has drastically changed. Now, it is seen as a luxurious getaway- usually to somewhere rural. Depending on the climate, a different type of wood should be used. Normally, trees that grow in the area of the house should be the type of wood used for that climate. Log cabins create a cozy feeling and are easy to turn into a home.
CRAFTSMAN
Another home is the craftsman style, which originated from the arts and crafts movement. A Bungalow and Craftsman home places emphasis on using materials more efficiently. Generally, a Craftsman home is made out of more natural elements namely wood, brick, and stone. Specific exterior architectural elements include a wide porch and a low-pitched roof. Interior elements include an open floor plan, big fireplaces, and exposed beams.
CONTEMPORARY
A Contemporary style of home emphasizes the connection between the indoors and outdoors. Contemporary homes often are designed with many different windows in order to allow more natural light into the home. This emanates one of the focuses of a contemporary styled home- energy efficiency. With a focus on connecting with nature and helping the environment, this style also uses recycled materials, and sustainable materials.
MID-CENTURY MODERN
Similar to the Contemporary styled house, a Mid-century Modern styled home also focuses on the connection between indoors and outdoors. People who are advocates for Mid-century Modern homes pride the new ideas, new mindsets, and a forward thinking that comes with a Modern home. Though Mid-century Modern homes mainly flourished from 1945 to the 1980s, they are not outdated. Many people still use some of the components today. Generally, a Modern house will have flat planes, large glass windows, and lots of open space. However, the style is simplistic and focuses on the integration of nature.
MODERN
Different than a Mid-century Modern home, a Modern home focuses on symmetry in the home as well as geometric lines. There is also a strong emphasis on function over form. Some of the main elements, however, are very similar to Mid-century Modern. Most examples of classic Modern architecture also focus on open living spaces and the connection between the indoors and the outdoors.
GREEK REVIVAL
Not very common but very classy is the Greek Revival home. Inspired by the Greeks, this style of home was mostly prominent in the 1830s and 40s. The style focus on tall columns and pediments, symmetrical shape, a painted plaster exterior and bold embellishments. This home was mostly commonly found on large estates and historic plantations. Though today the style is seen rarely, there are influences from this that can be seen in homes today.
PRAIRIE
The prairie style home was originally built fully for practical purposes. It was originally developed in the midwest, it features long flat roofs, horizontal lines, organic patterns and rows of windows. Influenced by the Arts and Crafts movement, many prairie homes have built-in furniture, open floor plans, and use simple materials.
TOWNHOUSE
This style of home became popular in the early 19th century due to limited space. The reason the town house became so popular was because it could go up fast and didn't use too much land. Financially, in a town, a Townhouse is efficient. Traditional layout includes row-house design with two or more stories, little hallways, and limited lawn space. Old downtown Boise has many townhouses that show off this style as well as tell a story of when Boise started to boom in population.
COTTAGE
Many people when hearing the word cottage think of a little home in the country-side. That is exactly what a cottage used to be. Today, a cottage-styled home is normally a small house that is made from stone or wood and features a gravel or brick front walkway, a curved entryway, or brighter exterior colors. Cottage homes will normally have beautiful landscaping with many accenting flowers.
COLONIAL
There are many different styles that fall under the colonial style of a home. This includes Cape Cod, Saltbox, Georgian, and Dutch Colonial, to name a few. There are minor differences between these styles. Generally, these styles of homes are very symmetrical and rectangular. The bedrooms are on the second floor and the main floor has the kitchen and dining room. This style originated from the late 1800s and was used through the 20th century. Today, some of the qualities of Colonial homes exists in modern architecture. There are a few differences, however. Modern Colonial styled homes frequently have white clapboard and are trimmed with green or black shutters, which was not in original Colonial homes.
http://www.diynetwork.com/home-improvement/24-popular-architectural-home-styles/pictures/index.html?i=1