Making the Most of Your Home Office
Posted by Hughes Group Blog Team on Sunday, March 20, 2016 at 9:43 AM
By Hughes Group Blog Team / March 20, 2016
Comment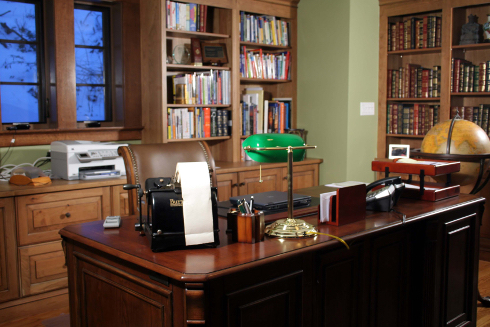 It's no surprise that in our day there are more and more people that are working from home. From Portland to Pennsylvania there are thousands if not hundreds of thousands of people that are working from home; and Boise Idaho is not exempt from this figure. Due to this raise in domestic duties to perform many home builders in the area are including home offices into many of their floorplans. But, even if you have a home office, it is a lot harder than it looks to stay productive and on task in your home office. So here are some suggestions for how you can make your new home office efficient, productive, and a place where you can have success.
Keep it business related
Even though you want to have a fun place to work, you need to make sure that none of your normal home things get mixed in with your home office. It is hard enough to get ourselves to the office sometimes, but it is even harder to stay there when your comfortable Lay-z-Boy and cable subscription right around the corner. So it is best to treat your office as a quarantine zone; nothing but necessary things may enter.
Make Your Office Fun, but Focused
There is a delicate balance between those two ends of the productivity scale (Fun to Focused), however, you need to find that perfect balance for home office. This is important because if your office isn't fun, then you will be less likely to want to spend your time there. However, if it is too fun in your office, you won't be able to get stuff done. There are many an article out distractions at work, and specifically about distractions in home offices. Some of their suggestions include:
- Using headphones to help you not be distracted by noise and so other people don't bother you
- Set specific times to check your emails so that you aren't popping back there ten times an hour (the same could be said of texts)
- Keeping a thought journal. This can be in any form you want, just as long as it is a place for you to write down thoughts that would normally derail your concentration. A lot of the times there are ideas that come to us that are completely unrelated to the task at hand, but if you have some way to record that though, you can continue on with your work and get to that thought later. (If you work online a lot and find yourself coming across articles you want to read, but don't have time for, start using plugins like 'Pocket' an app that lets you store articles away and read them at your leisure on your computer or mobile device)
- Close your office door and or hang a do not disturb sign (if you are in a cubicle)
- Arrange your schedule so you are working when others are not, or just when you are productive
When it comes to making your office more fun, however, there are a lot of different variables to consider. The most important thing to remember, though, when making it more fun is that your office is fun for you. This can be done in a myriad of ways. Some of those include:
- Adding windows to the outdoors
- Investing in houseplants
- Having fun break toys (ping pong, golf, Legos, a WII, etc)
- Decorate it to your pleasure
Get Good Lighting
There are many websites out there that have suggested that having proper lighting will not only help you wake up while working, but also give you a little pick me up along the way. It has been said that CFLs (Compact Fluorescent Lamp; or just Fluorescent Bulbs) are not only good for the environment and your wallet, but they can be good for your mental health as well. There are many studies out there that explain that CFLs can actually help simulate the sun's rays, thus waking people up more and helping them be happier and more productive. Add that to the fact that CFLs can save you loads of money per bulb and there is practically no reason to not invest in them.
Pick the Best Seat for You
Seating is of vital importance in any office, but especially in your home office. It is important to make sure that you not only have comfortable seating, but seating that will be good on your body as well. There are many ergonomic chairs everywhere that chairs are sold, so make sure that you get one that fits you and your needs—don't go cheap with your chair. If you want a good chair that will be great for your body and is relatively inexpensive, you might want to try an exercise ball on for size. These may not seem like the most aesthetic option for seating, but they are inexpensive, force you to have good posture, and give you a little exercise as well. (Not to mention if you get bored you can bounce around a bit.)
This next section is dedicated to the gadgets and gizmos you will want to have in your home office so you can be effective and have the best chance for success. We are going to assume that you already have a computer and a fast internet connection seeing as these are the bare minimum for a home office.
1) Effective Shredder
Shredders may not be the first thing on your shopping list, but, if you are handling any important documents, then you will want a god one. Not just that disposes of them, but one that does it well. There are some shredders out there that just cut all the papers in to strips which can be easily reconstructed by someone with a lot of spare time and ill will. So, make sure that you get one that will do the job well so that your confidential information stays confidential.
2) A Reliable Printer
If you have ever worked with a printer before, then you will understand why this is so important. Make sure that you have a printer that will work for you and your work load.
3) A Headset
When you start working from home, there is a higher likelihood that you will be on the phone a lot more than before. So, for this reason, you will want to have a nice headset for your phone.
4) An Ergonomic Keyboard
Typing can be murder on your arms and hands, so it is good to invest a little into getting an ergonomic keyboard. This way you will save yourself in medical bills and suffering later.
5) A Scanner
You don't really realize how important these are until you need one, make sure that you have one. This can also help clean up your office space by allowing you to digitize all the papers you will be printing and receiving.
6) White Board or Cork Board
These may seem simple, but they are pretty useful tools. You can use them for any number of things from schedules to goal tracking and more. They don't have to be large, just functional.
7) Fridge and Snack center
To cut down on trips to the kitchen it's best to have some sort of snacks for you to store you favorite edibles. Be sure, however, to make sure to get healthy snacks as well, not just chocolate and peanuts.
These are just the basics of a good home office, your office may require much more, or much less. Whatever you end up needing, just be sure to set yourself up for success and get everything that you will need first so that there won't be any snags as you get acclimated to your new position.
http://www.lifehack.org/articles/work/10-ways-make-your-office-fun-work.html
http://www.workhomeyou.com/resource-detail/686231-25-home-office-essentials
http://www.hongkiat.com/blog/home-office-tips/
http://lifehacker.com/how-to-craft-the-perfect-home-office-1455516163
http://science.howstuffworks.com/environmental/green-tech/sustainable/cfl-bulb1.htm
http://www.hcareers.com/us/resourcecenter/tabid/306/articleid/1036/default.aspx