Make the Most of Your Single Car Garage
Posted by Hughes Group Blog Team on Wednesday, January 27, 2016 at 12:55 PM
By Hughes Group Blog Team / January 27, 2016
Comment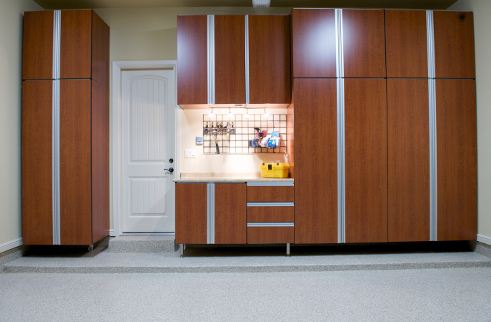 A garage is a desirable feature for any potential homeowner. Sometimes, the bigger the garage the better. However, you don't always get exactly what you want in your home. The perfect house that fits the majority of your needs, wants, and your budget, might not come with the big two car garage that you've always wanted. Now, you have to make do with a single car garage. You just aren't sure how to make the most of the smaller garage in order to have the most useable space possible.
While you can't make your small garage larger, you can plan carefully in order to maximize the amount of storage and useable space available to you. It will take some careful planning and the right strategy, but the single car garage can work just as well as a larger garage would.
Organization is Step One
Anymore, the garage is not just used as a place to park your car. Oftentimes, your garage serves as an extra storage space, or even an at home shop or business space. If you've been using your garage as storage already, it has probably started to get pretty cluttered. So, the first step is to start decluttering and organizing.
You will want to begin by gathering up all of the little things in your garage. These can be items like nails, screws, and smaller tools. You want to clear as much space as you possibly can in your garage, so you can start organizing and adding storage solutions that fit your needs. This is also a great time to sort through the items that you have in your garage. Find out what you need to keep and what you can do without.
Bring in some storage containers. While you might not want, or need, to keep everything in containers once you have your garage arranged how you would like, it will help you get organized initially. Clear containers are great, because you can see what's inside them. This makes it easy to access what you need, without having to hunt around for a long time.
Add Shelving
Once you are all done organizing everything, and you've figured what you are holding on to and what you need to get rid of, clear out the stuff you don't use or want anymore. This can already make a big impact on how much space you have in your garage. Now, you are ready to add some shelving to the walls of your garage. Not only does this keep everything off the floor, which opens up space, but it keeps everything easily accessible. You'll know where everything is, and it will be at eye level, which is great when you are trying to find something.
Adjustable shelving is the way to go. As you bring in new items and get rid of old ones, you will likely need to change how your storage is arranged. Being able to easily adjust your shelves will let you create space as you need it, and condense when you need to as well.
Thinking About Flooring
You might not think much about the flooring in your garage. After all, you drive on it to park your car, and it's not like you need a fancy floor if it's just going to get dirty. Think about how you use your garage space. A clean floor makes the garage look bigger, plus it can allow you to use the floor for multiple surfaces. So clean up those oil and paint stains. Consider coating your garage floor. The coating will make the floor look newer, plus it will be easier to keep clean. The garage floor can be just as functional as the rest of the space.
Mobile Storage Solutions
If you need a flexible work or multipurpose space, you are going to want to consider getting storage solutions that you can easily move. Storage units and containers, or even tool boxes, that have wheels are a great choice for a garage. You can move them wherever you need, or you can easily rearrange as your space needs change.
If you have a lot of tools, or even if you just have a lot of heavier items, you will want to find heavy duty storage solutions. A durable and well built tool box can hold all of your tools easily, opening up more space elsewhere in your garage. With a single car garage, it's all about making the most out of the space you have. With smart storage choices, adjustable shelving, and keeping only what you need, your garage will be plenty large enough for everything you need to keep in it.
Source-
http://designlike.com/2014/12/15/how-to-make-the-most-of-a-one-car-garage/