Low Budget Bathroom Ideas
Posted by Hughes Group Blog Team on Saturday, March 4, 2017 at 5:26 PM
By Hughes Group Blog Team / March 4, 2017
Comment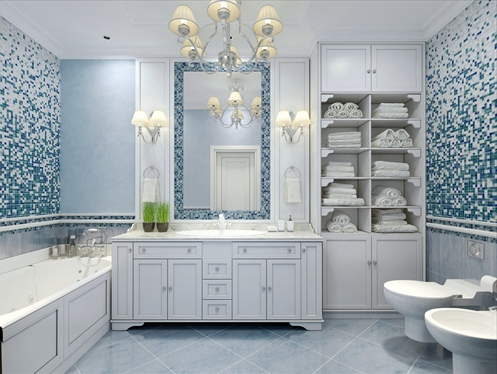 Is your bathroom drab? Why not remodel and bring in personal touches that will make your bathroom a pleasant place for you porcelain throne instead? There are so many intriguing ideas that can elevate your loo and turn it into a room of which to boast. For one of the most often visited rooms, the bathroom is frequently at the bottom of the list of decor, but there are so many cool ideas and tweaks that can help you to enjoy the time spent in your own restroom.
Showers may be tricky for tall folks. One helpful tip that doesn't require a full remodel involves swinging by the local Bed, Bath, and Beyond and picking up a shower head with an extra, detachable shower head. It's important that the attachment comes with a rod to rest on in order to make this bathroom hack work. After making the purchase, run along home and follow the instructions to put the heads together, but instead of attaching the rod so that it is underneath the main shower head, makes sure the rod is above it. That way, it's possible to extend the detachable shower head a foot or two above the original position. Hop on in and enjoy a steamy shower without ducking and straining your neck!
Another quick, cheap fix help to prevent your towels from bunching up on top of each other and staying damp. Plus, it adds a design flair that is simple, yet elegant. Instead of keeping the typical towel rack, get a few coat hooks and install them in its stead. This will also help if there are many using the same lavatory- everyone can have their own assigned hook.
Often, there are primping and preening rituals that take up lots of time in the bathroom. There's nothing worse, however than having terrible lighting when trying to beautify before heading out on the town. One way to spruce your bathroom is to purchase a unique light fixture. Some really interesting options are available out there if you are willing to look, and many of them are capable of upping the amount of light available. One example of a good place to look for a light source that not only brightens the room but can also architecturally may brighten your day is Ikea, or a store that offers similar inventory. They have quite the selection of intriguing light sculptures to choose from at a lower price point, so fixing your lighting situation may be more affordable than you imagined. Plus, finding something you truly love will help boost your spirits every time you enter the room.
Does your small bathroom seem way too crunched? If you are feeling cramped for space while you are using your powder room, try switching out the mirror over the sink for a larger, grander mirror. The reflective quality will make the space seem more open and spacious, even though there's still the same square footage. This is a cool trick that will broaden the horizons of just about any space, so feel free to apply this trick liberally throughout any spaces that need visual stretching.
If redoing the cabinets in the restroom is on the to-do list, consider buying roll out shelves for under the sink. This adds more accessibility and lessens the need to bend down and dig around for the cleaning product or hair product you want to use. Plus, it helps to keep the under the sink space- which can get ugly- organized and tidy. Pull out shelves make everything visible, thus eliminating the need to push things out of the way to reach other things. Home improvement stores carry pull out cabinets that can be screwed into existing cabinets, so if you like your current ones but would like to have a more organized space to put your things, check out your local shop.
Speaking of cabinets, if your look is outdated, yet there isn't space in the budget to completely replace them, new drawer pulls and door handles can really change up the look of existing cabinetry. Plus, throwing on a coat of paint could liven up the room- especially if there are little accents of color that match the shower curtain, towels, or flooring. Imagination is the only thing stopping you from breathing fresh life into your dingy, old cabinets. If you don't have a linen closet and you'd like to find a decorative way to store your clean towels, try buying a wine rack that appeals to you and fit the design themes in your bathroom. Placing rolled up towels in the slots where the wine bottles go is not only a great way to save space (due to rolling the towels) but is also a unique focal point. This makes it easier for guests who are staying overnight- that way they don't have to search high and low for a clean, dry towel.
Toilet paper is an essential product in the bathroom, but buying it in bulk leaves the problem of storage a bit up in the air. There are many different products out there that are designed to store a few extra rolls, but they don't typically fit the larger amount of extra rolls that come in most packages. This is where some do it yourself magic can come into play. Why not build a frame large enough to stack toilet paper on its side - tube facing the wall- and turn it on a diagonal? This will create a cool effect that houses the extra toilet paper in a way that functions like a piece of artwork.
Whatever ideas come to mind about low budget bathroom upgrades, make sure to turn your space into something that will make you happy. When your space brings you joy, then the underlying tone of your life will be uplifted and you will have a home that speaks to you and welcomes you.