Local Restaurants in West Boise
Posted by Hughes Group Blog Team on Wednesday, September 5, 2018 at 11:49 AM
By Hughes Group Blog Team / September 5, 2018
Comment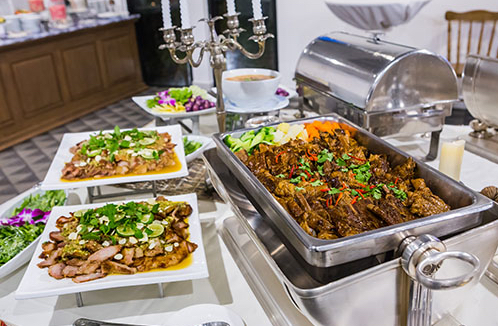 Travelling all around the western side of Boise may be seen as a bit of a hassle. However, there are a number of restaurants to visit that can help take the edge off either on your way to or from work. Want some great food with quality service and ingredients? Here are some places that you might consider trying out!
Confucius Restaurant- Located at 8775 W. Fairview Avenue, this Chinese restaurant is a big hit for all visitors! The establishment itself is known for being very clean, and the food is fresh authentic Chinese cuisine. It is also a family owned business, so the staff is warm and friendly to all of their customers who walk through the door. The food is also reasonably priced. Some items that are recommended from this restaurant are the Wonton soup, orange chicken, Crab Rangoon, Spicy Beef, and the Confucius Chow Mein. Most days, the restaurant is open from 11am-11pm (on Fridays and Saturdays, it stays open until midnight). Be sure to stop by, and don't forget to grab a fortune cookie on the way out!
The Egg Factory- This little diner is located at 8061 W. Fairview Avenue, and (you guessed it!) it serves delicious eggs. While this restaurant only serves during breakfast and lunch hours (6:30am-3pm), it still brings in a lot of customers! The service is quick and friendly, and the food that gets served is mouth-watering, to say the least. With a variety of items, such as pancakes, biscuits, hash browns and home fries, omelets, and chicken fried steak, this diner is sure to please.
Smashburger- This burger joint is found at 8247 W. Franklin Road, just as you're about to hit the downtown area. With a friendly environment and speedy service, this restaurant is much better than any normal fast-food chain. The burgers are out-of-this-world delicious, and so are the fries! Along with their burgers, salads, and hot dogs, this place also sells milkshakes and malts that are made with fresh ice cream (some of the best flavors to try are the Oreo, Raspberry, and Chocolate shakes). If you're ready to eat one of the best burgers, head down to Smashburger now! It is open every day at 10:30 am (except for Sundays which open at 11 am) and closes at either 9 pm, 9:30 pm, or 10 pm, depending on which day you visit.
Sockeye Grill and Brewery- This bar and grill is located at 3019 N. Cole Road and is popular for its great tasting beer and friendly service. Everyone treats you as family when you enter the doors, and the service is quick and efficient. Some items that are recommended to try are the salmon fish tacos, ahi tuna sandwich, the Sockeye Porter sandwich, and the Sockeye salmon meal (which is either a wrap, sandwich, salad, or strips, depending on the menu). You can sample the beer before purchasing, or you can just grab a 6-pack on the go! Patio seating is also available for you to enjoy the weather. This restaurant is open every day at 11 am (or 10 am on Sundays) and closes at either 10 pm or 11 pm, depending on which day you decide to come in.
Fujiyama Japanese Restaurant- Located on 283 N. Milwaukee Street (and also a brand-new location that has opened up in Meridian!), this Japanese restaurant is one that is a must-visit when you're driving through Boise. It serves amazing Japanese cuisine, such as different varieties of sushi, sashimi, specialized California rolls, dumplings, and, of course, the rice. The waiters who serve the food are friendly and are willing to help you have the best experience possible. All of the items are made with fresh ingredients, and all of the dishes are decorated so beautifully that you might not want to eat it. If you are wanting a taste of Japan in Boise, this restaurant is open Mondays-Thursdays from 11am-10pm, Fridays and Saturdays from 11am-11pm, and Sundays from noon to midnight.
Old Chicago Pasta and Pizza- This pizzeria is also located in two different places (one in downtown Boise and the other on the western side), but the one that this list recommends is obviously the western location which is found on 50 N. Milwaukee Street. Right in the heart of the Boise Towne Square Mall, this restaurant has excellent pizzas, beer, ale, and, of course, pasta. After going shopping, this is a great place to take a load off and eat some hot and ready food. Some items that are recommended are the Chicago 7 Pizza, pepperoni rolls, Italian nachos, any of their salads or pasta dishes, and the chicken wings. The service is friendly, and the seating is quite spacious. The restaurant is open at 11 am every day and closes at either 1 am or 2 am depending on the day.
Los Mariachis- This Mexican restaurant is located at 6565 W. Fairview Avenue, and all of the food is filled with freshly made ingredients. The place itself has a very friendly and comfortable vibe, and the waiters are always inviting. The prices are a bit higher than the other options, but each of the items is worth eating. Some of the items on the menu include nachos, quesadilla carne asada, Mariachis nacho deluxe, Mexican pizza, burrito bandera, chimichanga manzanillo, and arroz con camarones. There is also entertaining music from some of the workers who specialize in singing and playing classic Mariachi music. It truly feels like an authentic restaurant. It is open every day at 11 am and closes at either 10 pm or 11 pm, depending on the day you visit.
These are only a few of the many restaurants that are in this part of the Boise area. If you are feeling up to it, try these options and any others that may not have been mentioned.
Sources:
https://www.yellowpages.com/west-bench-boise-id/restaurants
http://www.boise.org/visit/dining-nightlife