Local Restaurants in Downtown and East Boise
Posted by Hughes Group Blog Team on Thursday, May 3, 2018 at 11:21 AM
By Hughes Group Blog Team / May 3, 2018
Comment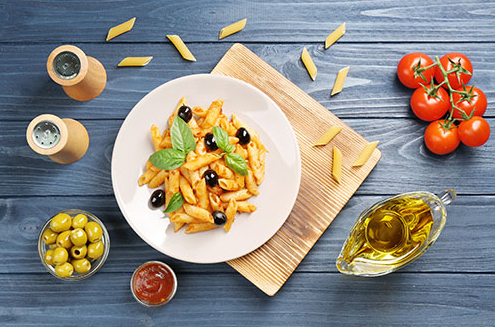 If you're new to the Treasure Valley, there are plenty of places to stop by for a bite to eat. However, Downtown Boise and the eastern side of Boise are filled with unique and mouth-watering dishes almost on every corner! Interested in something new and refreshing rather than fast-food joints? Here are a few options that you can choose from to start you off right!
Alavita - Located in the heart of downtown (address is 807 W. Idaho St.), this Italian restaurant serves fresh Italian cuisine for dinner Monday through Sunday and has a very welcoming and lively environment. It also features an open kitchen for diners to watch all the action. This restaurant mainly specializes in making fresh pasta daily and uses the best locally grown ingredients available. Some popular dishes from the list are squid ink linguine (made with a variety of seafood), porcini tagliatelle (made with locally grown mushrooms, tomatoes, and parmesan), and broiled halibut that is topped with gremolata. The menu also offers some vegetarian options, as well as some gluten-free options. They have a number of wines to choose from, plus handmade cocktails for any meal.
Bardenay - This restaurant is located on the historic Basque Block of downtown Boise (address is 610 Grove St.) in what used to be a warehouse. Bardenay is the United States' first distillery and specializes in flavors from the Northwest. The menu features items such as charbroiled salmon fillet (served with sun-dried tomato butter), a Caesar salad with fresh vegetables, and the New York steak with blue cheese butter, garlic mashed potatoes, and freshly grown vegetables. They also have a unique cocktail menu to finish any meal and many vegetarian options.
Bleubird - Bleubird, which is only open Monday through Friday and located in downtown Boise (address is 224 N. 10th St.) specializes in housemade sandwiches, sodas, and sweets! The restaurant was started by Dave Kelly and Sarah Kornfield (husband-and-wife duo) in 2012, so it is a recently new selection in Boise. Everything that is served is made with the freshest locally grown ingredients. Some items on the menu include grilled cheese (made with gruyere, brie, cheddar, caramelized onions, and more), a pastrami Reuben (made with gruyere, Russian relish, and purple cabbage slaw), and a number of vegetarian and gluten-free options.
Fork - Located at 199 N. 8th Street in downtown Boise, this restaurant is also a new addition to the limelight. It was established in 2011 by another husband-and-wife duo, Cameron, and Amanda Lumsden, in what used to be the old Boise City National Bank. The restaurant serves contemporary Northwest-inspired cuisines made with locally grown ingredients. They also have a featured wine list with some popular choices from the region. Their menu includes a griddled mac n' cheese (made with the same pasta from Alavita, maple-spiced bacon, pepper cheddar, and poblano chili), chicken and waffles, and local bread pudding topped with chocolate and caramel-cream sauce.
Locavore - This restaurant is found on the eastern side of Boise (address is 3110 S. Bown Way) and serves local and seasonal dishes, homemade pastries, and great drinks. They have an outdoor patio for those who want to enjoy the fresh air while they eat. It was first established in 2010 in Bown Crossing as a local neighborhood bistro and cafe and is open seven days a week. Their menu consists of a variety of items for those who are gluten-free, dairy-free, vegan, and/or vegetarian! Some of their items include: Frenchman Panini (made with smoked ham, Swiss cheese, and Dijon mustard), the BLTA burger (the classic BLT with some avocado and mayo), Chicken Piccata (pan-seared chicken scallopini with lemon caper beurre blanc sauce), and seasonal specials for dessert such as their seasonal cheesecake and dark chocolate mousse.
Shakespeare Cafe - The Shakespeare Cafe, or Cafe Shakespeare, is one of the fancier options on the list, but it is well worth a visit. Located at 5657 Warm Springs Ave., this is a great place to enjoy a gourmet dinner or a nice glass of wine on the patio. They also have a number of picnic areas, which are scattered throughout the entire William Shakespeare Park. This gives a great view of the Boise River, a part of the Oregon Trail, and Barber Pool. The menu offers a variety of gourmet deli items, picnic dinners, mouth-watering desserts, and a number of different drinks that you can try. Just a heads up, however, this restaurant is only open during the Idaho Shakespeare Festival and opens on performance days at 6 pm.
State & Lemp - This restaurant was established in 2013 by Jay Henry and Remi McManus, so this is a newer culinary choice for downtown Boise as well (address is 2870 W. State St.). It specializes in serving contemporary American cuisine. Since the company is so close in relations with local and regional purveyors, they are able to get the highest quality ingredients into each of their dishes! Some of the menu options include black cod (served with tomatillo, ground cherry, corn, and navy beans) and crepes with coconut cardamom pastry cream, honeydew melon, and granola. They are only open Wednesdays through Saturdays, and it is best to get a reservation since this is a popular place to eat.
Chicago Connectio n- Found on 310 N. 4th St. in downtown Boise, this pizzeria is out of this world! The pizzeria offers a wide selection of pizzas, lasagna pies, soups and salads, hot sandwiches, pasta, and delicious desserts. They also have gluten-free options for those who need it. If you don't feel like travelling downtown, they have an online ordering system to deliver right to your door!
There are plenty of other wonderful options to choose from, but hopefully these unique restaurants give you a chance to experience the many diverse and freshly made foods that are locally grown in the area. You are sure to be in for a treat, so come down to Boise and take your taste buds on a trip!
Sources:
https://theculturetrip.com/north-america/usa/idaho/articles/boise-s-10-best-restaurants-from-local-eats-to-fine-dining/
http://www.boise.org/visit/dining-nightlife
https://www.locavoreboise.com/lunch-dinner
http://idahoshakespeare.org/cafe-shakespeare/
https://atavolaboise.com/cafe-shakespeare/
http://www.chicagoconnection.com