Local Restaurants in Boise Bench
Posted by Hughes Group Blog Team on Monday, July 2, 2018 at 11:39 AM
By Hughes Group Blog Team / July 2, 2018
Comment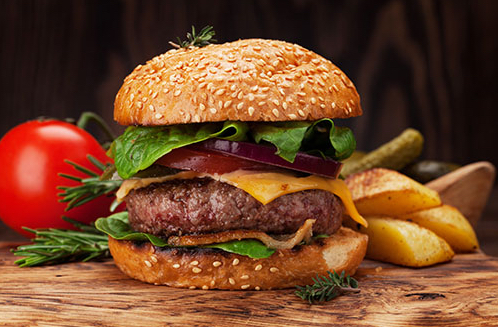 When driving around this area of town, it may seem like it passes quickly. However, there are many places where you can stop by for a quick bite to eat or take some time to enjoy a local restaurant. Either way, you are sure to have a wonderful time trying out new and unique flavors. Here are some restaurants in the area to help you get started!
Big Jud's- This fast food restaurant serves huge burgers in a small space and can be found at 1289 Protest Avenue. If you are ready for a challenge, try the Big Jud Burger, a one pound (or two pounds) burger filled with juicy flavors. The challenge itself for the one pound burger is to eat the whole burger, fries, and drink in thirty minutes or less. During the challenge, you can't leave the table, and even if you win, you still have to pay for your meal. If you win, you get a chance to buy a special T-shirt, get your picture taken, and added to the wall of fame. The two pound burger challenge is to eat the whole burger (along with all of the trimmings), fries, and the drink in thirty minutes or less. If this challenge is completed, everything is the same except for the fact that your meal is free (but only if the challenge is completed!). Not up for a challenge and just want to eat a nice meal? Some other food items include pastrami burger, mushroom bacon burger, jalapeno burger, hickory burger, varieties of grilled or crispy chicken sandwiches, chicken strips, halibut and fries, finger steaks,and many desserts to choose from, such as fried twinkies and milkshakes. The doors are open from 11am-9pm every day except for Sundays.
Chiang Mai House Thai- If you're in the mood for authentic Asian cuisine, this restaurant is the place for you! Located at 4898 W. Emerald Street, this restaurant holds great staff and food made from only the freshest ingredients. Some of their menu items include, but are not limited to: Pad Kra Pao (stir fry with onion, mushroom, jalapeno, bell peppers, carrots, and basil), yellow curry, Kung Pao, Mandarin Spicy Chicken, Mongolian Beef, Pad Prew-Waan (made with onions, green and red bell peppers, pineapple, carrots, and zucchini), egg rolls, fried tofu, crab rangoon, pot stickers, seafood soup, a variety of fried rice options, noodle food items, and so much more! Lunch specials are served between 11 am and 3 pm; each of the items in the menu comes with steamed or fried rice, and the soup of the day, as well as your choice of meat. The doors are open from 11am-3pm/5pm-9:30pm Mondays through Thursdays, 11am-3pm/5pm-10pm on Fridays and Saturdays, and 4:30pm-9:30pm on Sundays. This is a pricey option, so be prepared to spend money.
Golden Star Restaurant- For over 35 years, this Chinese restaurant has been known to be another great option for Asian cuisine (in fact, it was voted "Best in Boise" for many years!). However, it is much cheaper than the option above. Located at 1142 N. Orchard Street, this place is sure to give you a warm welcome and some exotic flavor to your plate. Some of their popular food items include steak and shrimp stir fry, crab and cream cheese rangoon, stir-fried beef tenderloin, Mandarin chicken, pork fried rice, and much more! Sometimes in the local newspaper, there will be coupons that you can use, so keep a lookout for them! The doors are open from 11am-10pm every day of the week. Give them a try!
Tango's Subs and Empanadas- Located on 701 N. Orchard Street, this small Argentinian restaurant is probably the best place on the list, known for its homemade empanadas (which are a type of "closed sandwich"). There are a variety of empanadas to choose from, each holding different flavors and fillings. Some of their most famous items include: gaucho (the original Argentinian empanada with ground beef, eggs, olives, onions, bell peppers, and spices), barbecue (with shredded Angus beef with special barbecue sauce), moleh (chicken covered in chocolate, peanuts, and several chillies that make a delicious sauce), La Viga (filled with shrimp, imitation crab, onions, tomatoes, cilantro, and serranos), breakfast (pretty much like a breakfast burrito!), Hawaiian (with mozzarella, ham, and pineapple), a number of vegetarian options (ask for gluten-free options as well!), caramelo (a dessert empanada with dulce de leche), La Nona (dulce de leche and bananas), and much more delicious options! The doors are open from 11am-7pm Mondays through Fridays, and from 11am-4pm on Saturdays.
Quinn's Restaurant and Lounge- Located at 1005 Vista Avenue, this Irish pub is a place to go to if you're looking for a good time and great food. Almost every day, they have fun activities to participate in (for instance, on Saturdays, there is free champagne brunch and karaoke, and on Tuesdays, there is Taco Trivia). The drinks and food items are reasonably priced, and the staff treats you as if you are family. Fridays are an all-day Happy Hour, so be sure to stop by for even cheaper meals! Some of the tasty food items include, but are not limited to: Quinn's potato skins, jalapeno poppers, fried pickles, southwest egg rolls, wings your way (made-to-order!), southwestern salad, homemade soup (which can also come with a salad and bread if you'd like), Quinn's Deluxe Half Pound Cheese Burger, Parmesan Burger, Quinn's Reuben on Marble Rye, Quinn's A.B.L.T., Quinn's Grilled Cheese Supreme (there is also a vegetarian version), rib eye steak, chicken fried steak, Quinn's Corned Beef and Cabbage, tavern battered cod and chips, and so much more! They also have specialty drinks that you can order, along with your choice of beer or wine. The doors are open from 8am-2am seven days a week!
Hopefully this is a good start on your journey with food in the Boise Bench area! For even more options, talk to the locals for new and exciting places to try. Now, go eat!
Sources:
http://www.boise.org/visit/dining-nightlife
http://www.bigjuds.com/big-juds-challenge/
http://www.bigjuds.com/menu/
http://www.bigjuds.com/location/boise/
http://www.chiangmaihousethaiboise.com/about-us.html
http://www.chiangmaihousethaiboise.com/menu.html
https://www.tripadvisor.com/Restaurant_Review-g35394-d411234-Reviews-Golden_Star_Restaurant-Boise_Idaho.html
http://tangos-empanadas.com/menu-powered-by-singleplatform/
http://tangos-empanadas.com/locations/
http://quinnsrestaurant.com
http://quinnsrestaurant.com/menu/